This is why you should stay in better touch with your friends and family.
In March of last year, Paul Massard sent his University of Miami buddy and fraternity brother Chris Nolte a "happy birthday" text. From there, the old friends exchanged more texts and talks until a business idea began to bloom — one that is now fully realized in Per'La Specialty Roasters, the newest coffee roasting outfit in the emerging South Florida specialty scene.
Per'La began roasting in earnest approximately two months ago in Miami with a 15-kilo Loring Falcon, with Massard at the helm and Nolte in charge of business development and accounts. It's the first business venture of "The U" products, both also sons of entrepreneurs. "This was an opportunity for us to take the jump," Nolte recently told Daily Coffee News, "and it's been going pretty smoothly so far."
It's Massard that holds much of the coffee expertise within the Per'La shell. A certified Q grader, Massard's career in coffee includes sourcing on behalf of Kansas City roaster/retailer The Roasterie, from which he moved to Hawaii where he was most recently the supply chain director for Honolulu Coffee.
With various jobs and cities behind them and nothing but prospects ahead, Nolte and Massard settled on their college town of Miami to set up the new shop, although the decision was born more from opportunity than familiarity.
"There's obviously Panther Coffee and a couple large commercial roasters, and a couple really small commercial roasters here," Massard said. "But if you look at the landscape here, there are not a lot of people doing it really well."
As with every other South Florida specialty roaster, one of Per'La's constant challenges is cultural, with so many local palates trained for short, cheap coffees that are roasted very dark, over-extracted and served loaded with sugar. "Everybody is used to drinking coffee twice a day, but it's not really good coffee," said Massard, who was born in Colombia before moving to Naples, Fla., as a child.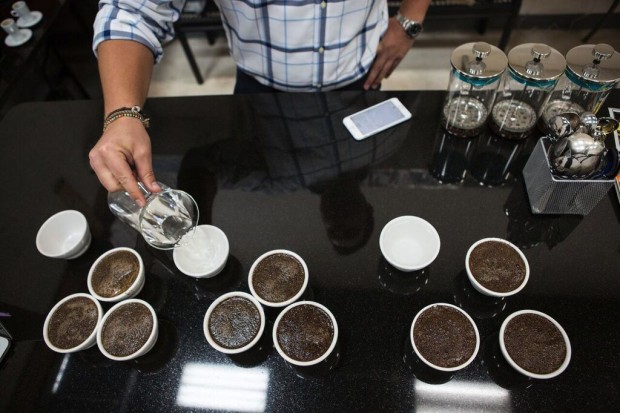 With that in mind, Massard and Nolte are encouraging as many people as possible to taste their coffees — either in their 1,200-square-foot production roastery in Miami's Bird Road Art District — or out in the wild through one of Per'La's growing number of wholesale clients, including upscale restaurants and cafés. Said Nolte, "Our big thing is to bring customers into the cupping lab to taste what really great coffee is."
As for the coffee itself, Massard is naturally in charge of sourcing, with Per'La offering a rotating selection of single-origin coffees as well as blends that range from the more exotic to the more mainstream traditional in terms of flavor profile. "We're trying to decrease the acidity level, and we're roasting just a degree or two darker than they might in Seattle," Massard said, "But anything we roast dark is by no means close to second crack. Our dark roast is probably closer to what a medium looks like for other people."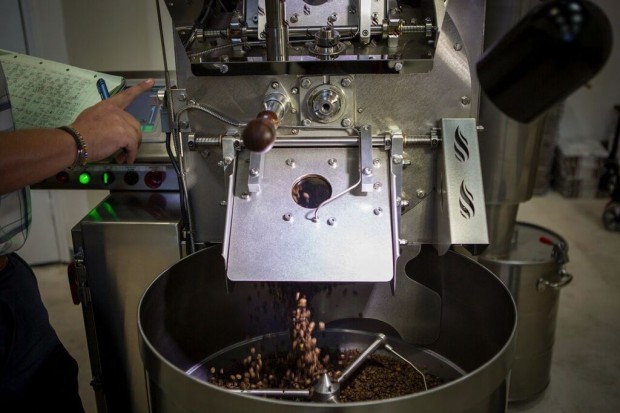 With a business plan established and a desire to become one of the area's premier coffee sources, Nolte and Massard have given the fledgeling Per'La operation plenty of room for physical growth, with the Loring at the center. "I like the fact that I can do a lot with the interface it has, and because of the burner on that model, it's like driving a sports car," said Massard. "It will take a full batch just as well as a 6-kilo batch."
Added Massard,"In the medium-term, I think it fits us very well."
Nick Brown
Nick Brown is the editor of Daily Coffee News by Roast Magazine.