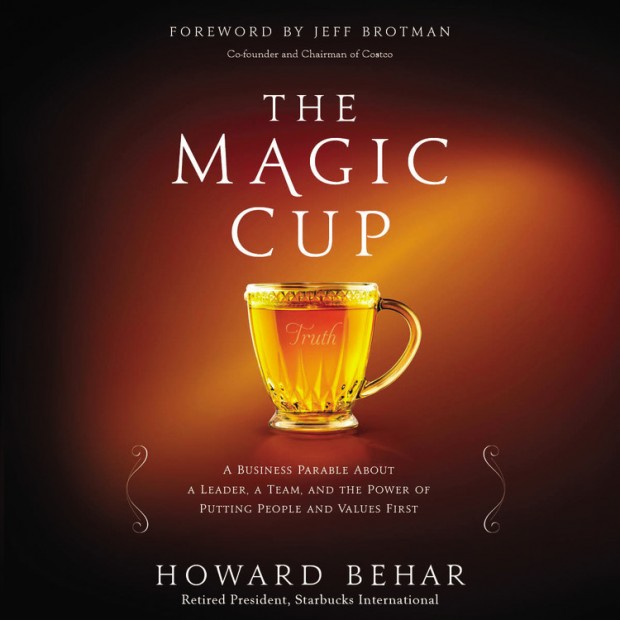 Have you always wanted to build a multibillion dollar international coffee empire, but you're not sure if you have the constitution — like, spiritually and emotionally? Or are you simply seeking a bit of existential context after that latest Microsoft PowerPoint® presentation or shareholders meeting?
If your answer is yes to either of these questions, then you might look into The Magic Cup, a new parable that draws from the personal and business experience of Howard Behar, who served as Starbucks' president for 21 years and was the Starbucks International's founding president.
The 151-page book, including a foreword by Costco Co-Founder and Chairman Jeff Brotman, is being released by Hatchette Book Group March 29. It tells the story of Vince Steadfast, who has newly been named CEO of a fictitious company called Verity Glassworks. As Vince and his team work to restore the company to a state of glory, they travel through places such as Worthy Way, Perilous Passage and Arduous Stair as a magic cup fills with a gold elixir and "universal truths" such as responsibility, forgiveness and courage.
Here's more from Hatchette Book Group:
We all love the fairy tales we grew up on, creating a world in which good always wins over evil, where those whose hearts are true and who do the right thing come out on top. But, grown-up competition for success is rough, even cutthroat, and we've often heard that nice guys finish last.

Not according to Howard Behar, whose career as one of the three leaders who built the Starbucks organization most definitely proves that nice guys finish first. In THE MAGIC CUP, Behar spins an engaging corporate tale to teach us exactly how we can do the same thing.

The story revolves around Vince Steadfast, the newly named CEO of imaginary manufacturer Verity Glassworks, which has fallen on difficult times. Vince is hired to help the once iconic company return to its glory days, and he brings with him a parting gift from his mentor and former boss: a stunning crystal coffee cup from Verity's halcyon days. The cup turns out to be magic – truly – and helps him come to understand and reinvigorate the values that Verity has misplaced along the way.

As Vince and his new team make their way to (and through) many challenges, including the aptly named Worthy Way, Perilous Passage and Arduous Stair, the cup fills with a gold elixir and the universal truths that they learn to embrace – such as Responsibility, Forgiveness and Courage – magically become engraved in the glass.

In the tradition of great parable writers throughout history, Behar quickly involves us in an engrossing fantasy, continually challenging us to compare each situation with our own real-life experiences. The story of THE MAGIC CUP helps each of us discover that only by acting on sound moral principles can we fill our own cups with the personal and professional success and satisfaction we seek.
Nick Brown
Nick Brown is the editor of Daily Coffee News by Roast Magazine.