Sometimes it seems like an expanding specialty coffee scene is a bit like little league batting practice: Pop-ups everywhere.
Whether it's a special event, an inter-business collaboration, or a precursor to a larger brick-and-mortar shop, pop-ups are often a lot more elaborate than just a folding table, a sign and a couple V60s. Espresso machines and water towers, electricity and propane — how do they do it? Are all these businesses dropping a ton of money on carpenters, plumbers and electricians just for small-scale or temporary buildouts, or are they all so handy as to be doing it themselves?
A new California-based manufactory called Capsule MFG says the answer can now be none of the above. Capsule MFG's marque product, the Barista Capsule, is like a plug-and-play coffee-shop service counter in a box, but of much higher quality than that sounds. A robust and well-crafted solution for retail coffee service, portable or permanent, a Barista Capsule is a prefabbed station that's roughly six feet long, three feet deep and of appropriate height for above-counter coffee gear. Each has built-in copper plumbing, a 100-amp electrical panel, and various configurations to accommodate a given business's needs.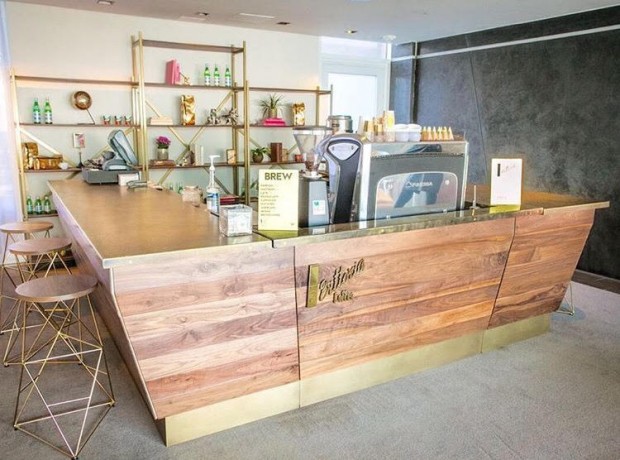 Under the counters and within their well-wrought metal frames are mounted Shurflo pumps, pressure accumulators and Everpure water filtration. There are cutouts for secure transport and for floor draining, vibration-dampening mounts, and panels removable for easy servicing as well as easy custom painting and re-painting. Countertops include under-mounted pitcher-rinsers and deck-mounted water spouts.
Current preconfigured models can accommodate single- or 2-group espresso machines, one or two grinders, batch brewers, water towers, and other potential gear, with appropriate power receptacles built in, as well as outdoor-rated cords for drawing power either from generators or the grid. With heavy-duty castors or without, optional upgrades include wood, copper, quartz or other material finishes and surfacing.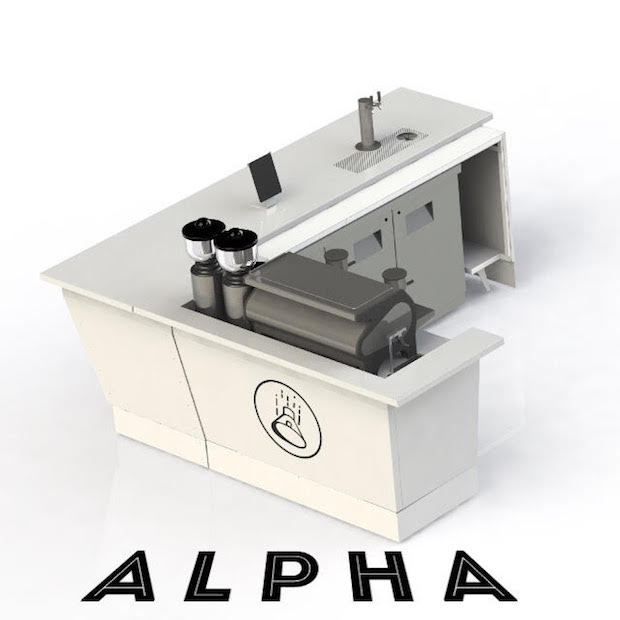 The company behind the Barista Capsule is just as efficient as the product itself. The two-man operation was founded in late 2013 by president and chief designer Chad Bowker, whose background includes supply chain management for Boeing, and VP a chief engineer Wade Wright, whose pre-Capsule projects have had defense and energy industry applications.
Their original vision for the Capsule was actually not for it to be a portable or temporary solution, which remains their perspective on its today. Rather they see the capsule as a long-lasting, potentially permanent installation that's also a reusable, transferable asset.
"It wasn't our initial idea to put it on wheels," Bowker told Daily Coffee News. "We started with wanting to make the coffee bar, however you used it, something that you didn't have to design and build every time."
Bowker saw waste in every buildout that gets knocked down when a business ends, remodels or relocates, only to be built anew somewhere else. "When you build an in-place bar, it's using the ground as part of its structure. You couldn't lift it away from the ground and have it structurally sound," said Bowker, noting that for businesses that require something highly customized or outlandish in terms of shape or style, this may always have to be the way it's done.
But for most straightforward applications, Capsule MFG aims to lower the buildout costs that are ultimately a barrier to entry for many people wanting to start or expand a coffee business. Not only does the Capsule station retain more value than a conventional structure by virtue of its versatility, it could also be purchased in refurbished condition in the first place, by a start-up on a tighter budget in the future.
Recently Capsule production relocated into a larger facility in Costa Mesa, Calif., where they've revamped the floors and the walls for a bright, clean manufacturing space where operations will increase and diversify. There are other designs newly available and forthcoming, such as the Alpha station, which docks to the Capsule and features built-in refrigeration and a pressurized tap system for cold brew or beer.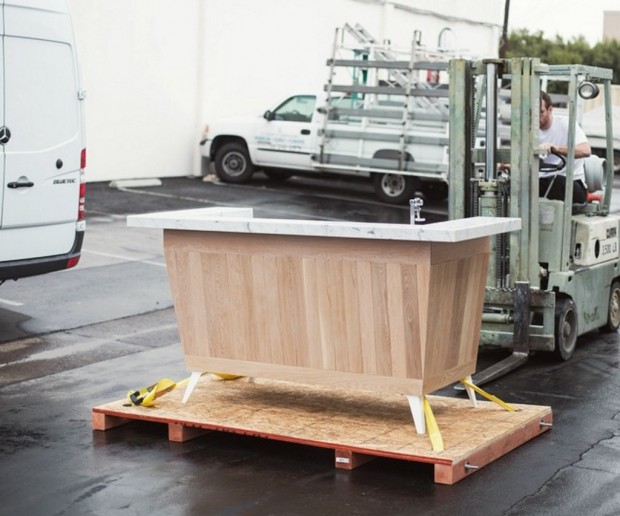 "I see a big growth in cold brew, I see a big growth in smaller coffee operations in a lot of places, and amenities in workplaces and hotels," said Bowker.  "You can grow these stations pretty large." With multiple stations of various configurations lined up in whatever arrangement a user wants, Capsule MFG's existing product line already offers modular solutions to virtually any manner of beverage service, retail or otherwise.
Recently Capsule outfitted the Tesla car company with a configuration that's 10 by 20 feet. Stumptown and Blue Bottle are just a couple of specialty coffee heavy hitters depending on Capsules for retail purposes, while small start-ups such as Riverside, Calif.-based Arcade Coffee Roasters and Franklin, Tenn.'s Honest Coffee are equally enthusiastic owners. Going forward, the still-evolving company will be focusing on developing their branding and marketing materials, while also transitioning from a mostly steel construction to mostly aluminum, and solidifying suppliers for these materials.
While manufacturing is up and running in the new spot, they're still working on setting up an Instagram-worthy front office and showroom area. "Once we get the whole unit together we were thinking about doing a factory-warming party," said Bowker, who also doesn't rule out the possibility of hosting Capsule-based barista throw-downs inside the Capsule MFG HQ.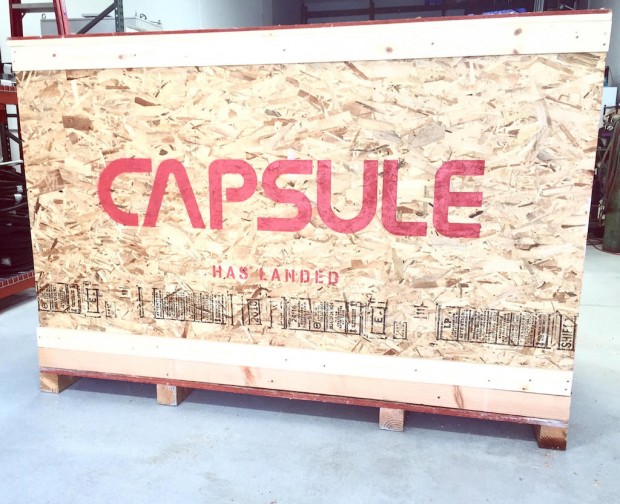 Howard Bryman
Howard Bryman is the associate editor of Daily Coffee News by Roast Magazine. He is based in Portland, Oregon.