Amarillo, Texas-based wholesale roaster Evocation Coffee has just upgraded its retail footprint, opening its first standalone flagship café. The tasting room at their roastery has been shut down and transformed into a training and public education center, and all retail activity has been relocated and expanded into the 1,500-square-foot café in the Summit Shopping Center at 3300 S. Coulter Street.
Founded roughly seven years ago by a couple of then-17-year-olds that have since wedded to become Roman and Amy Leal, the company's original tasting-room retail component opened in 2012, centered on a La Marzocco GS3, a small pourover bar and a fundamental menu free from any additional flavorings or alternative milks.
"It was a cool little space and it got a lot of traction in Amarillo," Roman Leal told Daily Coffee News. "It was kind of startling to us how many people would regularly come in, when it was such a weird location and such a tiny venue."
The Leals, now both 24, opened Evocation's proper café in January of this year. The spacious and bright white-walled shop has stepped up to a hand-painted La Marzocco Linea espresso machine, decorated by Evocation barista and roaster Taylor Gresham, around which the menu has extended to include house-made flavorings of vanilla, honey, maple, chocolate and caramel for adding to lattes.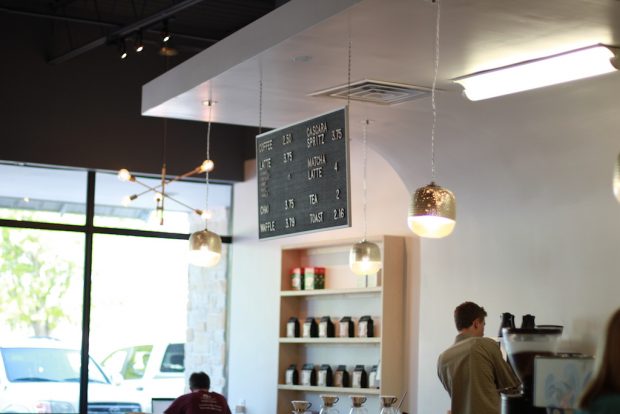 A row of Kalita Wave 185 brewers atop Kalita decanters perched on Acaia scales constitutes the slow bar for manual brews ground by a Mahlkonig EK43 and served in Erlenmeyer science lab decanters for patrons to pour into ceramic for themselves. A "cascara spritz" refreshes on hot days, barista-designed signature drinks rotate in and out, and fresh waffles and toasts satisfy snack-seekers.
The company's Diedrich IR7 roaster continues to handle Evocation's wholesale and in-house needs for roasted coffees sourced through importers such as Café Imports and Keffa, while Leal aspires to develop direct trade relationships to constitute at least 50 percent of their sourcing within the next two years.
Having transformed the former tasting room into an expanded area for cuppings, training and events, the company holds staff "triangulation" cuppings twice a week that typically focus on two washed and two natural coffees, conducted as a contest of sorts.
"We keep track of how everybody does, and do a little competition every month," said Leal. "Whoever wins gets a Ben Medansky mug."
Plans for the coming year or two include a possible relocation of their production into a larger facility, perhaps somewhere in downtown Amarillo. It's undecided whether an expansion to the production line will come in the form of an additional machine or a larger replacement machine, but it is projected that an expansion will be due soon on that front as well.
"It's expanded a ton even since last year," Leal said of the roasting operation. "Every year since we opened in 2009 we've doubled or almost doubled the size of our roasting output."
Howard Bryman
Howard Bryman is the associate editor of Daily Coffee News by Roast Magazine. He is based in Portland, Oregon.