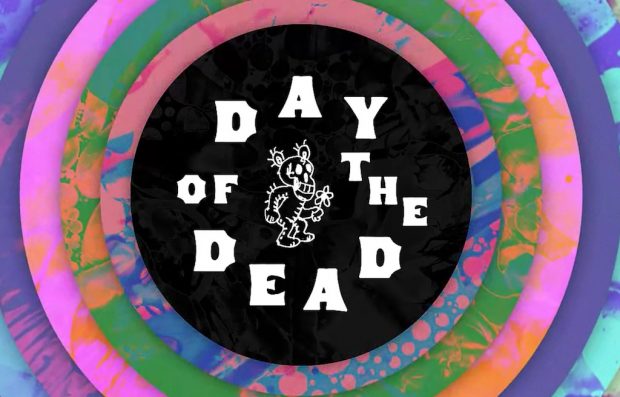 Four Barrel Coffee has teamed up with The National and their influential British record label, 4AD, for a limited-edition coffee blend to coincide with one of the most ambitious albums in the history of recorded music: the 59-song "Day of the Dead" Grateful Dead tribute.
The National's Aaron and Bryce Dessner produced and co-produced, respectively, the forthcoming album, which includes performances from Jenny Lewis, Wilco, The Flaming Lips, Will Oldham, Courtney Barnett, Charles Bradley, Bruce Hornsby, Kurt Vile, Local Natives, Lucinda Williams, The Tallest Man on Earth, Justin Vernon and, like, everyone else you can think of. "Day of the Dead" is also the 25th album release from The Red Hot Organization, an international charity that raises funds and awareness surrounding HIV and AIDS.
"It's been a super cool project and it's for an amazing cause," Four Barrel east coast rep Mike Squires told Daily Coffee News. "And it's not something we normally do."
A San Francisco company, Four Barrel makes a fitting choice for a Grateful Dead tribute coffee, yet the company's involvement in the project was somewhat serendipitous, beginning with Four Barrel sending coffee to the 4AD offices.
"The National guys and some of their management were in the office and they saw one of the bags in Four Barrel 'Oh, we love Four Barrel,'" said Squires, himself an accomplished musician who's played in bands with members of the 4AD crew. "I started talking with Chris Robbins of The National's management and we hit it off."
Outside of an espresso blend – currently the Friendo Blendo — and a two-coffee decaf blend, the Four Barrel roastery typically only offers single-origins. Squires and Robbins therefore looked to Four Barrel's sister label, De La Paz, for inspiration, and found it in that brand's Peel Sessions blend, composed of an Ethiopian coffee and a Kenyan coffee. The forthcoming Day of the Dead blend will also consequently consist of mixed East African coffees recently shipped to the United States.
The blend will be available beginning May 20 through Four Barrel's website and in its three retail cafes for three months, or until the coffee runs out.
For Squires, who plays guitar in the Duff McKagan-fronted band Loaded and more recently has focused his musical energy on his latest band Union Gospel in New York, the project has been an enjoyable reminder of how small the worlds of music and coffee can be. Said Squires, "It's just been an awesome way for us to do something for a really cool cause."
Nick Brown
Nick Brown is the editor of Daily Coffee News by Roast Magazine.