It wouldn't be unreasonable if diehard devotees of the tinkersome, fantastical aesthetic culture known as Steampunk considered the Alpha Dominche Steampunk machine to be somewhat of a missed opportunity, given that brewer's distinctly modern and uncluttered, albeit eccentric, design.
The "traditional" sci-fi-historical steampunk style, as it were, is a celebration of anachronistic whimsy, full of twists and turns evocative of Victorian or Wild Western steam-powered technology. At the London Coffee Festival in March 2016, attendees were delighted by the debut of another Steampunk Coffee Machine, this one cobbled meticulously together out of a dizzying myriad of upcycled engine parts and other found objects by "Professor" Peter Michael Charles Harris, whose complicated work of functional and quintessentially steampunk sculpture was voted Most Innovative Product at the end of the event.
Underneath it all, Harris's Steampunk is a slow-drip cold-brew coffeemaker, not unlike a Yama, a Bruer or any other slow-drip device. But the imaginative appearance and handmade quality offer an appeal all its own. "The machine flips the beautifully simple cold drip process on its head by giving the illusion of making coffee using a pointlessly over-complicated process inspired by Rube Goldberg contraptions," Harris told Daily Coffee News.
Harris, an IT professional with a passion for making things, has no formal background in coffee, nor is he an actual professor. "I very humbly gave myself the Professor title," admitted Harris. "It's a steampunk thing to give yourself a high and mighty title."
The love of coffee is central to his life, though, as his fiancé Anya Marco's career has included a stint with Starbucks UK and has for the past seven years found her serving as Director of Insight and Research for the Allegra Group, the London-based strategic research consultancy with a focus on food and hospitality. It should be noted that Allegra Events, a division of the Allegra Group, produces the London Coffee Festival.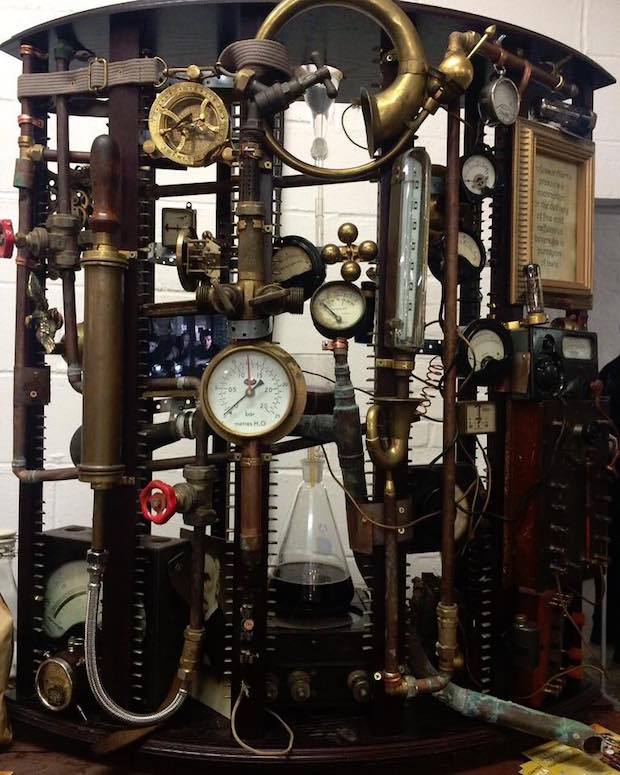 "I only create coffee machines at the moment. I have been approached to build a chocolate making contraption but right now I am all about the coffee," said Harris, whose Steampunk Coffee Machine is essentially an ornate vertical frame for cold-brewing glasswear. His original design incorporated a separatory funnel for the water vessel, a Buchner funnel to hold the coffee grounds and a flask to catch the finished brew. Harris said users could swap in whatever glassware they preferred, and he's leaning towards Hario parts in his next creation.
It took him two years to acquire all the rare, vintage brass, bakelite and early-electronic bits and bobs for the first machine at car boot sales and on eBay, and then a few weeks to assemble. Now that he knows where to look, Harris expects it should only take a few months to complete a similarly large machine on commission. "I would like to design a smaller series of back bar wall hanging machines and am open to commissions for other ideas," said Harris, who charges $4,500 to $6,000 plus shipping for a Steampunk, depending on the desired size.
At the London coffee fest, the Steampunk on display brewed coffees provided by British roasters Union Hand Roasted, The Gentlemen Baristas and Perk & Pearl. Samples of the brew were offered in exchange for donations that amounted to £275 for Project Waterfall, an organization that works to provide clean water to coffee growing communities. Steampunk Coffee Machine No.1 has officially been sold to The Black Penny coffee shop in the Covent Garden area of London, where it will be prominently displayed. A second machine is also complete and currently available. "I would love to sell machines in the U.S. and would really like to show my latest creation at the New York Coffee Festival, so if any coffee people would like one on their stand, let me know," said Harris.
Howard Bryman
Howard Bryman is the associate editor of Daily Coffee News by Roast Magazine. He is based in Portland, Oregon.