Starbucks today announced the release of nitro cold brew on tap, which follows the company's summer 2015 release of cold brew served over ice and will help anchor a new "cold bar" concept being unveiled in select Starbucks stores throughout the United States.
While the product is likely to represent just a small sliver in Starbucks' global revenue pie, the company's rollout of the beverage at some 500 stores in major U.S. markets by summer's end represents something of a quantum leap for nitro cold brew itself.
The drink — in which coffee is kegged, kept cold and infused with nitrogen as it is tapped to create a Guiness-like texture — began several years ago as the stuff of quality-focused independent shops. Since then, several established and startup companies have followed the lead of Stumptown Coffee Roasters in introducing a canned version of the beverage, a step that took Guinness decades to initiate.
In a rather aggressively titled announcement of the new cold brew offering — "Starbucks to Seize the Multi-Billion Dollar Cold Coffee Market" — Starbucks Chairman and CEO Howard Schultz recognized the rapid and ongoing escalation of the cold brew market.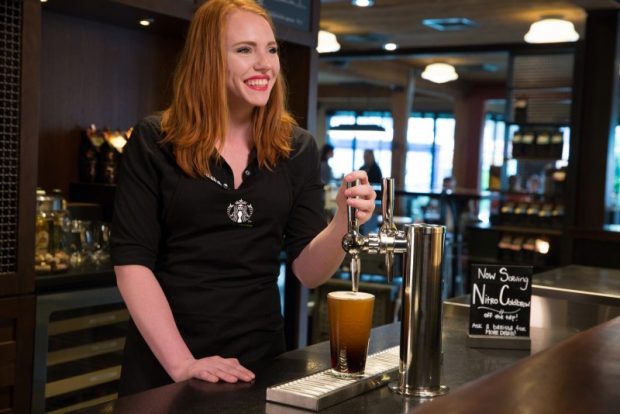 "For over 40 years we have perfected the craft of roasting and brewing the finest hot coffee, and while we have always offered our customers new options in cold coffee, nothing will compare to the pace of flavor, craft and brewing innovation we will see in the next few years," Schultz said. "The opportunity to create an entirely new cold coffee experience is limitless and our customers are already telling us that they want to meet us on this journey as cold coffee is now becoming a go-to drink."
The company said nitro cold brew is the second-highest-selling drink at its Seattle Reserve roastery and tasting room, while citing Mintel and Starbucks in-house data suggesting that the category of cold-brewed or iced coffee grew nearly 340 percent from 2010 to 2015. The company plans to introduce the beverage this summer to stores throughout Seattle and Portland, followed by New York, Chicago, Boston, San Francisco and Los Angeles.
Nick Brown
Nick Brown is the editor of Daily Coffee News by Roast Magazine.