Come next month, a new brand of RTD cold brew coffee will be rolling out to stores throughout the Washington, D.C., and New York markets, the culmination of two years of development by established beverage industry professionals. Veritas Coffee will debut with two core products, a bold and a blonde, composed of coffee and water combined in a pressure-based process and offered in nitro cans.
"We would have released this earlier if we could have, but we were making sure we could get this process right and making sure we had maximum consistency every time," said Veritas Coffee Co-Founder and CEO Sean Arroyo, adding that the company must have tested approximately 2,000 iterations of the brew to this point. "I've had a lot of really inconsistent cold brew. As a brewer, consistency in a product is so crucial. You don't want a beer to taste different one day than it did the day before."
Arroyo is also the founder of Heritage Brewing, the canned craft beer company with which Veritas shares production space in Manassas, Va., just outside Washington, D.C. For Veritas, Arroyo partnered with fellow U.S. military veteran and chief engineer behind the product, Dom DiGiovanni, and more than half of the production team behind the brand are veterans.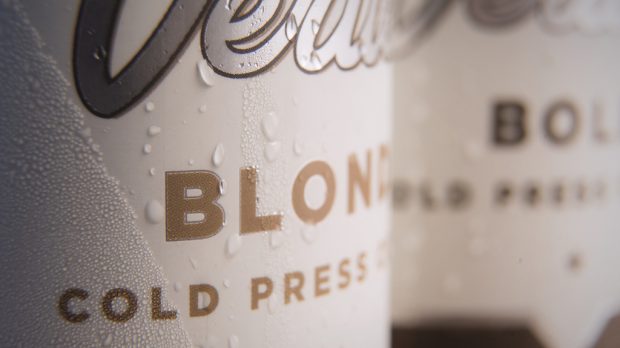 While Arroyo is awaiting a patent for the pressure-based production process, he said grinds are under pressure for 12 hours, and once the process begins, the liquid does not see oxygen again until the can is opened. As a longtime commercial beer-maker, Arroyo sees many similarities between cold coffee brewing and beer brewing — oxygen as an enemy, for example — while noting a fundamental difference.
"The coffee process is far more sensory to me than it is scientific," he said. "There's obviously a ton of science in coffee, but in beer, you have this living organism in yeast. If the yeast isn't acting right one day, it's going to do whatever it wants."
For the Veritas venture, which to this point has been self-funded, the team purchased its own brewing and canning equipment, along with a 50-kilo Diedrich production roaster and a 2.5-kilo sample roaster, both manufactured in the U.S., which was an important consideration for the company.
Much of the development work over the past two years has been in roasting, and while Arroyo acknowledges that he's not a master at the craft, he suggested there may be a certain advantage in learning to roast purely for cold brewing.
"We knew the way we wanted to roast, and we know we wanted to roast only for cold brew," said Arroyo, adding that the final products thus resulted in a blend of Colombian and Ethiopian coffees. "Roasting for a cold press is all about body and how it's going to hold up through the process and in the final product."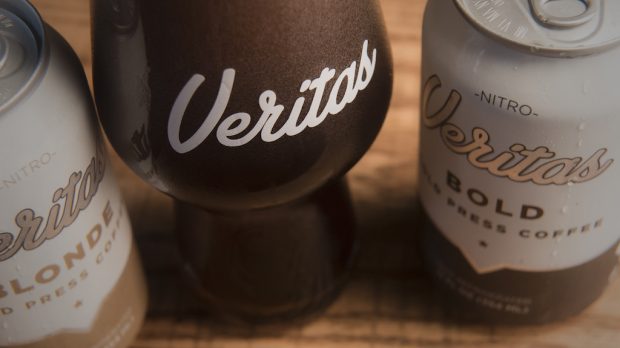 The company is already working with a dairy company to develop new products — some of which could be introduced as early as this year — that may contain additional ingredients such as milk, sugar, chocolate or other flavorings.
"Canned beer and canned coffee are similar, but in terms of shelf placements and the way we look at consumers, it is a different market space," Arroyo said. "The coffee market is heavily dominated in the RTD market space by Starbucks."
Arroyo expects Veritas to launch with initial distribution to approximately 2,500 stores in the D.C. market, with a similar footprint in New York later in July.
Nick Brown
Nick Brown is the editor of Daily Coffee News by Roast Magazine.