When the original Slayer Espresso machine debuted at the 2009 SCAA Event in Atlanta, Ga., it set a new standard for professional espresso craft by introducing the technology of adjustable flow rate, made possible by a proprietary needle valve of the company's own design.
In recent years the Seattle, Wash.-based manufacturer has quietly been siting its crosshairs on milk craft, and the resulting innovations are rolling out this month in the form of the first entirely new machine in the Slayer line. The new machine, called the Slayer Steam, will make its public debut this week at the SCAE World of Coffee event in Dublin, Ireland.
The Slayer Steam is designed not only to do for the craft and service of milk-based espresso drinks what their original machine did for pure espresso, but to do it specifically in high-volume, fast-paced settings. While the Slayer Espresso is about as fully manual as a pump-dependent espresso machine can be, the Steam makes a variety of brewing and steaming settings available at the tap of a button or flick of an ergonomically convenient lever, with the goal of helping baristas hit their marks with accuracy and confidence, quickly and with a minimum of behind-the-bar stress while keeping customers cycling expediently through.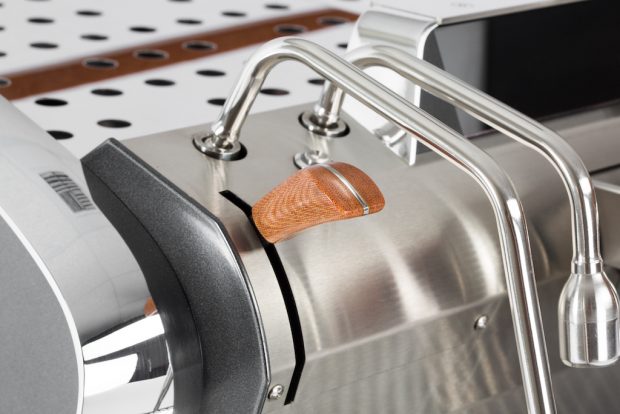 "I have clients that use Slayer, whether it's a single group or two-group on let's say a 'slow bar,' and over there on the other side of the bar they have a Cyncra or they have an L.M.," Slayer Espresso President Jason Prefontaine recently told Daily Coffee News. "They have something else. Well, I want that other position on the bar."
The Slayer Steam will therefore be aggressively priced to compete with other volume-oriented semi-auto machines, while upping the game in terms of programability for consistency and speed not just by way of customizable volumetric groups and easy-access digital controls, but through an unprecedented step forward in the steam department — hence the name.
Each steam assembly on the Slayer Steam offers two programmable flow rate settings, which is a functionality not unlike the user-configurable flow-rate steps on the paddle-actuated groups of the Slayer Espresso. Yet in the context of steaming milk, the application is quite different.
Whereas on a Slayer Espresso, a barista slides the actuator to alter the flow rate of brew water during the extraction for flow profiling purposes, the four total user-configurable steps of steam pressure split among the two wands of the Slayer Steam aren't so much for shifting on the fly as they are for the quick, targeted achievement of ideal, predictable power in a high-volume environment, where every fraction of a second is valuable in the provision of efficient service.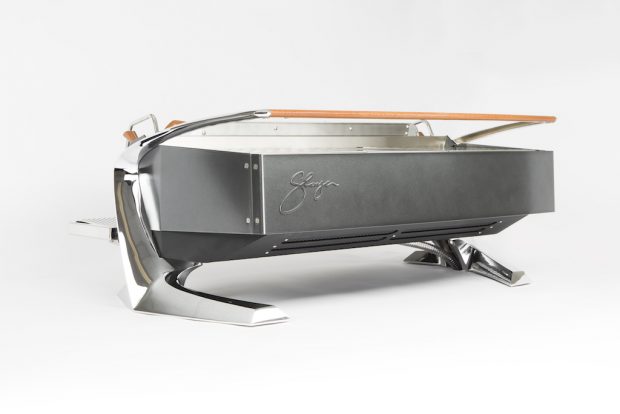 Rather than having to devote a moment of focus to twisting a knob or adjusting a lever to open an analog valve to just the right point in just the right amount of time for a certain volume of a certain type of milk for a certain drink texture, baristas will have a go-to position on a designated wand that nails it every time.
Beyond this usability upgrade, the steam itself is also of higher quality, which is another of the Slayer Steam's marque breakthroughs. Hotter, drier steam is produced by way of what the company is calling its Vaporizer technology — a small super-heater of sorts, through which the regular saturated steam from the steam boiler is additionally flash-heated before it reaches the wand. The Vaporizer evaporates residual moisture out of the steam before it exits the machine, resulting in a drier, more precise steam that introduces less water into the milk.
Prefontaine estimated that on average, the volume of liquid in a steam pitcher increases by about 10-15 percent with additional water in the course of a typical beverage steaming. Drier steam, coupled with the power to fine-tune the temperature of that steam through an accessibly positioned Barista Dashboard digital interface, not only yields a creamier, purer milk, but a finer, more velvety and consistent texture, improved mouthfeel, amplified sweetness and greater definition in surface art designs, according to the company.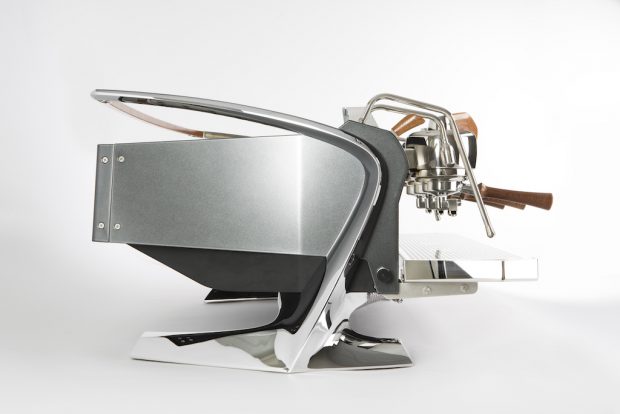 "It is undeniably better quality in the milk," Slayer Brand Development Coordinator Sarah Dooley told Daily Coffee News. Dooley said that with drier, hotter steam increasing the temperature of the milk without watering it down, the machine delves beyond traditional drink-making and into the culinary sphere. "We've managed to find the temperatures that accentuate sweetness, and we're talking about temperatures that are very common in the candy world."
Dooley also noted milk-fat development given the approximately 400 different lipids in the liquid that melt and solidify at different temperatures. "We have really interesting and beautiful aromatics at some temperatures, and at other temperatures there's accentuated sweetness," she said. "We're hitting a sweetness point that no one has ever hit in milk, because we couldn't go hot enough. If you do a little bit of candy research, those temperatures from softball to hardball are from 250 to 350 degrees, so we're dabbling in this arena where we can really develop that sugar."
The Slayer Steam represents an aesthetic departure as well, stepping away from the iconic squatting X profile of the Slayer Espresso and into another strong yet streamlined form all its own. "People today like things that are new and fresh," Prefontaine said of the Steam's angular case and sleekly contoured supports. "This is a new, fresh design that also has some unique features to enable them to make the most killer milk-based drinks possible."
Prefontaine said that the first Steam machines, available in either a two- or three-group configuration, are slated to ship in late September or early October. There will be no steam-related conversion kit for installation in older Slayer Espresso machines, nor is there currently a plan for a single group Steam, although the future is unwritten.
"Anything is possible. Of course we've had those conversations," Prefontaine said of the single-group notion. "But after a year and a half of nose-to-the-grindstone work and having this thing percolating in my brain for three years, we just really want to get the two- and the three- into production."
Howard Bryman
Howard Bryman is the associate editor of Daily Coffee News by Roast Magazine. He is based in Portland, Oregon.