Late last year at the 2015 HOST Milan event in Italy, espresso machine manufacturer Dalla Corte unveiled the Mina, their latest foray into prosumer espresso territory. The plumb-in-only, dual-boiler Mina introduced a new water delivery system called Digital Flow Regulation, controlled by a lever-like "yoke" that a user lowers or raises manually to activate digital water flow controls that are accurate to the hundredth of a milliliter.
This, coupled with an overall stylish aesthetic and smartphone app for wireless boiler temperature control, makes the Mina a unique presence on any coffee preparation counter, home or pro.
Dalla Corte has now launched an accompanying grinder, the Max, tailored specifically to match the aesthetic of the Mina. In keeping with the Mina's prosumer specs, the Max is designed to be strong, fast and yet compact enough to fit in small spaces such as on home kitchen or office breakroom counters, standing approximately 20 inches tall, 6.2 inches wide and a bit less than 10 inches deep.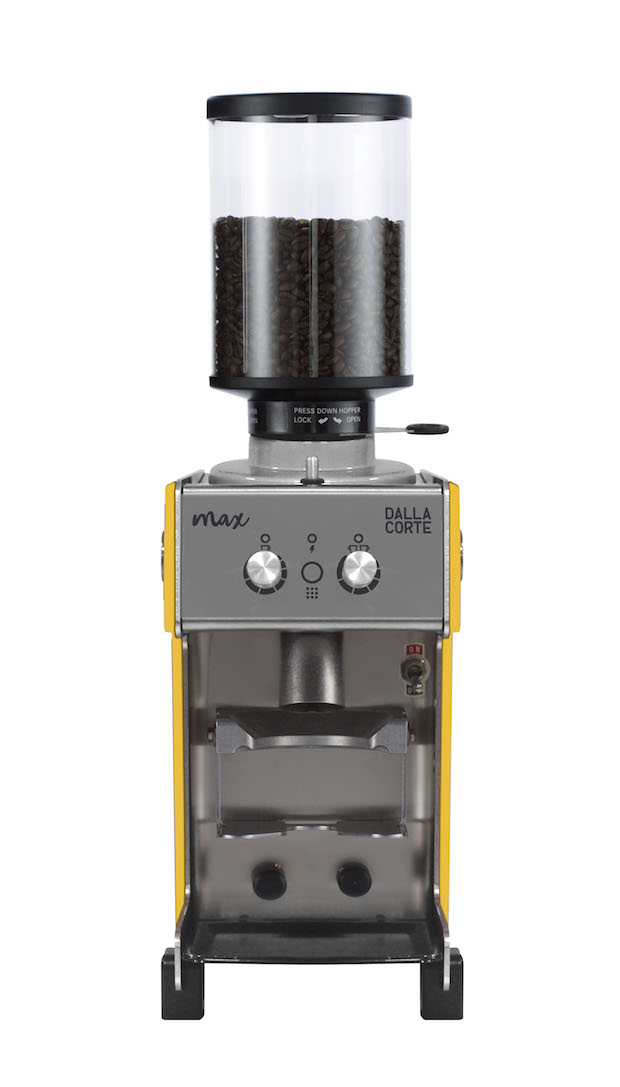 Inside the Max are 65-millimeter flat steel burrs that are roughly the same size as those found in Mazzer Super Jolly or Mahlkonig K30 grinders, among others. The company has stated a grinding output rate of roughly four grams per second, which is also comparable to the average speed of a K30 and other professional espresso grinders.
Like the Mina, whose analog-seeming manual yoke actually activates a digital internal system, the Max's two front-facing manual knobs set internal digital timers for the timed grinding of either single- or double-shot doses. Neither the Mina nor the Max have digital screens, though both operate with concealed electronic precision.
The Max is available in the standard yellow Mina-style finish or any of the same variety of materials and colors as its shot-pulling counterpart. The first public appearance of the Max grinder was yesterday alongside the Mina machine at the Dalla Corte booth at the SCAE World of Coffee event in Dublin, Ireland, and the grinder is now available for purchase through Dalla Corte dealers and distributors worldwide.
Howard Bryman
Howard Bryman is the associate editor of Daily Coffee News by Roast Magazine. He is based in Portland, Oregon.