Vertically integrated farm-to-cup coffee company Nobletree Coffee, with one foot on their own farms in Brazil and the other in Red Hook, Brooklyn, has joined the packaged RTD cold brew fray with a 1.5-liter retail pouch. The product consists of a 24-hour process of their flagship blend, Dromedaire Cuvée.
"We wanted to start off with coffee from our farm," Nobletree Coffee Brand Manager Nigel Hall told Daily Coffee News. "We feel that Brazilian coffee from our farm creates a delicious profile for cold brew — chocolate, nutty and sweet."
The product currently for sale is made from the same roast profile as the standard whole-bean product, although they did experiment a bit, and there may be tweaks in store for the future.
"It's very interesting to compare and contrast the Dromedaire as a hot and cold coffee," said Hall. "There are plans in the future to try making some slight changes in the roast profile to see the impact it has on the cold brew."
Hall also mentioned that the company had brewed up a sample using their El Sombrero single origin from Colombia. "This produced a citrus, fruit-driven cold brew in contrast to the chocolate sweetness of the Brazilian Dromedaire Cuvée," he said. "We do plan on producing cold brew with some other single origin coffees in our portfolio in the near future."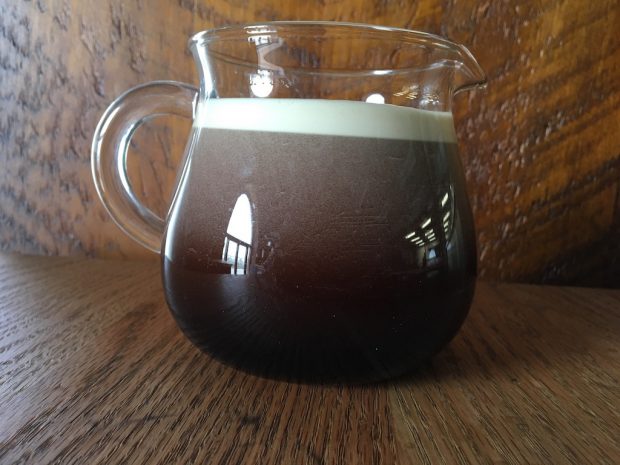 The Astropaq pouch they are using to package the brew has handles at the top for easy transport, and a plastic spout towards the bottom for dispensing. For its lightness and thinness, the the pouch presents an 80 percent carbon footprint savings over similar products packaged in glass bottles, the company asserts.
The product is brewed in-house at their Red Hook facility, where they are also currently working on a smaller, single-serve version. The suggested retail price for a 1.5-liter pouch of Dromedaire Cuvée cold brew, which became available to the public on July 12, is $12.99. The brew is also available in 2.5-gallon bags and in nitrogen-infused 5-gallon kegs for wholesale and private-label purchases.
Meanwhile, Hall reported that construction of the cafe portion of the Nobletree roastery is still underway. An additional location at the World Trade Center is also currently under construction, with a pop-up slated to begin providing limited offerings there on Aug. 16, followed by a full opening in September.
Howard Bryman
Howard Bryman is the associate editor of Daily Coffee News by Roast Magazine. He is based in Portland, Oregon.