There's a certain charm in coffee shops that candidly, unabashedly express the personal passions of their owners. Music on vinyl, live music, bicycles and anything vintage tend to be some of the most common cultural companions to coffee in retail settings, but rarely, if ever, has the world seen coffee paired with monster trucks.
Last month, professional racer and monster truck driver Joe Sylvester — who happens to hold claim to a Guiness Book of World Record for the longest monster truck jump — celebrated the grand opening of his new coffee shop, High Octane Coffee, in Canfield, Ohio, a short drive Southwest of Youngstown.
"I started getting into specialty coffee several years ago," Sylvester recently told Daily Coffee News. "Traveling the world racing and performing, keeping crazy hours and always needing that little extra kick to keep me on top of my game, coffee became a very regular part of my daily routine."
Sylvester said that for years on the racing circuits he drank "everything from truck stop coffee to whatever they had brewed at the diner," until the specialty lightbulb one day turned on and he could no longer stomach whatever swill was nearby. "Through my travels, I began to look up local coffee shops in whatever town I was in and would make it a point to stop and see them and get a cup of whatever their specialty was. This quickly grew into a passion for me."
That passion is on display in true monster truck style throughout the shop, carrying racing and truck themes from the company name down to the smaller details of the interior design, including a drink menu framed by repurposed grills from 1949 GMC trucks.
Octane is currently partnering with two separate Midwest coffee roasting companies for private-label wholesale, offering each of the available roasts as single-cup pourovers, while maintaining an espresso menu that has some audacious drinks that certainly play to the "high octane" name, such as a four-shot latte called "The Dually." Said Sylvester. "We do have plans to expand one day and begin roasting in-house."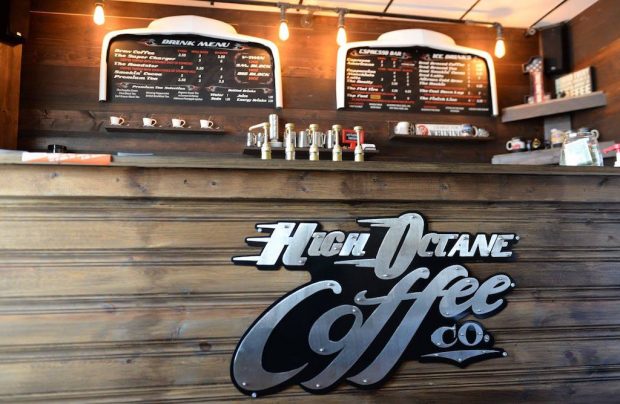 High Octane Coffee is open daily at 410 West Main Street in Canfield.
Nick Brown
Nick Brown is the editor of Daily Coffee News by Roast Magazine.