A new roast color analyzer has come to market that offers a color analysis solution to coffee roasting companies at a fraction of the cost of previous equipment for the same purpose. The new tool is the second iteration of a device called the Tonino, which is the product of Germany-based design duo Marko Luther and Paul Holleis. Luther is also the brain behind the popular open-source roast profiling software Artisan.
Once a desirable or otherwise noteworthy roast has been achieved and allowed to cool, the Tonino will analyze and assign a numerical value to the color of the roast. In its factory state, the Tonino operates on a color scale similar to that of the Probat Colorette, but with flexibility in the software designed to let users either adjust the scale to mimic that of another device if they want, or define their own scales by using the accompanying app to assign numeric values to color measurements themselves.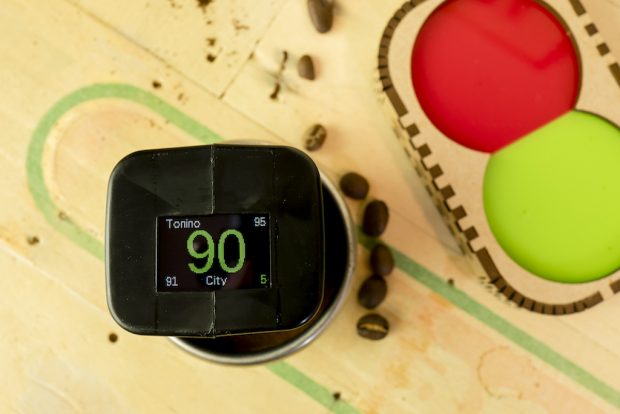 Users can seize upon an ideal roast and set its numeric value as, say, 100. Subsequent roasts analyzed by the Tonino will then display numeric values in relation to the designated target. If a subsequent roast is darker than the target, its value might be displayed as 95; if lighter, 105. Roasters can then act on this data and make adjustments to profiles accordingly.
Luther told Daily Coffee News that he began experimenting with roast degree measurement and took his first steps into the world of Arduino micro-controllers in early 2013 after having found an affordable color sensor. "The commercially available options were all out of reach for me, financially," said Luther.
The maker was then encouraged by the reception he found to the idea of the project in conversations at World of Coffee in Nice, France, later that year.
"I was surprised how many people knew me from my work on the open-source Artisan roasting logging software," he said. "To some of those users I disclosed my recent experiments on measuring the color of coffee with some electronics, an Ikea box and some LEGO parts. This raised a lot interest in that community, but hardware cannot be shared as easily as software."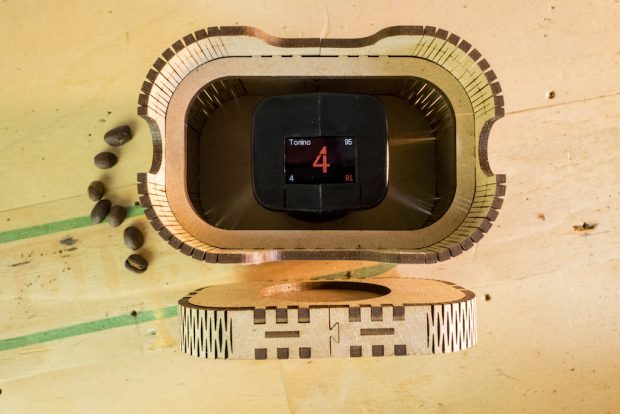 He collected perspectives from his intended users by polling 25 home-based and 25 commercial roasters to get an idea of his audience's interest, desired price range and must-have features. About a year and a half later the design for the first iteration of the Tonino was complete, using 3D-printed sensor covers and a repurposed can — from a can of corn — as its case to avoid expensive injection molding costs. The device employs a user's own standard espresso basket to hold the coffee as another cost-saving measure.
That model rolled out in 2014 and has since shipped to over 30 countries. The newer Tonino takes advantage of recent developments in smaller electronic components and incorporates a rechargeable battery, freeing the device from the power cord the earlier version depended on. As an upgrade from the recycled can in terms of compactness, convenience and ultimately sophistication, the base of the Tonino is laser-cut from an eco-friendly material called Kraftplex, made in Germany from sustainably cultivated softwoods treated only with water, pressure and heat.
Each package comes with the meter, a micro-USB data cable, a wireless induction-charging base and a calibration set. Users need only supply a USB power source such as an adaptor or computer and a standard espresso basket and tamper. A ground, tamped 20-gram dose of coffee is what the device analyzes, which is theoretically superior to a whole-bean color analysis, as it takes an averaged color sample from throughout the entire bean, from its center to its surface, as opposed to a whole bean which may be shiny on its surface or containing differences internally.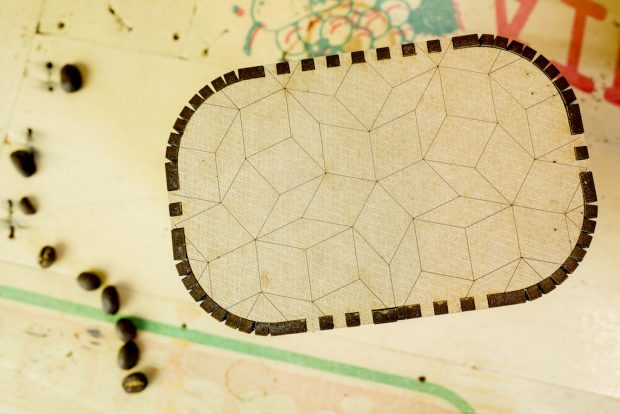 The digital OLED readout appears on the top of the unit itself. Readout brightness and sensor calibration is accomplished through an app compatible with Mac, PC or Linux devices. The app has some graphing features as well, and of course interacts with Artisan roast profiling software. The app itself is also open-source, and can be modified to interact with other roast profiling software.
The Tonino is available for purchase now for €549.00 (about $615) before shipping. The new Tonino Roast Color Analyzer is currently available to purchase from the Tonino website directly, and will be available in the United States through Mill City Roasters by the end of September.
"It is worth it. It is very cool," Mill City Director of Operations Nick Green told Daily Coffee News about the prototype he's been playing with while waiting for the first production run to ship.
Apart from sleek features like motion activation and induction charging, Green is excited to be able to offer commercial roasters such an important quality assurance tool at a price accessible even to the smallest businesses. "With the Tonino, you can actually be sure, 'Yup, this is a 103 medium, this is a 104 medium, alright it's pretty spot on and its from different roasts,'" he said. "That's a big deal."
Howard Bryman
Howard Bryman is the associate editor of Daily Coffee News by Roast Magazine. He is based in Portland, Oregon.