Saint Anthony Industries, makers of the minimalist Phoenix pourover brewer and a line of craft-minded coffee tools and accessories, has released a new design that performs two valuable functions, thereby decluttering somewhat the growing field of very specific and individual espresso accoutrements. This is the Shot Collar, a device that serves as both a dosing funnel and a distribution tool.
Dosing funnels are handy for capturing the sometimes scattershot spray of grinds out from a grinder chute. Distribution tools are used to effectively and consistently arrange a bed of ground coffee inside a portafilter basket so that when tamped the bed provides uniform resistance to water throughout, which prevents channeling and promotes optimal extractions. While dosing funnels have been around for a while, the latter category is one that has received a bit more attention recently.
By SAI founder Khristian Bombeck's estimation, existing distribution tools have presented some admirable concepts, but in practice they do little more than polish — which is to say, they make the pre-tamped shot look even and smooth but don't actually create a uniform density of coffee mass beneath the surface. "That's why I tried to come up with an alternate approach," Bombeck told Daily Coffee News.
The Shot Collar, which weighs in at just shy of 1 pound of solid 304-grade stainless steel, rests on the rim of 58-millimeter portafilter basket, with a lower portion threaded internally to adjust for different doses that pile up to varied heights. The funnel-shaped top captures coffee from a grinder and directs it neatly down into the basket, then with a spin, a tap and another spin, an agitator across the bottom distributes the coffee thoroughly and evenly throughout the basket.
Paired with an accurate dosing scale and SAI's Levy or similarly calibrate-able tamper, the result is a streamlined process for consistent and precise basket preparation, Bombeck contends.
"As long as you weigh out your coffee dose and you have your Levy dialed in, someone that's not too experienced in making espresso is going to do pretty well using that tool," said Bombeck. "It really helps lower the barrier to making great shots of espresso."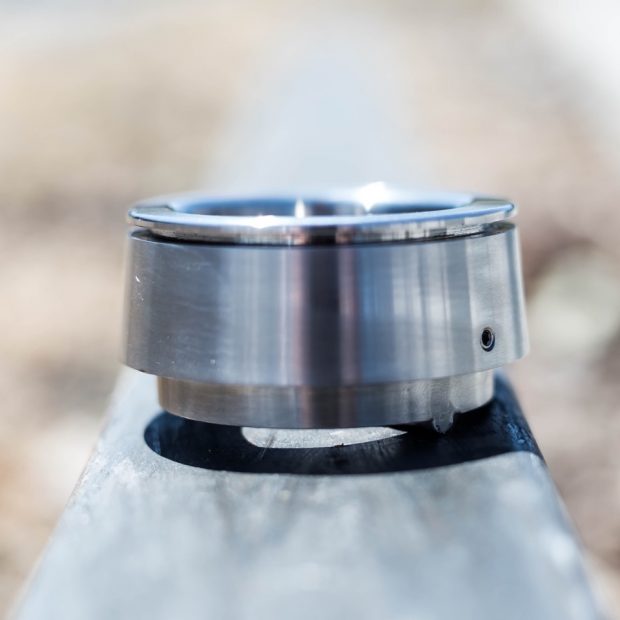 Bombeck stated that according to TDS readings in SAI's own tests, shots prepared with a Shot Collar yield higher extractions at least 90 percent of the time. "I would have made the Shot Collar last year if I knew it would be such a hit," said Bombeck, also stating they've sold hundreds of Collars so far with zero returned.
"I want to continue improving it," said Bombeck, who has received feedback from a few not-dissatisfied users indicating that the use of the tool takes a second or two longer than other similar tools, which, for a professional barista, is not an insignificant addition of time spent on an extra step in the midst of the flurry of long lines and rapidfire shot-prep.
Bombeck's not sure how to address that issue as he contends that the one or two extra seconds are relevant to the fact that the Shot Collar actually achieves the goal of distribution, whereas other, perhaps quicker ones are less effective — but he'll see what he can do, either way. The company will continue to gather data and feedback for at least another six months in the lead-up to a second iteration, at which point they'll also add smaller diameter versions to the line, for differently sized machines on the home market as well.
Bombeck, whose official title with the company is reportedly "Master and Commander," cofounded SAI in 2014 along with his brothers Gregory and Ike, as well as Lucas Watts. Prior to his work with SAI, Khristian Bombeck is credited as the inventor of the Alpha Dominche Steampunk Machine, although his designs these days are far simpler. As for other SAI designs on the horizon, Bombeck was willing to confirm a rumor that he's working on another machine of sorts — a drip-method coffee brewing device that in some way combines the manual and the mechanical.
The new device will be called the El Camino1, but unlike his previous invention, there will be no vacuum chambers or complex electronics involved.
"What we're trying to do is ride the line between a machine and a manual brewer, in terms of elegance and simplicity. I'm not quite sure what category it'll fall into. A lot of the controls are passive, the moving parts are almost nonexistent," said Bombeck, adding, jokingly, "The only thing I use a vacuum for now is to clean my house."
The new device will be aimed at audiences both in the home and commercial brewing markets. Bombeck said the El Camino1 is currently in the prototyping stage, and has a projected approximate launch date of sometime within early 2017.
Howard Bryman
Howard Bryman is the associate editor of Daily Coffee News by Roast Magazine. He is based in Portland, Oregon.