The Hario product catalog is a continuously expanding one, particularly when it comes to different materials and size iterations for pourover and siphon brewers and stands, as well as cold brew equipment, scales and other items.
With occasional exceptions over the years, Hario's products are non-mechanized and non-digitized, in keeping with the hands-on spirit of manual brewing, including a line of nine manual coffee grinders in the company's current catalog.
It's therefore an unusual event that the company's latest launch is an automatic-type product, an electric coffee grinder designed specifically for Hario V60 brewers.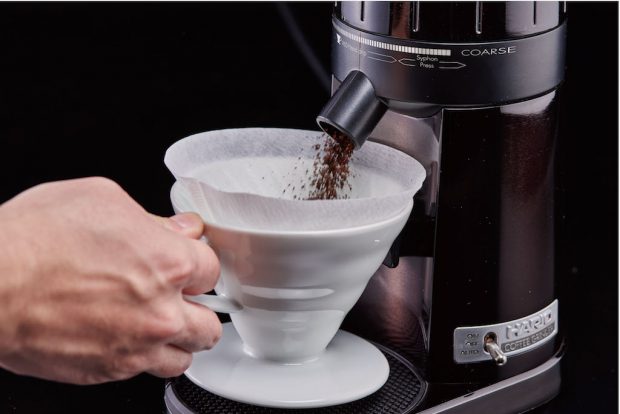 The North American audience first caught glimpses of the Hario EVCG-8 at the SCAA Event earlier this year. Manufactured in China, the new electric grinder's marquee feature is a chute positioned at appropriate height for grinding directly into a V60. Similar to an espresso grinder's on-demand button activated by an inserted portafilter, there's also a brewer-activated on-demand button on the new Hario EVCG-8.
A stainless steel set of 36mm conical burrs does the dirty work inside a die-cast metal housing, with other components made from ABS and polypropylene. The hopper, which holds a bit over 8 ounces of whole beans, is made from ABS plastic and features a sliding shut-off at its base for removal while still full.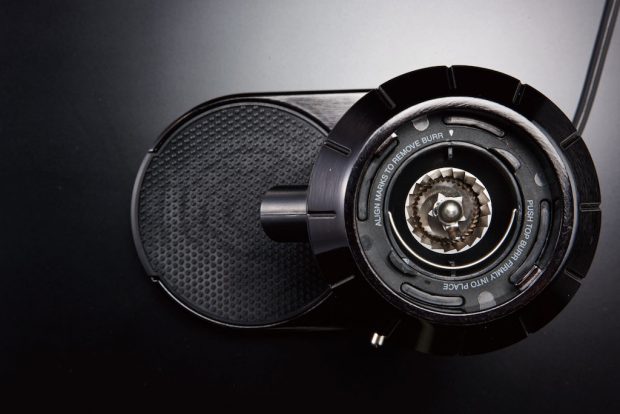 The shape of the hopper echoes the rolling contours of a Hario Buono kettle and glass decanter. With a tray-like extension on its front to catch errant grinds or double as a tamping mat, the footprint of the unit is roughly nine inches wide. Diameter of the machine is a bit over 5 inches and it stands slightly taller than 15 inches tall.
The grinder has a 44-position stepped adjustment collar, the majority of which is supposed to be within manual pourover range, which for the V60 tends to mean a finer grind than other manual brewers that operate with a more restricted flow. The product announcement implies that the grinder is also capable of espresso-caliber fineness and press-pot coarseness.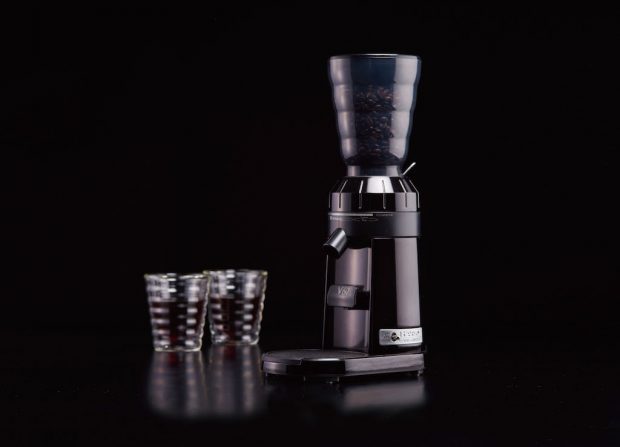 The Japanese company has rolled out machines of different voltages and very subtle aesthetic differences for the U.S. and European markets, the European being slightly more rounded and the US more angular where the hopper meets the base. Commercial use of this grinder puts it out of warranty, as it is not built with heavy-duty intent, though it does come with a 5-year guarantee for home use. According to published product information, the machine grinds just over 3 grams per second at its finest setting.
The Hario Electric Coffee Grinder is currently available for sale by the Missouri-based retailer First Crack Coffee, Amazon and elsewhere.
Howard Bryman
Howard Bryman is the associate editor of Daily Coffee News by Roast Magazine. He is based in Portland, Oregon.