In online retail, options abound, competition is everywhere, differentiation is key, yet none of the competing companies are actually in the same room as each other or their customers, in real life. That's why Atlas Coffee Club, an online retail coffee subscription service that launched in mid-2015, just staged a week-long pop-up at the rotating retail space at 144 Newbury Street in a Boston, Mass., alongside purveyors of other Boston-born retail goods such as apparel, grooming supplies and more.
Atlas crossed the line from beans by mail to drinks by hand because in certain ways there's no substitution for face-to-face human interaction. "We try to meet people where they are," Atlas co-founder Michael Shewmake told Daily Coffee News, using an expression that in this case could be taken both figuratively and literally. "They may not be really into coffee. We try to explain all these things without sounding pretentious."
Shewmake said that Atlas focuses intensely on providing colorful, transportive informational materials about each coffee origin it presents, while striving also to be attractive to aficionados looking for the exotic as well as newcomers just learning to recognize how coffees grown in different places and are processed and roasted differently actually smell and taste differently in the cup. The pop-up offered Atlas an opportunity for greater exposure, but just as importantly for feedback and responses from actual coffee drinkers in the field.
Plus, Shewmake relishes the role of barista — an escape from the quiet faraway room in which Atlas works its magic, onto the front lines of customer service and coffee enjoyment. "I like it a lot," said Shewmake. "When we're brewing in the pop-up shop, one of my go-to things to do is a light-roast pourover that has interesting notes so that it hits them right in the face, and they're like, 'oh wow, I can actually taste that!'"
The pop-up focused on Chemex batch brews of various fruit-forward Atlas offerings. Another of Shewmake's tools of engagement was an occasional impromptu giveaway game. He offers a free bag of coffee to an interested patron if they can independently corroborate the documented tasting notes.
"I was like, 'See what you can get out of this.' They were like, 'Strawberry and blueberry? Is that weird?' and I said, 'Nope, it's right there on the card!'" recalled Shewmake of one such interaction. "They loved it, they were going nuts."
Atlas Coffee Club was founded in Boston, though it has since moved its base of operations out of the area. Currently they are based in Little Rock, Ark., with plans of soon relocating again to Austin, Texas, though all this moving around has little bearing on the service they provide or to whom. Atlas sources each coffee itself and determines an ideal profile for the coffee using an Ikawa sample roaster. Production is then undertaken by a larger partner roaster in a toll-roasting relationship, which is currently Blue Sail Coffee, founded in Conway, Ark. In 2014.
Coffees are available for purchase a la carte, although their signature offering is a monthly subscription service that provides one origin per month and aims for the experience of a coffee-lover's journey around the world. Each package includes flavor notes, brew guides, and a postcard with information on agricultural traditions, methods and history in the region. Full wrap-around artwork on the coffee bags is inspired by the vivid traditional textile patterns of each origin.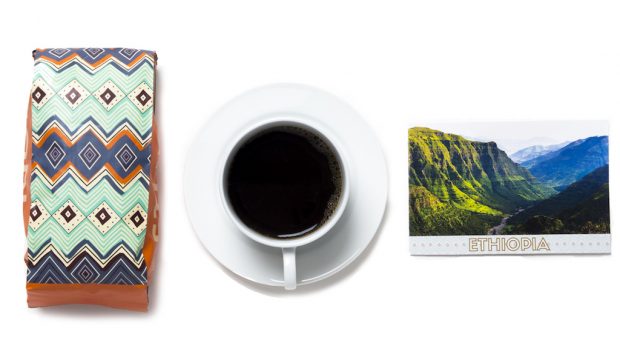 "We try to take the spotlight off of us and keep it on the coffee," said Shewmake. "You won't see our brand name anywhere on the front."
In the competitive field of online coffee services, Shewmake believes that their emphasis on origin culture and color and de-emphasis of their own brand and location is key to their differentiated offering. "We could be the hundredth roaster that uses an off-brown colored bag with little meta-descriptions of where it's from, or we could make it really all about the country, and all about the region," Shewmake said. "We wanted to be more colorful and tell that story."
Atlas is focused for now on continuing to build its online clientele and expanding its offerings to more exotic origins such as Vietnam, Cuba, India and DRC, while preparing for the next relocation to Austin. After that, Shewmake said he'd like to see Atlas coffees both in progressive offices and on brick-and-mortar shelves in curated independent retail environments. He recently took his first steps toward achieving Q certification, and though he considers it too early in the life of the business to pursue an Atlas café, he does hope to bring roasting in-house by the middle of next year.
Howard Bryman
Howard Bryman is the associate editor of Daily Coffee News by Roast Magazine. He is based in Portland, Oregon.