Olympia Coffee Roasting Company is finishing its year with this cherry on top of its major recent expansion: A revamped and upgraded barista training center. Technically, the refreshed facility is on Cherry Street, around the corner from the Olympia headquarters in downtown Olympia, Wash.
In October of last year,  Olympia unveiled its vastly expanded flagship roastery and café at 600 4th Ave., at the corner of 4th and Cherry, which took them from about 2,000 square feet to a total area of about 6,000 square feet, opening up floor-to-ceiling views of an expanded production line as well as a new QC and cupping lab where the company also resumed its public cupping program.
At that time they shut down their original café location, opened in 2008 on Cherry Street, transitioning that space into a training area, though the former cafés interior plan proved less than ideal.
"We realized maybe eight months into it that it wasn't going to work long-term," Oliver Stormshak told Daily Coffee News. "Our business had changed over the years and we wanted something better. So we decided to remodel that portion as well, even though technically the remodel expansion project was long over at that point."
Work on the space involved the removal of the original bar counter to free up more square footage for trainees to stand and observe, while drink-making equipment was moved to counters up against the wall. That equipment was swapped out for upgrades, including La Marzocco Linea PB and Strada AV espresso machines.
Espresso and brewing gear, along with a projector and other educational tools are now in regular daily use according to Stormshak. The space will also soon include some custom-built stadium-style seating units.
"When you're in a training you get a couple of different views," said Stormshak, adding that the seating units will be modular, so they can separate and relocate them as needed to accommodate interviews or meetings in that space as well. "It's a little bit more flexible than just a barista training class."
With this final piece of the headquarters expansion puzzle falling into place, Stormshak said the next step for OCR may be a major move in the larger nearby market of Seattle. "We've been in lease negotiations a couple times now," Stormshak said of his search for an ideal retail spot in the Emerald City. "We're also going to be building a training center similar to this in Seattle."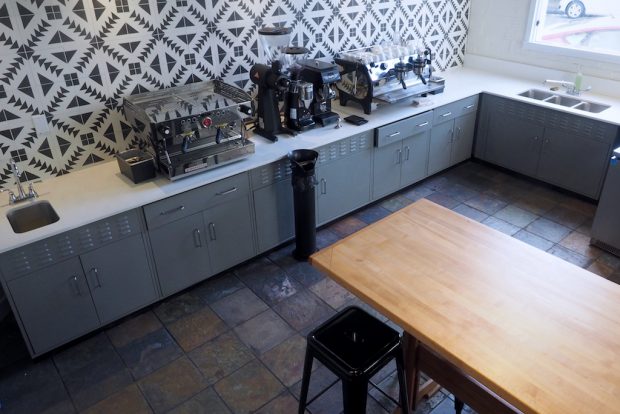 Thus far, nothing has been signed, though Stormshak is optimistic that a deal will be made within the first quarter of 2017. He said the new café, which could turn out to be the first of multiple shops in Seattle, might also house a small roasting machine for on-site, small-batch specials. Stormshak was also clear that the company intends for the majority of wholesale production to always occur in their Olympia facility, though Seattle is where the majority of their coffee is sold.
"We really feel like people are attracted to our coffee there," Stormshak said of Seattle. "Olympia and Seattle are technically the same market, but obviously there's a lot more population in the city of Seattle. That's been our focus for the last few years and it's going to continue to be our focus. We really want to be a strong Northwest company."
Howard Bryman
Howard Bryman is the associate editor of Daily Coffee News by Roast Magazine. He is based in Portland, Oregon.