Grand Rapids, Mich.-based roasting company Madcap Coffee has opened its second retail location, incorporating a visually striking open-concept round bar inside the Grand Rapids Downtown Market.
Madcap CEO Trevor Corlett told Daily Coffee News that the company is continuing to build out a retail space attached to its production roastery — a project that has experienced some challenges due to permitting requirements associated with the age and former uses of the building — while the Downtown Market project came together much more quickly.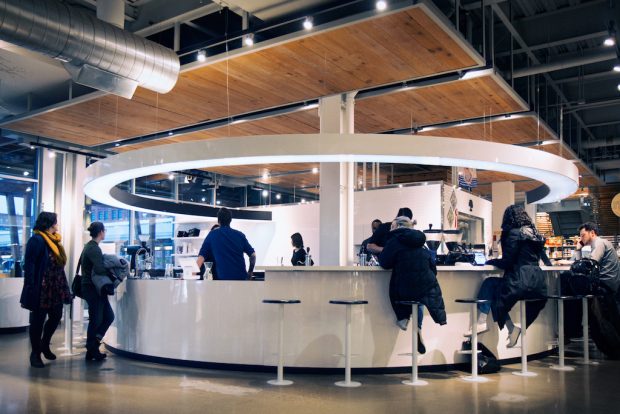 The Market bar buildout, led by local firm Studio Wise following the design of Seth Herman, came after a lease-signing in October. The shop itself soft-opened earlier this week.
"This was an opportunity to take advantage of this market environment, and do something different than what we're doing at our original location," Corlett said. "It's definitely a different customer base than we see at our original cafe."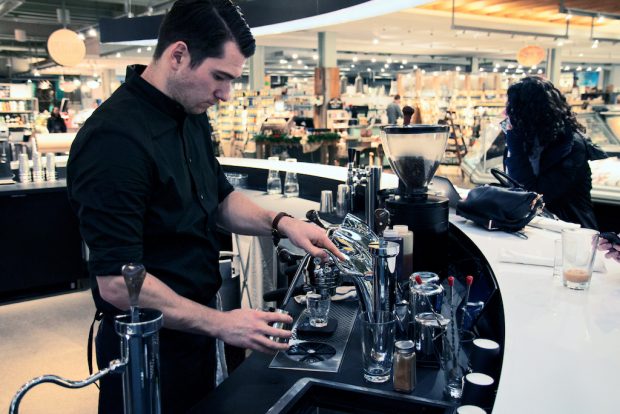 In response to the specialty food marketplace environment, Madcap designed the bar to maximize openness and transparency. Patrons approaching the POS or taking a seat at one of the approximately 20 barstools face an expanse of glossy white finishes and the gleaming chrome of a Modbar system for espresso and pourover that minimizes visual barriers between customers, baristas and the products being prepared.
A suspended ceiling with hard angles and warm wood paneling is in stark contrast to the round, white openness of the bar below, further helping to frame the space and create a feeling of coziness.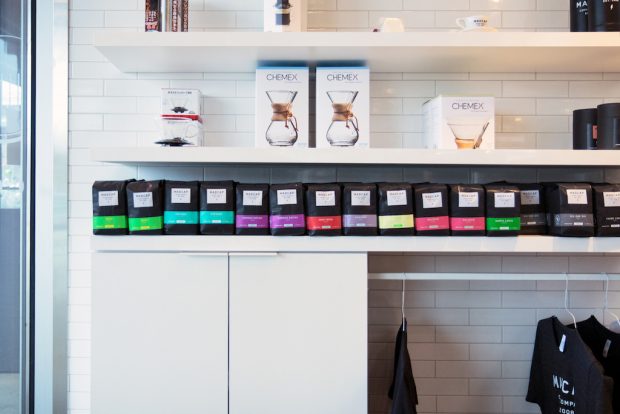 "We're really making it more intimate and creating a lot of opportunities to talk to the barista," Corlett said. "You naturally just want to bar up, which was kind of our intention."
In addition to the Modbar installation, the bar is home to two Mahlkonig Peak grinders for espresso, and a Curtis ThermaPro batch brewer supported by an EK43.
While centered around Madcap's rotating selection of carefully sourced coffee offerings, the drink menu stands apart from the menu at the company's original café. Corlett said the menu plays to the soda fountain/cocktail bar design, and there is even a kids drink menu that responds to the market's wide family-oriented customer base of upscale food and grocery shoppers.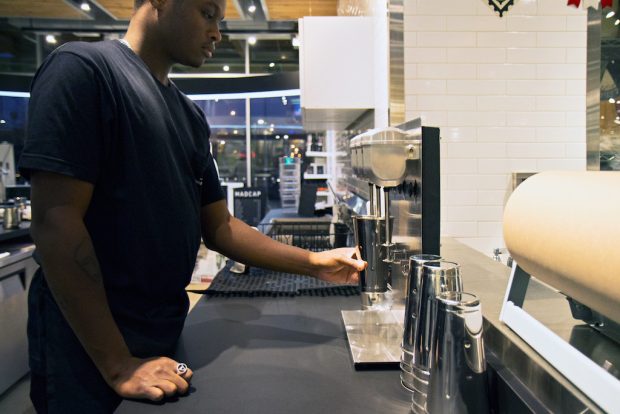 The bar is collaborating with local creamery Love's Ice Cream for a number of dairy and nondairy coffee milkshake drinks, while offering some coffee-related and contemporary updates to classic soda fountain drinks. There's cascara soda on tap, as well as a nitro coffee that is brewed double-strong through Curtis Omega brewers and flash-chilled with ice before being kegged and nitro-tapped. Corlett said the Japanese iced coffee-style brewing method has yielded the best results for tapped nitro brew in terms of maintaining the flavor characteristics found in hot coffee.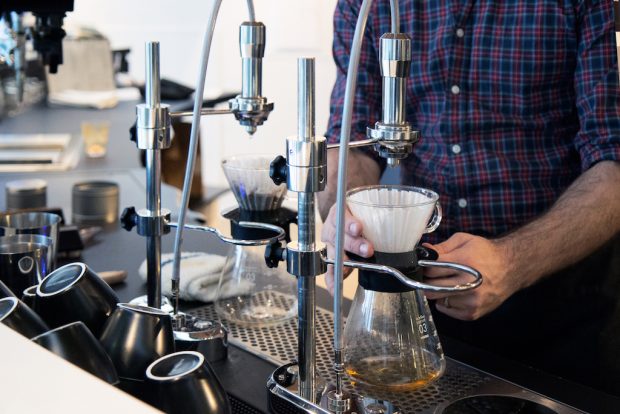 As an additional way to connect consumers to coffee, the bar is offering a $10 taster's flight, composed of a single espresso, a single macchiato, and a short filter coffee, all followed by a taster's choice drink, which can be guided by a barista based on feedback from the previous three drinks, or simply dictated by the customer.
With two retail bars now open and a third coming within months to the Madcap roastery location, Corlett said the company — which built its name through sourcing, roasting and training for wholesale clients, always with an eye toward top quality — is indeed seeking additional retail opportunities.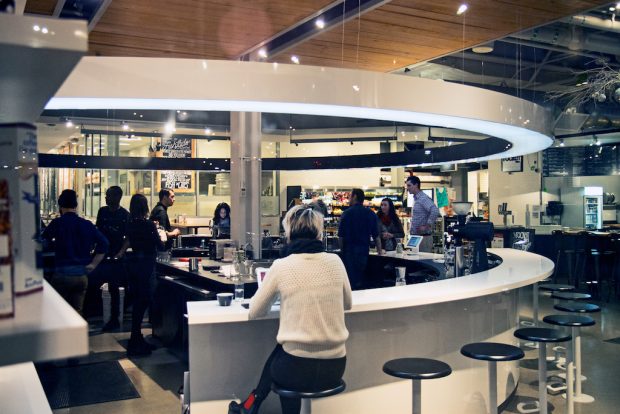 "We're hoping to have a couple things on the radar for the middle of the year," Corlett said, adding, "not necessarily in Grand Rapids, but we are looking at further retail potential and where that leads us."
Nick Brown
Nick Brown is the editor of Daily Coffee News by Roast Magazine.