While life on earth seems to be caught in a tailspin, life in space just keeps getting sweeter. We took note last year of Lavazza teaming up with an engineering firm and the Italian Space Agency to successfully install an espresso machine in the International Space Station, although as great an achievement as that was, it hardly seemed like a gustatory delight to be sucking the brew out of sealed plastic pouches.
It turns out that was not an uncommon sentiment. In fact, it was as early as 2008 that NASA Astronaut Don Pettit contacted IRPI, an Oregon-based R&D and consulting firm that focuses on fluid-thermal engineering solutions for aerospace and other applications. Pettit relayed his weariness of slurping blobs out of pouches, and so began the collaboration that culminated recently in the Space Cup, a demitasse, of sorts, that effectively contains liquid and facilitates sipping in zero gravity. The design was finished just in time for testing on space station espresso.
"When we heard that they were going to be drinking espresso, that complicated drink, we knew that that drink is heavily dominated by gravity on Earth," IRPI VP and Senior Scientist Dr. Mark Weislogel said in a video promoting the Space Cup, citing crema and aromatics among the elements of espresso that would be missed without gravity.
One of IRPI's areas of expertise is specifically in building technology for controlling fluids by the use of surface tension as a replacement for gravity. Their feat of engineering, the Space Cup, is guided by an understanding of the three core elements of capillary system physics: geometry, wetting characteristics, and surface tension.
"It's very important to understand the effects of surface tension on an engineering system, and especially when it's a life-support system," said Weislogel, offering a characterization of the coffee machine that we fully endorse (although the company does also work on medical life-support systems).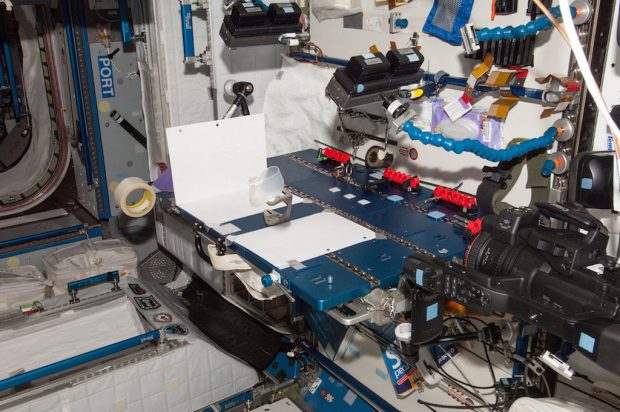 Weislogel is also Professor of Mechanical Engineering at Portland State University, where there were terrestrial tests of the Space Cup using a drop tower to recreate the zero-gravity environment, proving once and for all that whether they're at home, work, the mountains, or outer space, Portlanders obsess over their coffee. They also like to share in their discoveries, though, and to that end, anyone on Earth is welcome to experience coffee the astronautical way as IRPI has just spun off a retail brand, Spaceware, for the sale of Space Cups and eventually other wares to the general public.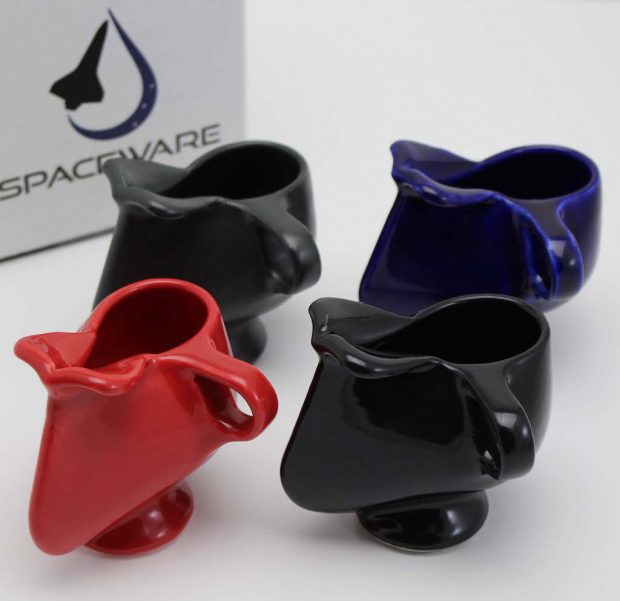 "Spaceware is a combination of demonstration and education around living in space," IRPI president and senior engineer Ryan Jenson told Daily Coffee News. "Since we are fluids experts we have gravitated toward devices that involve fluids. That just happens to be things that are 'kitchenware' types of things such as cups, coffee brewers, silverware, and other items. The idea being, how do we design objects that are common on Earth and design them to work in microgravity? It's actually quite complex, and often a new experience even for astronauts."
Here is a downright incredible video of a manual zero-gravity coffee capsule brewer designed by IRPI being used in space:
Back on Earth, the online store went live earlier this week, selling a "Capillary Beverage" patch for sewing onto your space barista apron, as well as two versions of the Space Cup. The "Flight Fidelity" version is of 3D-printed NASA-grade construction, identical to the cups on the International Space Station, for $500 apiece. For those with a less astronomical budget, there's also a porcelain version, available in a variety of colors, that sells for $75 per cup.
"We got a first batch of cups in December, but decided to wait until after Christmas to launch so things wouldn't be too hectic," said Jensen, adding, "We do have several other designs in the works both related to cups and other spaceware 'household' items that either have been or will be demonstrated in space."
As for what exactly IRPI stands for, that "is still a closely held secret," said Jensen. "It's nothing epic, but adds to the mystique."
Howard Bryman
Howard Bryman is the associate editor of Daily Coffee News by Roast Magazine. He is based in Portland, Oregon.