Action and reaction, ups and downs, give and take — these are the things that constitute the push/pull that is life. Push x Pull is also the name of a new Portland, Ore.-based roasting company, founded by two friends whose complementary skill sets in coffee and branding inspired the leap into entrepreneurship.
"I've gotten a lot of encouragement over the years, just to make this happen," said Push x Pull co-founder Christopher Hall, who officially launched the business late last year with Jacob Cowdin. "I kind of got to a spot where I thought, 'Am I going to work to make other peoples' dreams happen, or am I going to work for my own?'"
A longtime barista with independent retail experience dating back to childhood at his family's hardware store and café in his hometown near Lansing, Mich., Hall moved to Portland for a second time about five years ago, and began home roasting while working at a Stumptown-supplied café. About a year and a half ago, he proposed formalizing a coffee business with graphic designer Cowdin, and the two began manning and hosting popups.
Push x Pull (simply pronounced Push Pull) now has its own roasting facility, shared with two other non coffee businesses, in Northeast Portland near N. Interstate Ave. and N. Tillamook, with a new 2-kilo North machine from Mill City Roasters. Greens are currently being sourced through Cafe Imports and Royal Coffee.
"My background is in supply chains, so that's one of the fun parts about this whole process," said Hall. "You're taking a bean from other people's hands from across the world and bringing it to its fruition, to its end."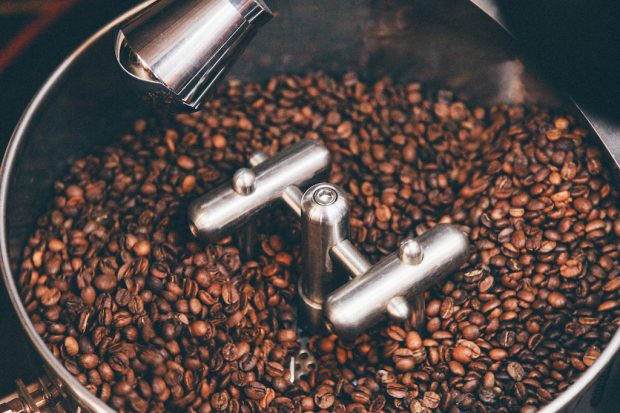 Push x Pull is currently offering a small, rotating selection of single-origins, and Hall said he and Cowdin have been leaning toward highlighting natural-process coffees, in part because of their own preferences but also because he sees them as being under-represented throughout the thriving Portland roasting scene.
"I want to bring natural, cherry-dried more into the coffee landscape," said Hall, noting that his own longtime preference for naturals stands in contrast to his other taste preferences for things like beer, where he tends to favor a subtler pilsner over a bright, hoppy IPA. "Obviously, cherry-dried coffee has always been around, but there maybe hasn't been a lot of education out there."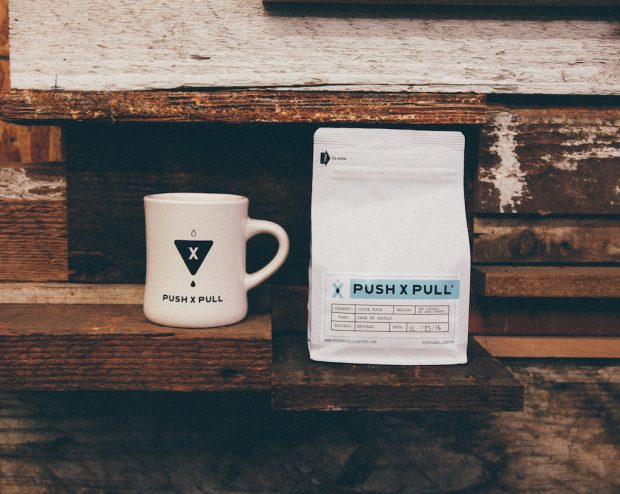 Following the commercial launch, Push x Pull received a big order from Portland State University, which was followed by a monthlong residency at the Airbnb headquarters. While Hall said the company will continue to build wholesale relationships, the more immediate goal is to open a Push x Pull tasting room at the roastery.
"The simple thought is that I love my coffee and I want other people to taste the coffee that I roast," said Hall, adding that while Portland is indeed a crowded market in terms of roasters and retailers, it also has a continuously growing consumer base. "My wife and I, when we go out and say we want to get coffee, we start with, 'What neighborhood do you want to be in?' There are so many great shops and roasters that we love, and we also want to taste the new ones. For me, that kind of overrides the fear."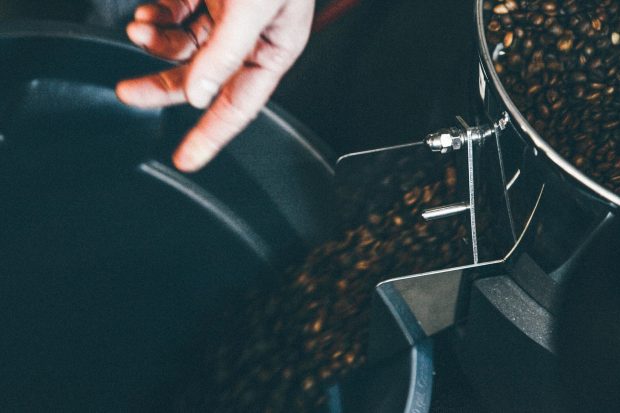 Another point of differentiation Hall hopes will shine through is that the company — while striving to be meticulous in sourcing and roasting — hopes not to take itself too seriously. Hall said he believes the presentation of coffee can sometimes lean toward sniffy, when it should always be approachable, even fun. That concept is played out in this good-time video, done in collaboration with Push x Pull friend Josh Brine to help launch the brand:
Hall said that once the Push x Pull roastery tasting room is up and running, he hopes to eventually turn his attentions toward opening a more traditional neighborhood coffee shop through which to promote the brand and its coffees. Said Hall, "It's been a dream of mine for a long time to own a cafe."
Nick Brown
Nick Brown is the editor of Daily Coffee News by Roast Magazine.