Dave Ellefson, bassist for the seminal American thrash metal band Megadeth, has since early 2016 been selling roasted, whole-bean coffees under the brand name Ellefson Coffee Co. through an online store.
Product names tend to reference Megadeth catalogue highlights, such as a single-origin Brazilian coffee taken dark and smokey to earn the moniker Roast in Peace, a play on the title of the band's first album, Rust in Peace. She Wolf is a Nicaraguan single-origin roasted lightly and named after a song off the band's seventh album.
Not surprisingly, these have climbed the charts rapidly among legions of coffee-guzzling headbangers around the world. Now, in an effort to grow the business into a headlining act in its own right, Ellefson has partnered with Jackson, Minn., coffeehouse owner Susan Reiter to rebrand her 14-year-old shop Coffee Choices into the first official Ellefson Coffee Co. café. The shop is reopening this week after an interior overhaul.
"Essentially, Ellefson Coffee Company started as a web-based mail-order business, and the beauty of that is it was profitable from Bag One," founder Dave Ellefson told Daily Coffee News. "But as in any business, you have to grow the vision. You have to grow the business if it's going to have any legs beyond being a novelty item."
The coffees for the venture are roasted by fellow monster of metal Paul Waggoner, lead guitarist for the prog-metal band Between the Buried and Me and, as of about two years ago, head roaster and proprietor of Charlotte, N.C.-based Parliament Coffee. Waggoner sources the Nicaraguan beans directly from the growers, and partners with Café Imports and Coffee Shrub for other greens that he roasts in a 5-kilo U.S. Roaster Corp machine for the private label relationship with Ellefson.
A mutual friend on the music scene provided the introduction between Ellefson and Waggoner after Ellefson began his work to develop his own line of coffees. "As a company, we are always looking for ways to marry music and coffee, so this really was a perfect match," Waggoner told Daily Coffee News.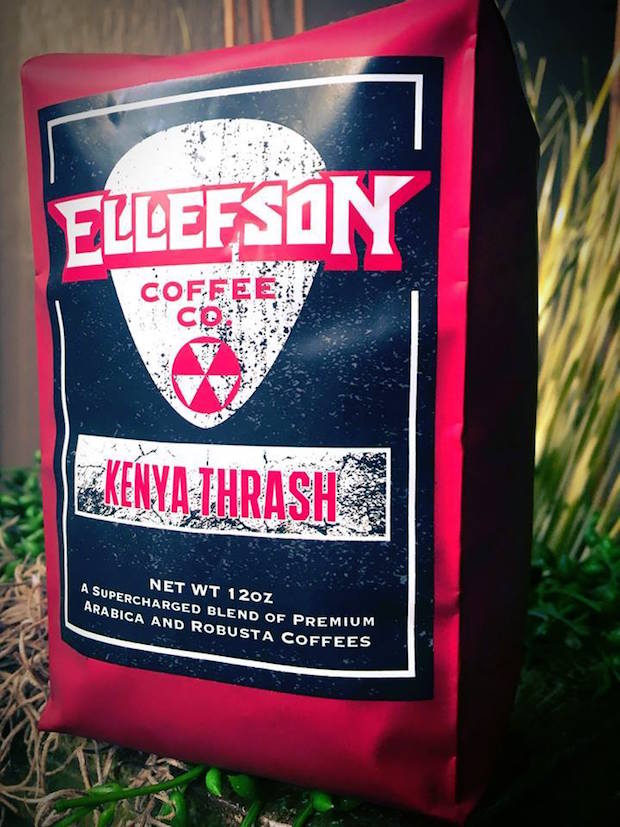 Though he now resides in Scottsdale, Ariz., Ellefson's connection to Jackson runs deeper, as he grew up on a farm there and has returned for visits consistently over the years. He was a patron of Coffee Choices before Reiter bought it seven years ago and continued to enjoy the shop after she stepped in, which is where they met and formed a friendship over their shared love of the brew. Growing antsy in her ownership of the long-running café, Reiter is very excited about the new partnership and new direction for the business.
"It's got a seven year itch to it," Reiter joked about the seeming cycle of the café: Seven years under its original ownership, seven years under her own, and now evolving once again. Said Reiter, "It needs refreshing, just like a marriage."
Coffee Choices' La Cimbali M29 espresso machine and Macap espresso grinder will remain on active duty alongside a Bunn grinder and 2.1-liter batch brewer, although the menu and layout are changing and the décor is transforming completely. With fresh paint and an abundance of incredible metal music memorabilia—gold records, guitars and other artifacts—plus a space for live music performances and an area devoted to CD and record sales primarily from Ellefson's own record label (EMP Label Group), Ellefson Coffee Co. will pull double duty as a de facto "Museum of Deth," as Ellefson put it.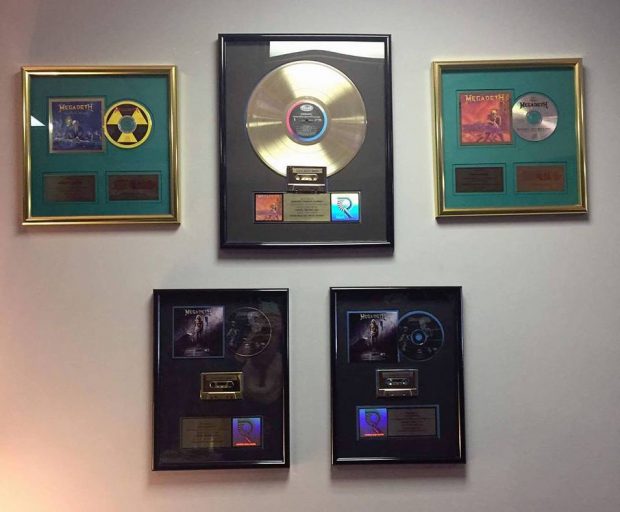 "We want it to become a hip, go-to destination where there's music, there's rock n' roll, there's memorabilia, there's fun drinks," said Ellefson, adding that drinks will be inspired and in some cases designed by some well-known friends from the rock world, including Anthrax bassist Frank Bello and Korn cofounder Brian "Head" Welch.
While Reiter and Ellefson are similar in age and grew up only a few miles apart, Reiter admits that she's somewhat of a latecomer to the metal party, but is stage-diving right in.
"I have a lot to learn about the thrash metal scene," laughed Reiter, adding that with music, coffee, and beyond, she has always appreciated Ellefson's down-to-earth openness and warmth. "He has not forgotten his roots or what 'Minnesota nice' really is. But to hear someone talk and drop names like Alice Cooper or Brian 'Head' Welch or Mark Slaughter, it's been amazing."
Ellefson said he hopes that the locals that loved Coffee Choices will continue to support the location, even if gold records, jagged axes and other artifacts of arena-rattling Mega-success may seem some somewhat counter to the unassuming culture the tiny, agricultural town of Jackson.
"I'm a perfect example of a kid who grew up on a farm, but had other creative aspirations besides farming, and I think that it's nice to have a go-to destination in a town like that, where those that beat to a different drum have a place to come and hang out and be able to feel a sense of community," said Ellefson.
The Ellefson Coffee Co. is soft-opening this week at 404 2nd Street in downtown Jackson, Minn.
Howard Bryman
Howard Bryman is the associate editor of Daily Coffee News by Roast Magazine. He is based in Portland, Oregon.