Longtime Austin, Texas-based roaster Texas Coffee Traders has opened the first SCA-certified campus in the Lonestar State.
Company president Beth Beall said the lab facility not only provides space for coffee professionals to take SCA-accredited courses to further their professional development, it also represents a natural extension of TCT's longtime mission toward coffee education.
"It was really truly a need. When we reached out to the [SCA], they said yes please do this, because they'd gotten calls saying, 'Where can we take courses in Texas?'" Beall said. "Our vision has always been to be coffee educators. It's what we already do, and this just kind of makes it more formal in a way."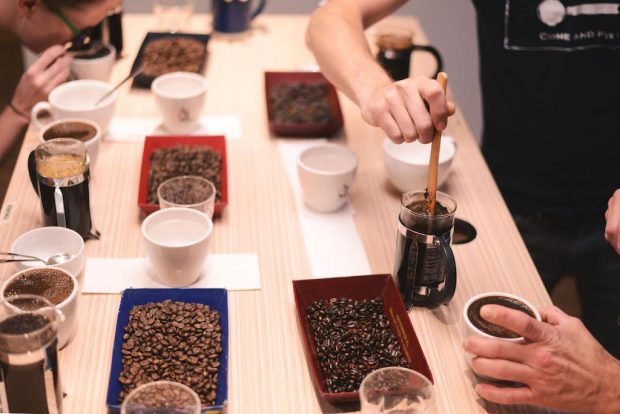 The lab space is built into a former storage space in the company's production roastery headquarters and cafè on Austin's east side, which, like specialty coffee, has seen a tremendous amount of development since TCT first moved into the building in 1994.
For coffee preparation, the lab itself includes a 2-group Victoria Arduino Black Eagle espresso machine and numerous grinders and manual brewers as well as green coffee and roast analysis tools. As a licenced Q-grader and sensory expert, Beall has been most excited by the wide range of sensory analysis tools that can now be put to use in a quiet, dedicated space.
"This gives us a space to learn and experiment, and I think we've upped our game quite a bit," Beall said. "We still have our daily cuppings, but a big change is that it's silent. It's quiet, it's easy to be thoughtful and to understand that this is what I'm here for. I don't have to answer any phones right now."
In addition to being a first in Texas, the campus also offers equipment and expertise in the field of air roasting, as opposed to drum roasting. Sivetz air roasting machine creator Michael Sivetz and TCT founder R.C. Beall were longtime friends, and R.C. Beall maintains allegiance to and faith in the quality capabilities of his trusty Sivetz machines. In addition to those, the roastery and lab are also supported by two air-based sample roasters from Neuhaus Neotec.
Initially, the TCT campus will be offering SCA Pathways courses including Foundations of Coffee, Barista Level 1, Taster Level 1, as a bundle including the Foundations, Barista Level 1, and Exam. TCT is also planning to offer education in Q-certification, along with informal classes for home espresso making, home coffee brewing, and basic tea and coffee education.
Beall said initial classes have sold out, and future classes already have waiting lists. "It's obviously a good fit for this area," Beall said. "People are needing it."
(Editor's note: A previous version of this story incorrectly identified the new TCT facility as an SCA-Certified lab. The SCA currently refers to these facilities as SCA Campuses.)
Nick Brown
Nick Brown is the editor of Daily Coffee News by Roast Magazine.