Aeropress fans now have an additional reusable filtration option that, unlike the other existing aftermarket products compatible with the manual immersion and pressure brewer, is made from neither paper nor metal.
A new floppy, circular filter called the Lattice Filter is made from an advanced colorless thermoplastic polymer called PEEK (polyether ether ketone), a material that has to this point been more commonly applied in bioengineering and industrial settings.
The pliable PEEK material is rated to withstand temperatures of nearly 650F, safely more than three times hotter than standard coffee brewing temperatures. Its creator, David Page, a home brewer and tinkerer, came upon the idea in January of 2015 while working at his non-coffee-related job.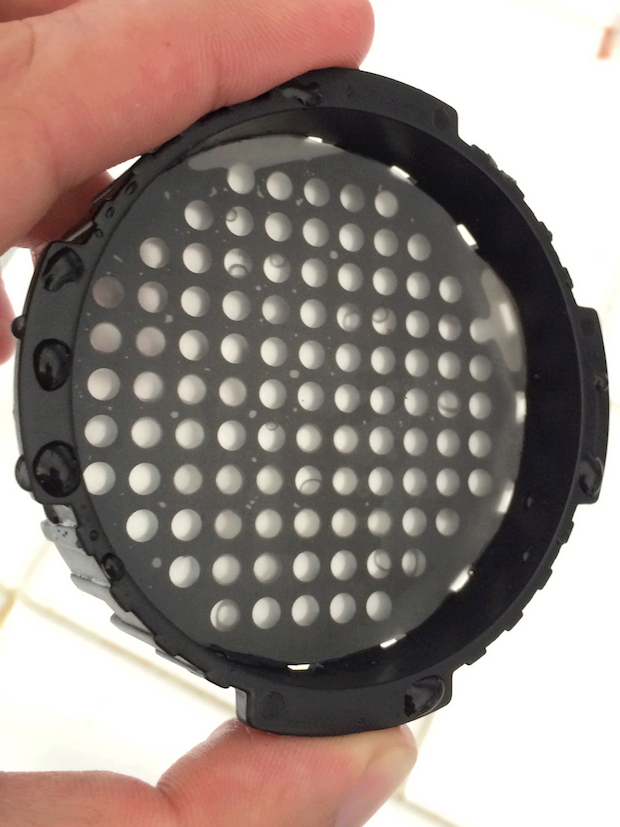 "I worked in a research laboratory and was making high-performance engine piston coatings by coating these micro-sized plastic spheres with metal," Page told Daily Coffee News. "PEEK was the only material that could survive the temperature and strong acids used in the process. The idea came to me while I was filtering out these tiny spheres right after I had finished drinking my Aeropress coffee."
Page developed some prototypes for himself and his friends over the following months, and at his friends' encouragement, launched the product for sale online in August 2015 on his own website. Lattice Coffee has since migrated into an Etsy shop where the filter is sold alongside a variety of brass and marble pourover stands Page also builds himself, while the standalone website undergoes further development. The filter is also for sale via Amazon.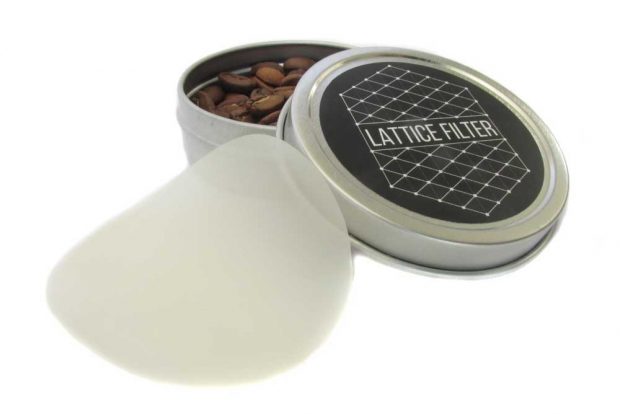 With a personal coffee routine of pourover at home and Aeropress at work, Page was interested in developing a convenient, less fragile Aeropress filter that would combine the more desirable characteristics of both paper and metal. "The filter combines the best of both worlds, where it's reusable unlike paper, and it's flexible where the metal ones aren't. The mesh size is around the same as some of the finer metal mesh ones," said Page.
The inventor stated that these slim slivers of BPA- and phthalate-free PEEK will never get brittle, and though it may fray around the edges over time with regular use, this will not affect performance. It cleans easily with warm water and soap, and for a periodic deeper clean it can be soaked in a 2:1 water/vinegar solution. "This material is pretty common for medical implants, so it is very chemically inert and bio-compatible," said Page, who believes that for its easy maintenance and flexibility, a café could easily substitute Lattice filters in place of paper without much trouble.
Other concepts Page has on deck for expanding the product line include a possible gooseneck pouring attachment for Nalgene bottles, for which he's toying with the idea of a Kickstarter campaign. As for the future of the Lattice Filter, Page said he hopes to ship in wholesale volumes to bigger, more established resellers eventually.
"I would like this product to become as popular as the metal mesh filters," Page said. "It can be scaled very quickly to produce en masse if it happened to take off."
Howard Bryman
Howard Bryman is the associate editor of Daily Coffee News by Roast Magazine. He is based in Portland, Oregon.