Opening this week in Louisville, Ky., is a new roastery café called Fante's Coffee. The company's logo, which pops up throughout the 3,000-square foot space, features the name of founder Leo Fante, who's diving into proprietorship after 40 years working in the coffee industry.
At the coffee bar, espresso drinks are prepared on a La Marzocco Linea machine paired with a pair of Compaq grinders, while a few feet away stands a dedicated manual brew bar featuring a Tru Bru pourover station, as well as an eye-catching pair of halogen-beam-heated siphon brewers.
Roasting takes place on site through a 10-kilo Ambex roasting machine, and Fante told Daily Coffee News that a goal is to develop each coffee to its particular sweet spot, using a Lighttells-made spectrometer to determine Agtron numbers to maintain consistency from roast to roast of a particular coffee. Coffee comes to Fante from a variety of sources.
"Being in the coffee business for so many years, I've been very fortunate to have struck a lot of relationships with a lot of people," said Fante, listing Royal Cup Coffee and Westfeldt Brothers Inc. among companies he's been in contact with for a while, and through which he now sources greens. Fante worked for Royal Cup for about 10 years, most recently as a field training and marketing specialist, prior to striking out on his own. Prior to that, he spent almost 30 more years witnessing the evolution of John Conti Coffee.
"It's been a long journey," Fante said of the career that started in 1978 alongside John Conti the man, whom he described as a true pioneer. "He had a roastery and coffeehouses before Starbucks was even a glimmer in anyone's eye." Fante got on board with the Conti company in its 16th year and saw it grow exponentially in the decades that followed, particularly as it transformed from a distributor to a roaster.
"It was interesting going through that transition and process, and watching how it grew," said Fante, who assisted in disassembling then reassembling large roasting equipment purchased by Conti to launch that operation. Fante recalled the huge, center-fired Jabez-Burns 4-bag roaster and a variety of other odd pieces of equipment, including a first-of-its-kind pneumatic packaging system prototype built especially for the roastery. Said Fante, "There were a lot of interesting things."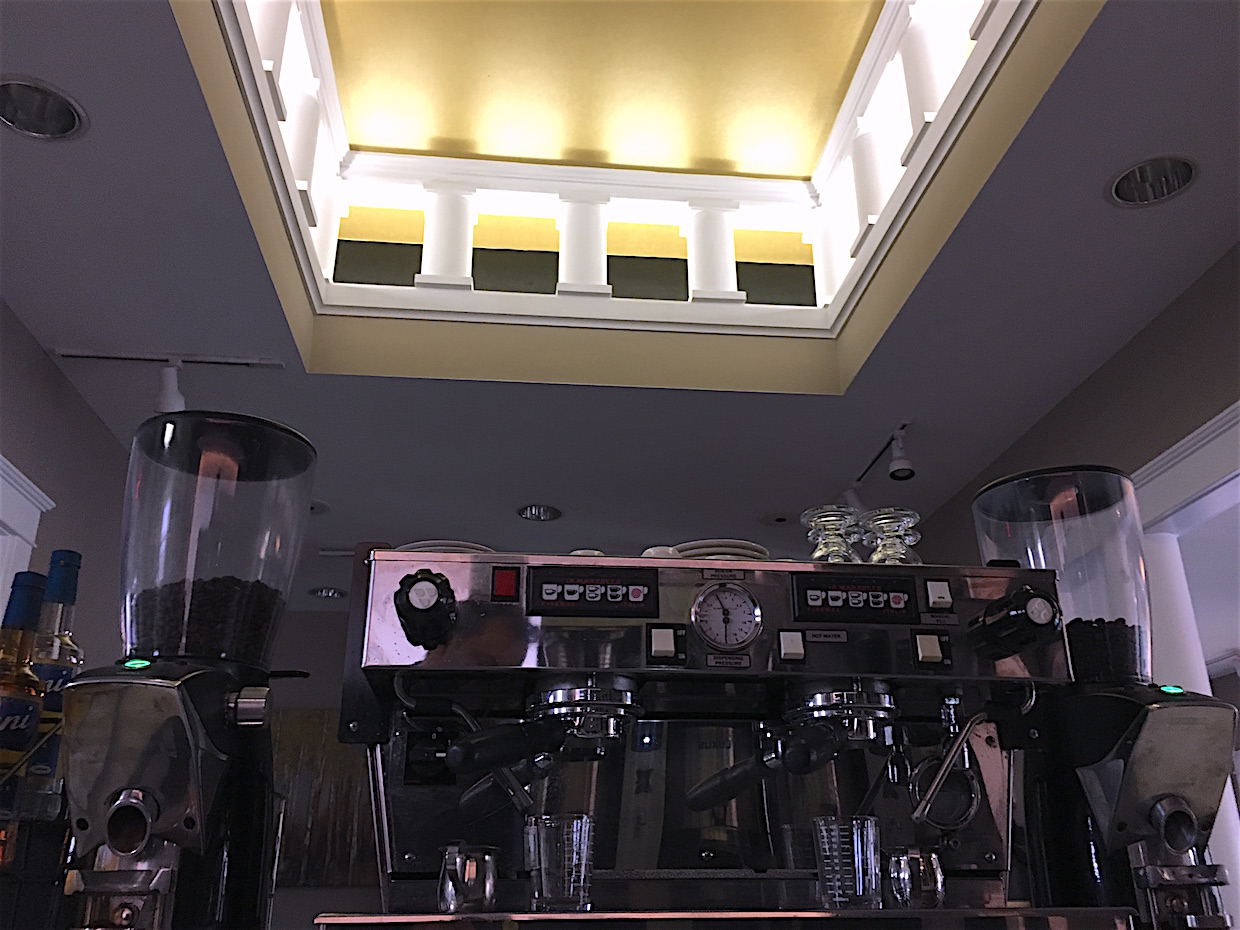 Today, with coffee at the heart of the operation, Fante aims to provide educational opportunities to the public in the roasting room behind sliding glass doors, while also providing a menu of casual fare paired with wine and beer that takes inspiration from his personal background. A selection of Sonoma County and Russian River Valley wines are served in homage to his mother's roots in Healdsburg, Calif., while some Italian wine offerings are served in honor of Fante's father's family. Peroni, Guinness and a local IPA are kept on tap.
A pergola wine patio behind the standalone cottage house café provides outdoor seating that's shaded by 25-year-old wisteria vines, while inside a bay window overlooks a lake and golf course. "It's a neat set-up. The building is very conducive to what I want to do," said Fante, whose to-do list also includes developing a program of custom coffee blends, tailored collaboratively with individual customers.
"We'll go through a complete cupping, develop a custom blend, then fulfill it monthly," Fante said of the possible future program, the likes of which he said he's surprised not to have seen done before. "I've often wondered why people haven't [done it]. Maybe I'm getting ready to find out."
Fante's Coffee is located at 2501 Grinstead Drive in Louisville.
Howard Bryman
Howard Bryman is the associate editor of Daily Coffee News by Roast Magazine. He is based in Portland, Oregon.