San Francisco restaurateur Buffy Maguire is spreading her wings to catch an ocean breeze in lifting a new coffee company off the ground. Lady Falcon Coffee Club is centered on a vintage bus, a feminine vibe and a love of finely roasted, finely brewed coffee.
The coffee company is taking flight with a fair amount of built-in demand, as Maguire has three cafes under her wing already. The first and third of these — Java Beach Café and Beachside Coffee Bar and Kitchen, respectively — are actually on the same block, in the sleepy, sandy Ocean Beach area of San Francisco. The second is Java Beach at the Zoo, located down the beach at the San Francisco Zoo.
The Javas cater to coffee tastes that predate what's happening in San Francisco lately, providing slightly roastier cups for folks to warm up with as that famous fog rolls in. Beachside, meanwhile, has specialized in brighter, sunnier, more adventurous offerings, and Maguire has been roasting for them all, confident that if a customer couldn't find what they wanted in one spot, the other was so close by, she was still covering all the bases.
"I wanted to offer my neighbors, my family, my friends, our neighborhood — I wanted to offer them some choices," Maguire, who was born and raised in San Francisco's Sunset District, told Daily Coffee News. "They complement each other really well, and I was giving my neighbors different options."
Maguire describes herself as "generations deep" in the Sunset District but has also lived on the East Coast, went to graduate school in Europe and enjoyed plenty of world travel. When her first café opened by the beach almost 25 years ago, there weren't nearly as many choices for coffee. She decided to change that, and now appreciates the wider variety of coffee shops tucked into corners and here there. Said Maguire, "A diversity of choices gives people a lot of freedom."
She brought roasting in-house in 2008 with a Probat L12 in an East Oakland production facility, which grew in 2014 to include a Probat UG-22, then grew again about two years ago with the addition of a Probat L5.  She now has a permit awaiting approval to build a roastery closer to home, in Ocean Beach, which will be a bit smaller than the East Oakland plant but will eventually also feature a retail operation.
With Lady Falcon, Maguire delves deeper into pure coffee, unfettered by the obligations of a neighborhood café and untethered to such concerns as food and other retail requirements. "What if we turned all the givens in coffee upside down, there were no rules, and I could just do it any way I wanted, what would I do?" She recalled asking herself in the conceptual run-up to launching the new brand.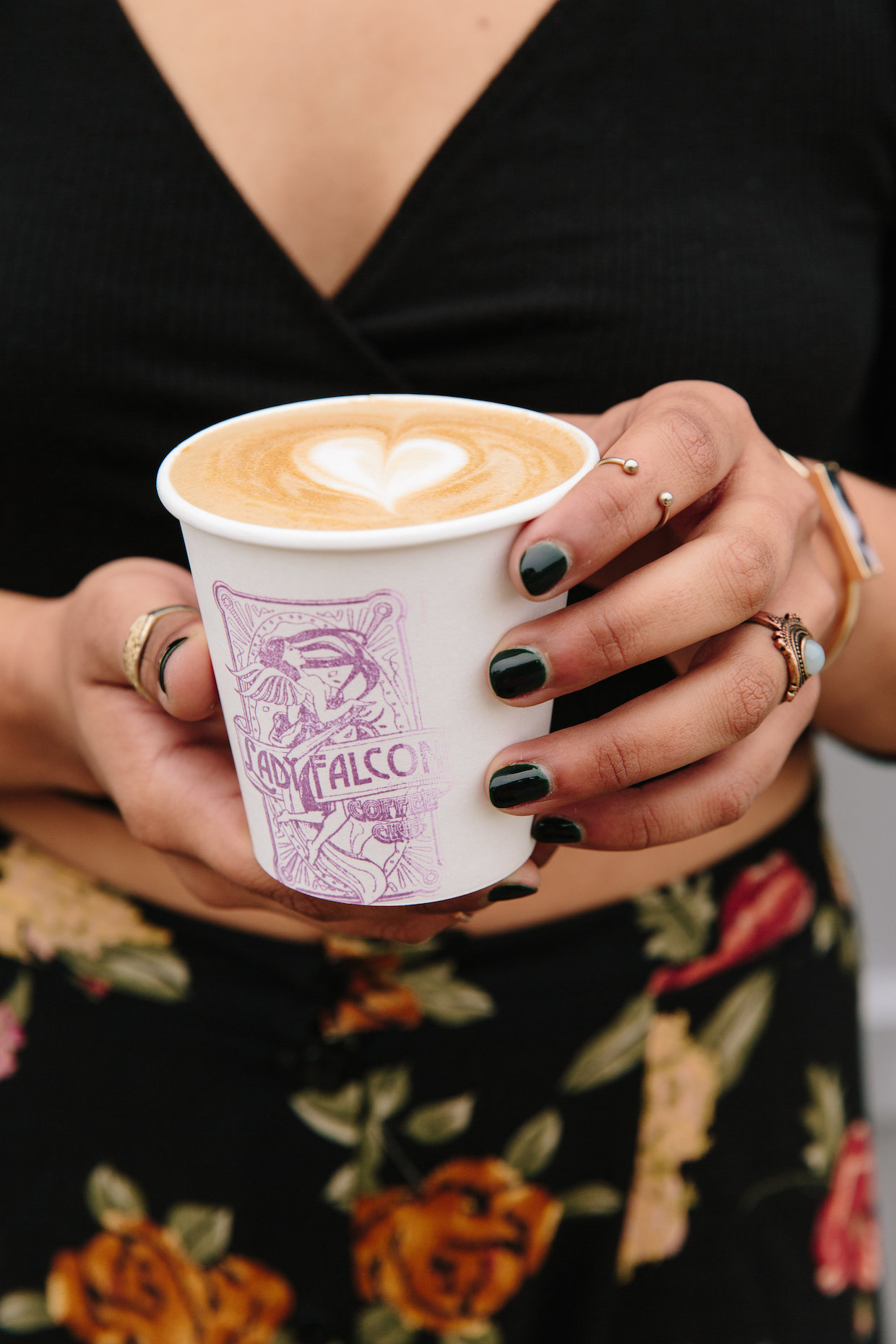 With today's no-holds-barred political climate and the many issues affecting women's rights both domestically and abroad, Maguire felt that there was some serendipity in the launching of a distinctly feminine-spirited coffee brand. The particulars of design and aesthetics are also deeply personal, stemming from her love of art, vibrant colors and travel. And while cognizant of the hard science conducted in the field of roasting in recent decades — "I'm the beneficiary of those advancements," she said — Maguire also aims to contribute an appreciation that's as sensual as it is scientific.
"Coffee's personal," Maguire said. "Taste is personal. Let's look at it from a couple different angles, and see what we see."
For green coffee, Lady Falcon takes advantage of Maguire's established Guatemala and Costa Rican direct trade relationships while partnering with Coffee Shrub, Café Imports, Royal Coffee and several others for additional varieties. La Marzocco machinery anchors the mobile as it does in all of Maguire's cafes; specifically a SB80 with paddle preinfusion aboard the Falcon-mobile, backed by a Mahlkonig K30 grinder. An EK43 grinds for Fetco batch drip, and while this bird will remain aloft until its San Francisco nest is permitted and constructed, the future will involve another oceanside roost for Maguire, where they may delve further into wholesale.
"I've pursued more offices and small boutique markets. But I'm open to the idea of partnering with likeminded people, to roast their coffee," she said. "It does seem like within small cafes in San Francisco people are always looking for that option."
Howard Bryman
Howard Bryman is the associate editor of Daily Coffee News by Roast Magazine. He is based in Portland, Oregon.