Two-year-old Italian coffee equipment manufacturer XLVI Operai del Vapore (Steamworkers) is using next week's Host Milano event to make the major debut of its Azomico silo dispenser system.
The company, with headquarters near Rimini, says the system is designed to provide retailers with a splashy visual element to display and distribute roasted coffees, yet it offers a major technological advancement over many other retail storage systems: built-in nitrogen delivery.
Nitrogen flushing is a common practice among roasters packaging roasted coffee — either in whole bean or ground form — for its purported benefit to reduce staling, and numerous packaging and storage systems manufacturers offer nitrogen delivery systems for coffee applications. XLVI takes these industrial concepts a step further by extending the benefits of nitrogen potentially through to the consumer buying coffees in bulk.
XLVI says its system links the glass silos to a nitrogen tank, and a valve is manually engaged for about three seconds after roasted coffee is added to pressurize the silos at a minimum of two bars of nitrogen. Beneath each main silo is a repository with a 500-gram (approximately 17 ounces) capacity, from which coffees can be delivered to grinders for drink preparation. Alternatively, the second chamber has its own nitrogen valve for nitrogen-flushing of coffee bags, which then can be heat-sealed by baristas or consumers through an available sealer.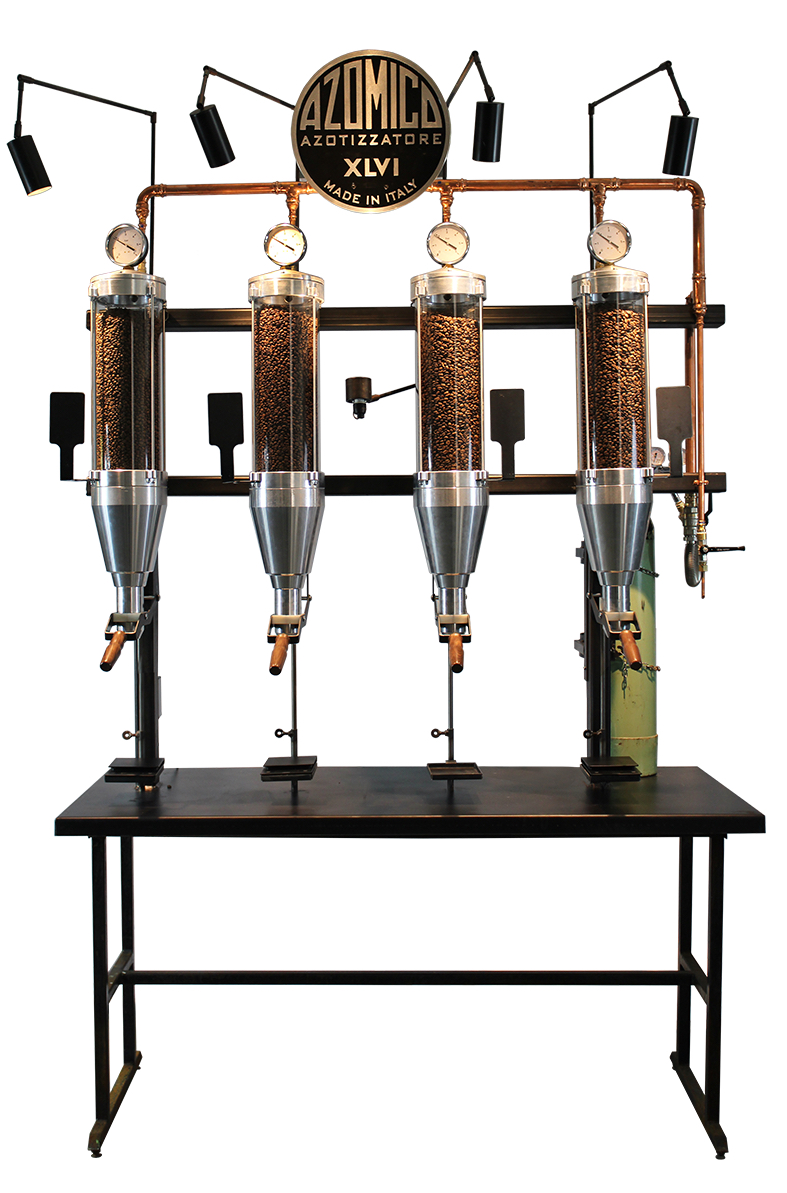 The Azomico system is currently available in modules of one, two or four silos, with XLVI supplying the iron framework and arm-extended LED lighting for visual impact. The company says the iron framework, dimensions and finishes can be customized. The system is curently on display at the recently opened Caffè Pascucci flagship in Rimini.
Nick Brown
Nick Brown is the editor of Daily Coffee News by Roast Magazine. Feedback and story ideas are welcome at publisher (at) dailycoffeenews.com, or see the "About Us" page for contact information.