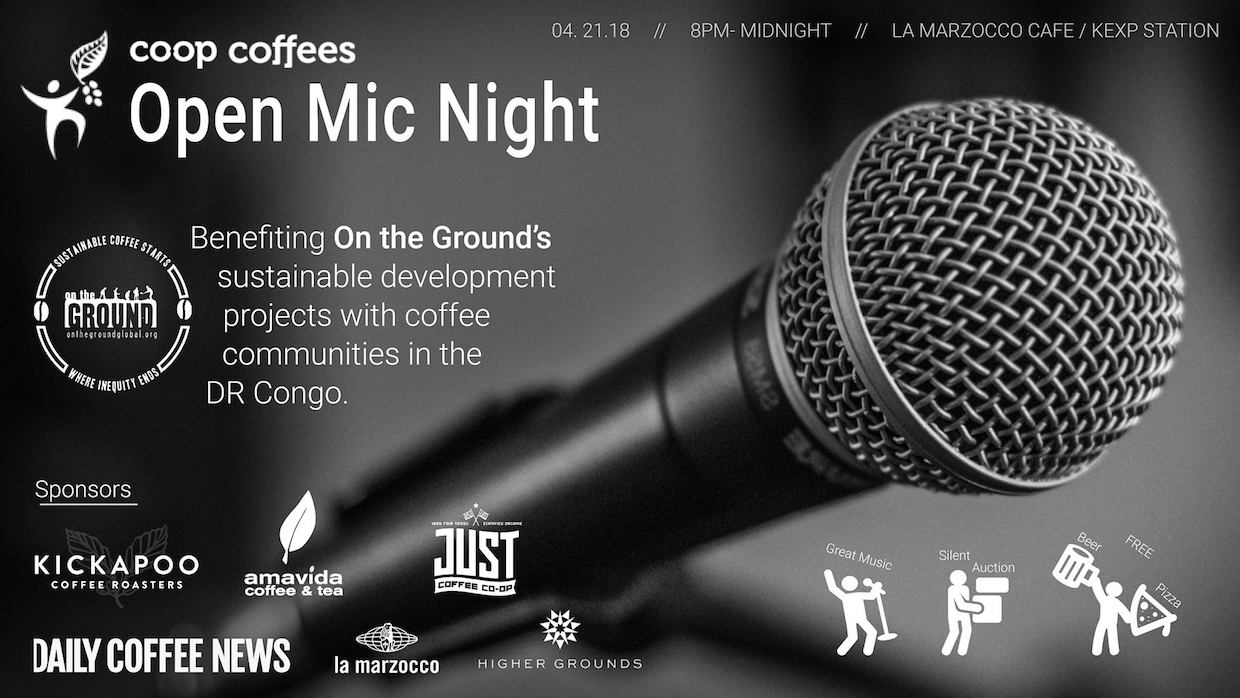 What is life without coffee? Without music? Let's never find out, shall we? 
In fact, this week's SCA Expo in Seattle presents a chance for show-goers to revel in both of these indispensable gifts to the human experience, as Coop Coffees is hosting its second Open Mic.
La Marzocco is generously providing its stunning Cafe and Showroom, adjacent to the KEXP Studio, to host the event, taking place Saturday, April 21, from 8 p.m. to midnight.
Within such a felicitous environment, expect to see music from dozens of well-known coffee professionals, including confirmed acts such as Willy Foote, Rick Peyser and Stephen Vick along with numerous musicians representing their coffee-growing regions and countries. (A standout moment from the first Coop Coffees Open Mic event two years ago was when Juan Sebastian from the Anei producer cooperative in northern Colombia switched from a traditional flute-like instrument to an electric guitar to rip through some Jimi Hendrix covers.
"Some of that creativity that is present in the coffee industry translates really well into music," Just Coffee Cooperative Co-Owner Matt Earley, one of the event's organizers, told Daily Coffee News. "It's a lot of fun to see all these people getting up and doing something completely different that what they normally come to the SCA [event] for… We're bonding over music, but we're also bonding coffee communities in a bigger way than just by buying and selling coffee."
While the event is free to attend (including beer, wine and pizza), donations and a silent auction will benefit the nonprofit On the Ground, which works in various coffee farming communities to implement sustainable development projects. Funds from this event will specifically support gender equity programs in the Democratic Republic of Congo. Prior to the music, from 7-8 p.m., On the Ground Co-Founder Chris Treter will be hosting a roundtable discussion on Congolese coffee.
Check the event's Facebook page for up-to-date information. For sponsorship inquiries, silent auction information or to see about taking the stage, contact: [email protected]
Nick Brown
Nick Brown is the editor of Daily Coffee News by Roast Magazine.