If history has taught us anything, it's that the value of new ideas isn't always immediately recognized. Oftentimes people need a minute, if not a few years, to come to embrace new ways of thinking.
In coffee, this might apply to those old-fashioned drinkers who are generally put off by anything not roasted super dark and higher quality that might demand a buck or two more. Folly Coffee, a new roasting company based about an hour outside Minneapolis, in Silver Lake, Minnesota, intends to bridge that divide.
With playful branding and a personable image — one of the brand's tag lines is "Fun Coffee, Delicious People" — Folly Coffee's goal is to provide a gateway, winning over dark-roast-loving Midwestern hearts and minds while creating a connection to the pleasures of higher-end beans.
"We're definitely building that audience," founder Rob Bathe told Daily Coffee News, associating the venture with a piece of Minneapolis lore involving the Stone Arch Bridge.
For the people of Minneapolis in the late 19th century, the beautiful Stone Arch Bridge — originally designed as a rail crossing, now reserved for bikes and pedestrians — seemed like a pointless and costly endeavor. Its construction proved so expensive, even for the rich railroad tycoon James J. Hill, that for the years it took to build, it became known as Hill's Folly. Yet after it was finished and put to use, it became a unifying boon to the city, helping it to grow and evolve into the vibrant metropolis it is today.
Beyond offering new coffee experiences, Folly Coffee is contributing to the community in another important way. The roastery is fully carbon negative, generating more energy than it consumes through an expansive solar array for electricity and geothermal energy for heating and cooling both the roastery warehouse and the home of Folly co-founder and head roaster Ken Schweikert.
The only energy Folly consumes that it doesn't generate itself is from the natural gas in the 1980s-era Diedrich IR12 that Schweikert bought from a flood-damaged cafe and personally rebuilt. The solar and geothermal power more than offset the emissions and consumption of the roaster, according to Bathe.
"Ken is extremely talented, and not just from the roasting perspective," said Bathe. "Ken just knows how to do everything."
Schweikert lead the remodel and buildout of a pole barn on his property into the Folly roasting plant, while he and Bathe did most of the work themselves to keep costs down. They built a wall to separate roasting from the rest of the space, put in a garage door, new siding, brought everything up to food-safe compliance and even reinstalled the electrical system.
"Which we found out later we probably shouldn't have done," Bathe said of the electrical work. "But he does such good work we were able to get a master electrician to sign off on it."
Prior to partnering with Bathe to launch Folly, Schweikert had already been roasting under the company name 1Cup Coffee Roasters, and continues to do so, independently providing single-origin coffees of a darker profile quite apart from the Folly roasting style.
"1Cup Coffee Roasters is Ken's business, roasting delicious single origins as well, but a deeper, more developed profile," said Bathe. "He roasts some amazingly balanced, deeper-developed coffees. For Folly, we focus on much more of the lighter, just-after-first-crack, really trying to pull out a good balance but also pulling out these intricate flavors, trying to display each origin in its purest form."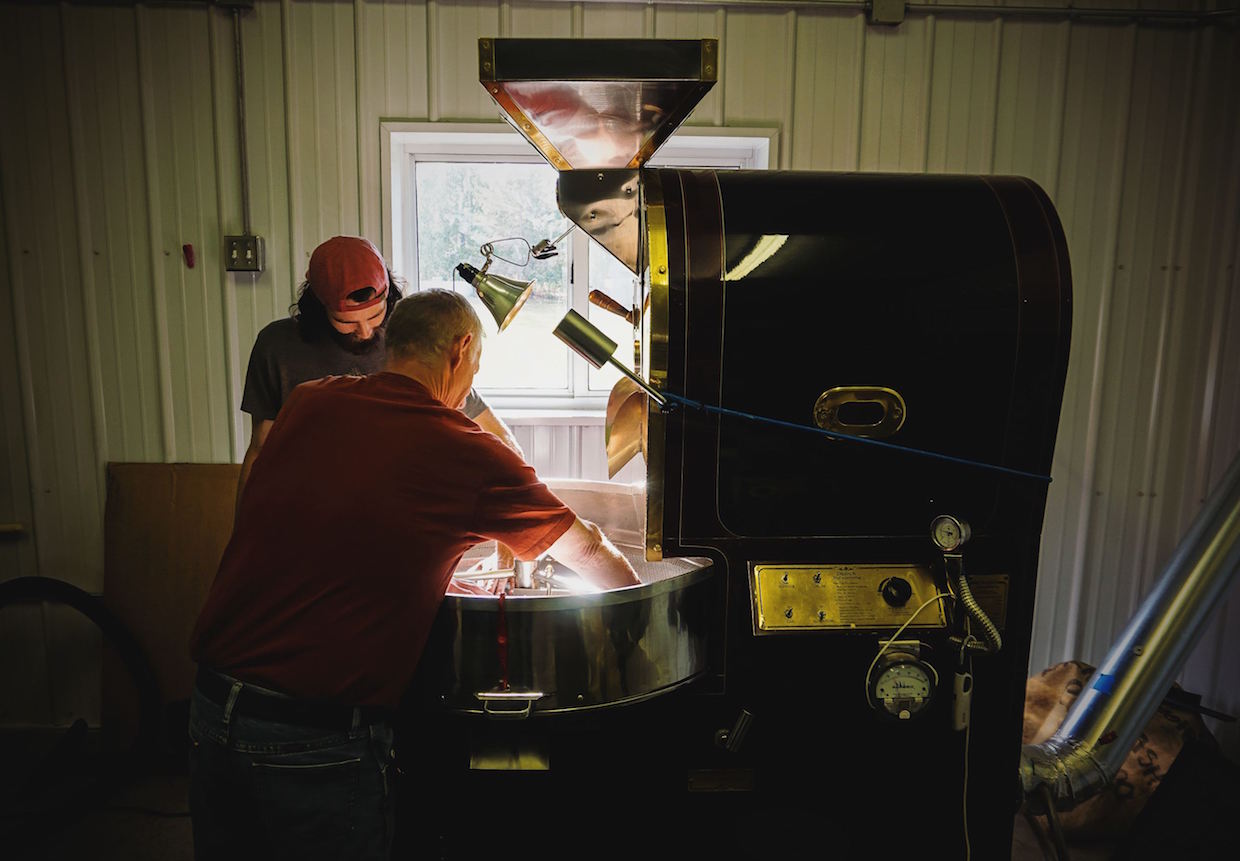 Folly focuses on green coffees sourced through Cafe Imports, with a particular focus on small farms and cooperatives in which traceability runs deep and the financial benefits to farmers are immediate, according to Bathe. However, Bathe is hesitant to overload new patrons with such details.
"It's intimidating," said Bathe. "If I walk into a cafe and I want to buy some coffee and someone says 'this is a naturally-processed Ethiopian Yirgacheffe,' I'm just gonna blink and go 'yeah that sounds good,' because I don't want to ask anything else in fear of looking dumb or like I don't know what I'm talking about."
Instead, Folly emphasizes a coffee's flavor profile first and foremost on its packaging. The single-origin bean inside will rotate as seasons change, and the specifics of its current farm, location, altitude, variety and processing method are always available on the website. On the bag, it's all about the intriguing flavors and engaging graphics. Said Bathe, "We kept it really fun, so there's not any of the pretentiousness or the exclusivity of specialty coffee."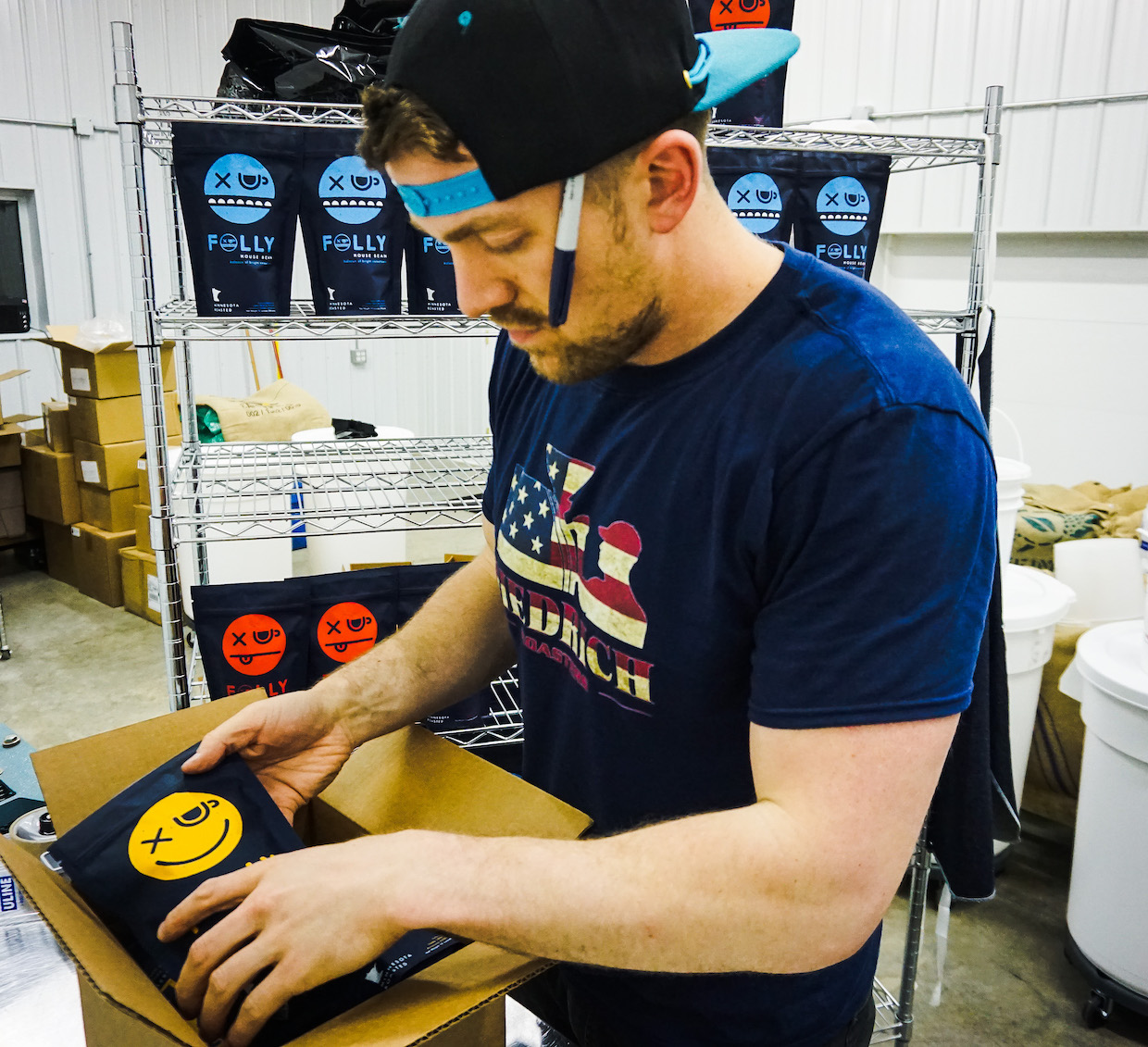 Through six months in business at this point, the approach appears to be working.
"We've been able to launch much quicker than I projected," said Bathe. "We're where I was projecting being towards the end of the first year in business. At this point it's kind of like, hurry up and slow down."
Howard Bryman
Howard Bryman is the associate editor of Daily Coffee News by Roast Magazine. He is based in Portland, Oregon.