The forward march of specialty coffee in Boise, Idaho has continued this summer with the opening of Neckar Coffee's first brick-and-mortar shop. The new cafe brings to fruition the local microroaster's slow-burning plan to build upon its foundation of pop-up and farmer's market patronage with a shop that also brings its roasting operation under the same permanent roof.
Doors to the Neckar cafe opened earlier this month, with the company's Diedrich IR-2.5 roasting machine in back and a gleaming 3-group Bosco Sorrento manual lever espresso machine up front, the latter reinforcing the company's passion for quality goods crafted by hand.
Next along the shop's clean white counter comes a bright white duo of Mahlkonig grinders — K30 Air for espresso and EK43 for the rest — after which remains space and gear enough for up to five manual pourovers at once, which is actually three fewer than the impressive eight-bay brew station Neckar conducted on its mobile bar.
"In Boise, I think people are just thrilled to see pourover," founder and co-owner Grant Shealy told Daily Coffee News. "I stay away from automation as best I can, just for the philosophy of it, really."
That philosophy manifests as well through the pastries, as Neckar has become the only coffeehouse in town to serve fresh-daily items by 2016 James Beard semifinalist Janjou Patisserie outside the bakery itself, and all the way down to the carefully selected ceramics, handmade in San Antonio, Texas by ceramicist and letterpress printer Guten Co.
"We can't help ourselves," Shealy said of the company's predilection for all things well wrought with attention to detail. "We have to. It's a disease."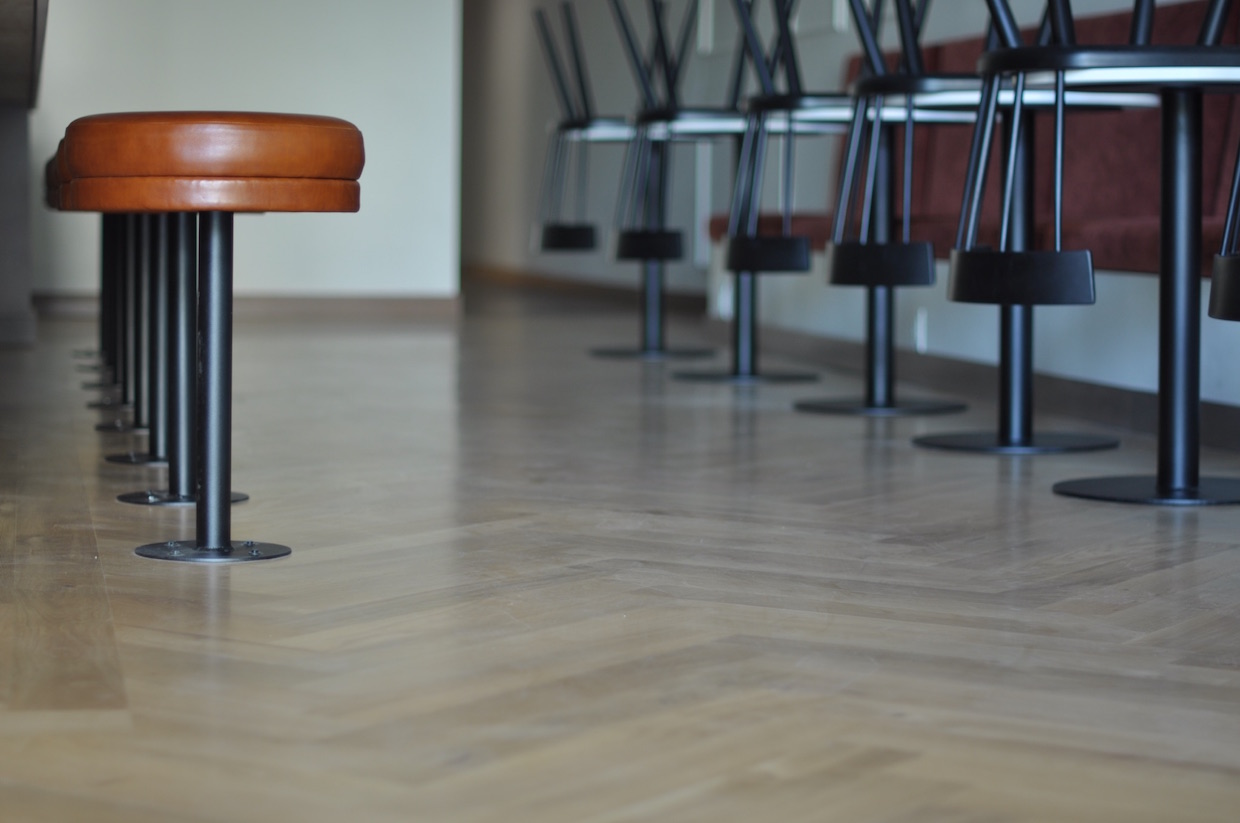 The 1,650-square-foot cafe joins a bevy of recent entrants to the specialty coffee sphere within the remote yet rapidly evolving desert town. In the past few years, the city has seen the openings of multiroaster Slow by Slow, Garden City-based Push and Pour serving coffees by recently launched Maps Coffee, and Bellwether-early-adopter company Form & Function. Shealy said that while there's a shared sense of the rising tide being beneficial to all, so is the inherent reality of competition.
"I happen to think that that competitive environment is good for us," said Shealy. "It helps me perform, and I would like to think it hopefully pushes people to be better, which is good for our industry and it's what the consumer deserves.
"We recognize how lucky we are to have a place in the market, and we don't want that to ever go, so we're going to do our best to make sure that we stay relevant and compete at the level that everyone else is performing at. But also, it feels really cool to be a part of this family of coffee shops that are budding here in Boise. It feels cool to be pioneering the Boise coffee scene together."
Neckar Coffee is open now at 117 S 10th St. in Boise.
Howard Bryman
Howard Bryman is the associate editor of Daily Coffee News by Roast Magazine. He is based in Portland, Oregon.