Once a skateboard has ground its last rail and kicked its last flip, it makes for an excellent portafilter handle. At a new cafe called Push and Pour in Garden City, Idaho — which is literally surrounded by Boise — "skate is push, pour is coffee," according to co-owner Brennan Conroy.
These dual passions are reflected and reinforced throughout the shop's interior: Push and Pour's espresso tampers and tap handles are made from skateboard components; vintage '70s boards hang on one wall; and along another wall, a 28-foot walnut bar slopes like a wave from chest height to bench height, echoing the convex curve of a ramp.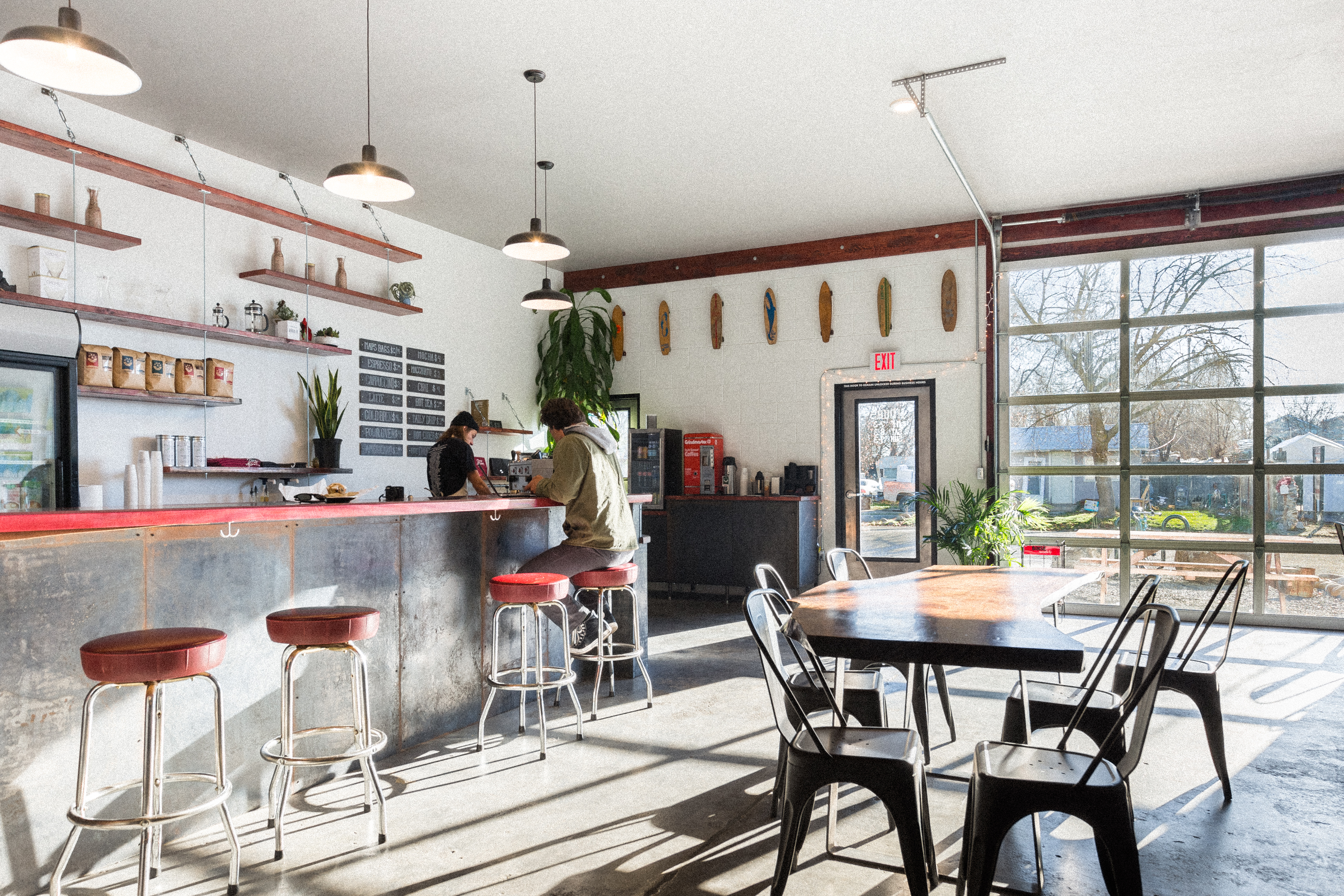 "We wanted to be skate influenced, but we wanted it to be tastefully done," Conroy told Daily Coffee News. "We're not going to have a mini ramp in here or anything. We have a logo of a coffee cup pushing on a skateboard. That puts it together. But your average person who doesn't know that skateboarding is even a thing, we don't want to deter them from coming in here."
Conroy and fellow co-owner Lucas Erlebach grew up in Boise and met through skating, in which both have worked professionally. Conroy said the two had talked about opening a business together, but it wasn't until he found Push and Pour's eventual cafe spot at East 34th St. near the Boise River that Conroy called Erlebach back from where he'd been living in San Francisco.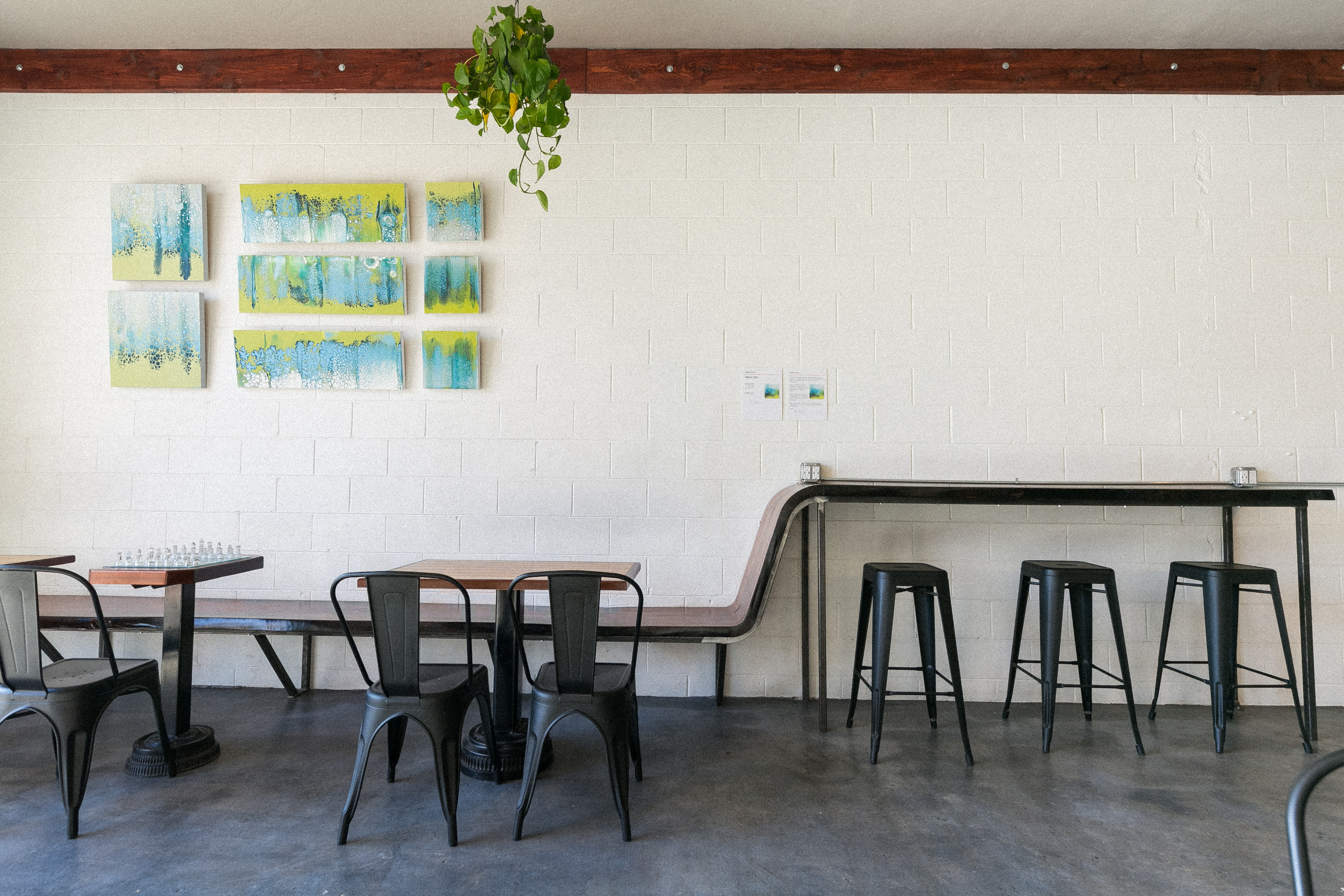 Erlebach oversees day-to-day operations of the cafe, where the quality-focused coffee menu is straightforward and short, with standard espresso options, cold brew, pourovers and chai. Conroy's drink of choice is an iced Americano. Said Conroy, "That's all I drink."
Conroy still works in various capacities with several skateboard brands, including Habitat Skateboards, Alien Workshop and Levis Skateboards, and he feels a strong connection between skating and coffee. On skateboard trips, "you get up, go to breakfast and get coffee, go skate, get coffee, go skate," Conroy said. "I've been in a bazillion coffee shops all over the world. Most coffee shops are super bougie and fancy. I wanted to make something unique and weird but also kind of classy."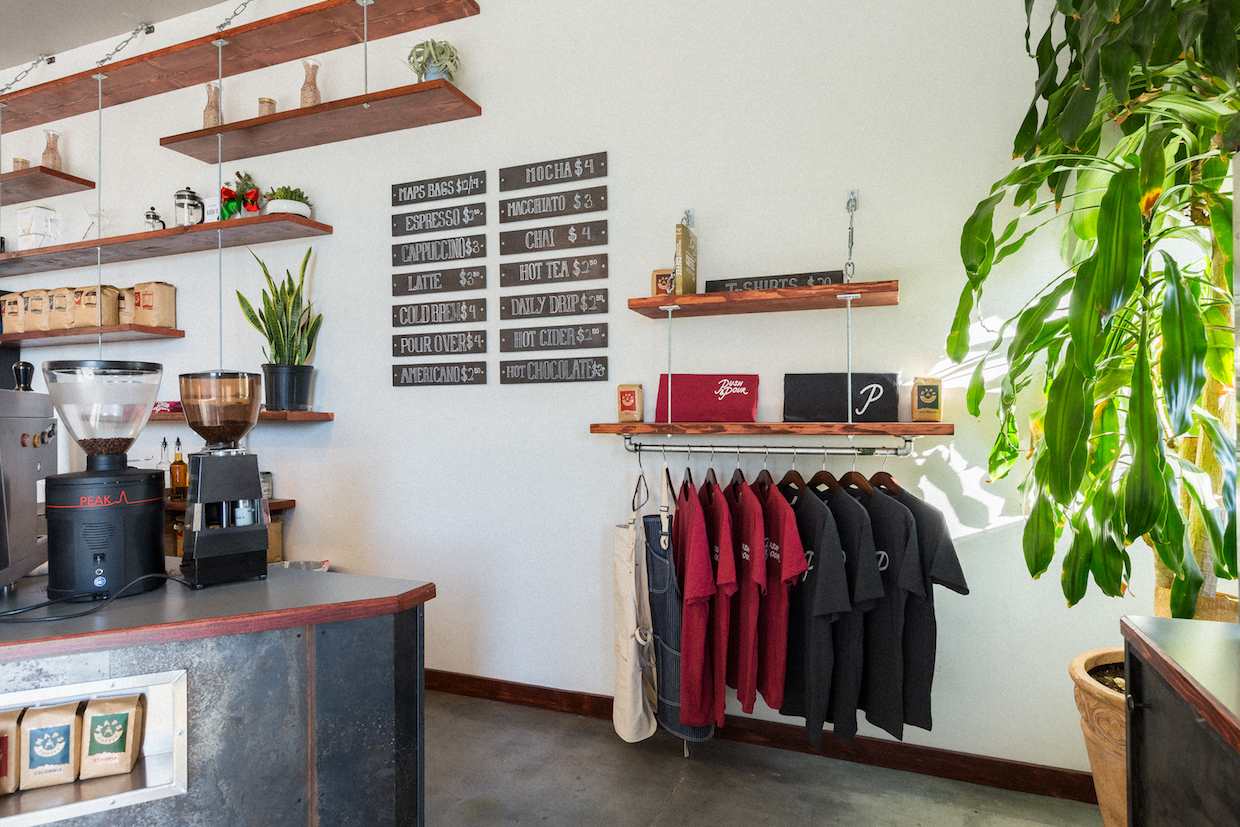 Roaster Jens Peterson will eventually work out of the shop. He currently roasts under the Maps Coffee label on a 15-kilo Joper in Hailey, Idaho, a tiny town in the Central Idaho Rockies.
"Being at over 5,000 feet in elevation in a dry climate with full seasons, the temperatures can have an impact on my profiles," Peterson wrote to Daily Coffee News, adding that he primarily sources greens from Royal Coffee, a company his coffee-roasting father has bought from for two decades. "I'm on a manual roaster so I'm constantly adjusting airflow and gas at various points throughout the roast."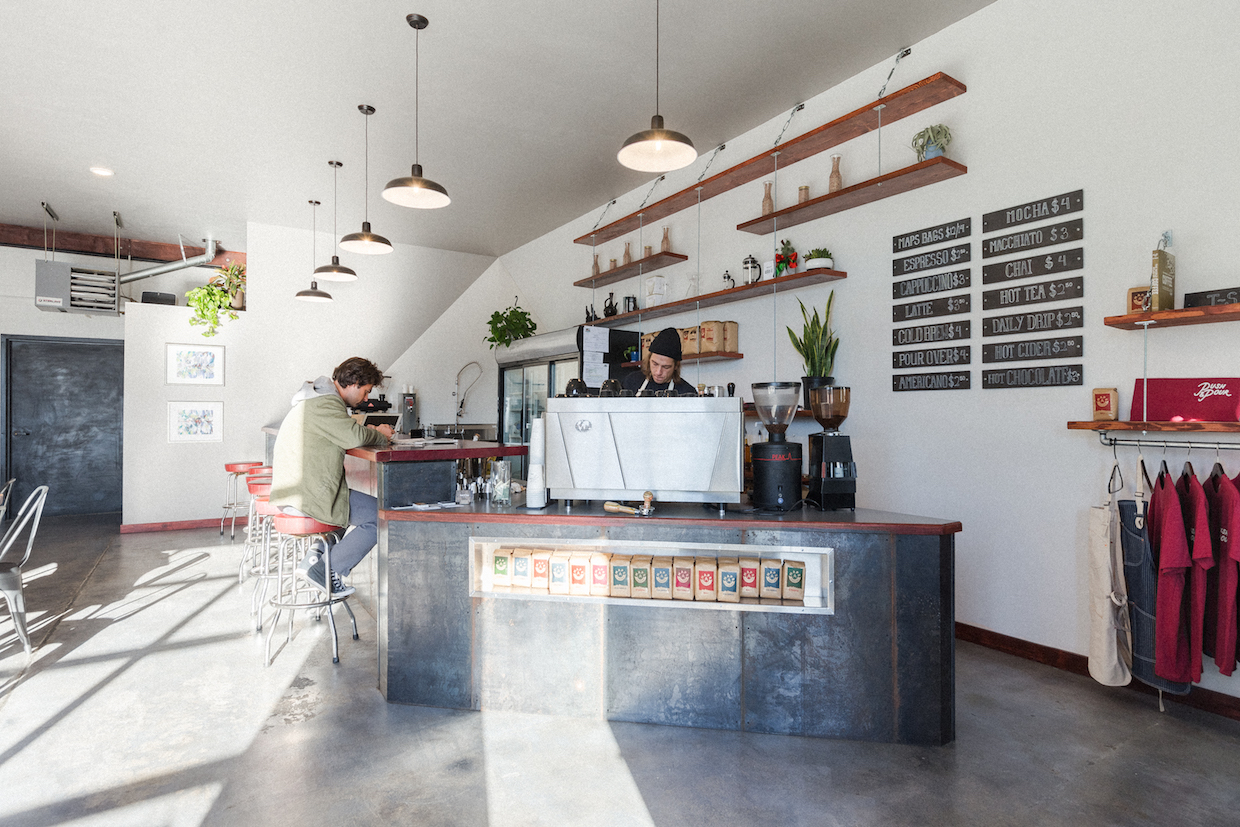 Peterson said he personally tends to favor natural-process coffees from Ethiopia for their "overly fruit-forward and jammy flavors," as well other coffees from throughout Colombia and other Central And South American origins that provide bright citrus and chocolate flavors, or more simple, approachable flavors.
Erlebach said he wanted to work with a single roaster to be a "destination for downtown Boise," where a few cafes already serve coffees from the likes of West Coast favorites Ritual and Stumptown.
"We wanted to be our own roaster," Erlebach said. "We wanted to bring people in and do roasting classes. Quality coffee in Boise is still a foreign thing."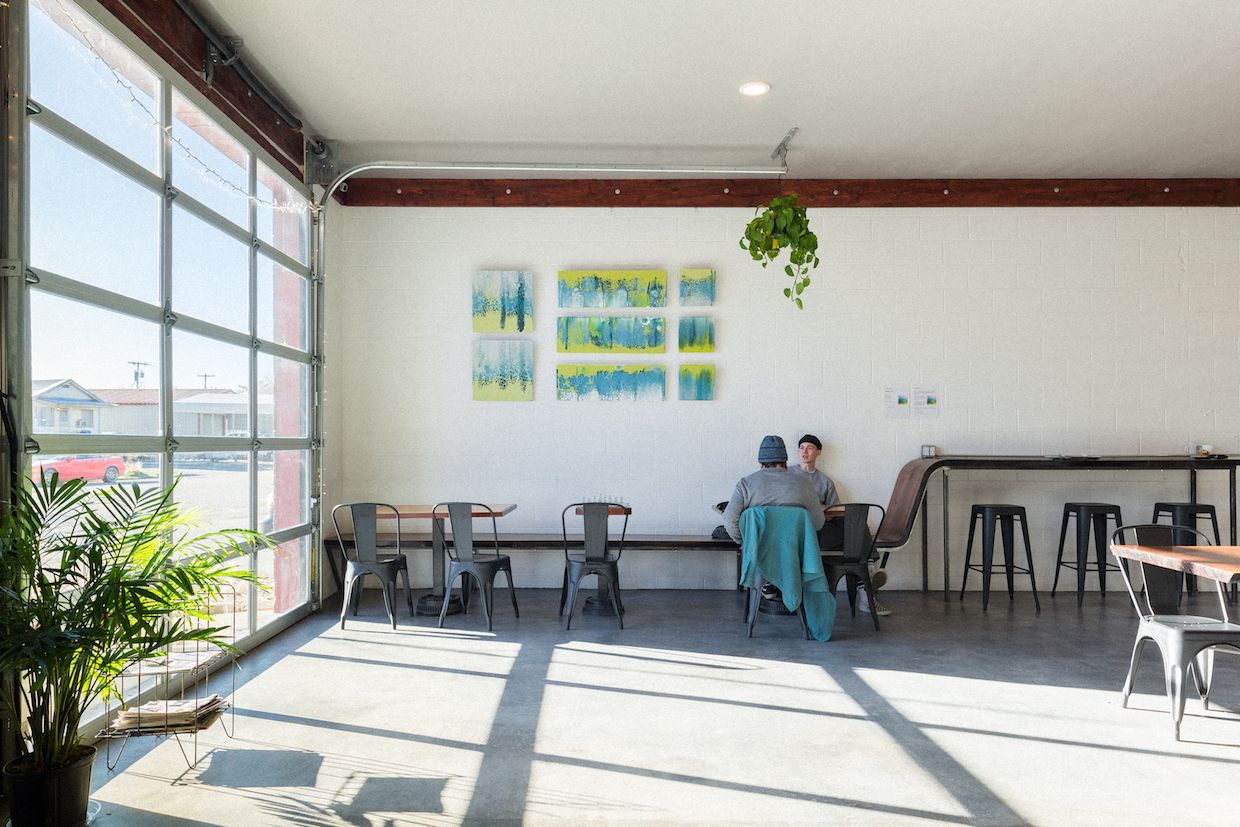 Winter tends to be a slow season in Boise, so Erlebach and Conroy were surprised at the response from locals over the past six weeks. Beyond the skating community, students and surfers have been finding the shop. And they know what they like — Erlebach hasn't had to explain what a traditional macchiato is.
"We're all skateboarders and that's what we know," Erlebach said. "We wanted it to be tied together with skating but not too overbearing. We tried to keep it minimal so people could enjoy the coffee atmosphere."
Lindsay Christians
Lindsay Christians (@LindsayC608) is a full-time food and arts journalist for The Capital Times in Madison, Wisconsin. She is the host of a weekly food podcast called The Corner Table.