Currently soft-opening in Westfield, New Jersey, is the second cafe from four-year-old roaster and retailer Boxwood Coffee. At 3,700 square feet, the location is more than three times the size of the company's original Summit, New Jersey shop, and is now home to Boxwood's roastery while also offering space for events, training and education programming.
"We built the store with SCA guidelines for certification training in mind," Boxwood Co-Founder Stephen Bellamy recently told Daily Coffee News. "For example, we have a very large cupping table; we made sure the lighting was to SCA standards; we have a training lab in back with a second espresso machine."
With a new Diedrich IR-12 complementing Boxwood's original 5-kilo roaster from Mill City, Stephen and Erin Bellamy have effectively invested in a 500 percent production capacity increase.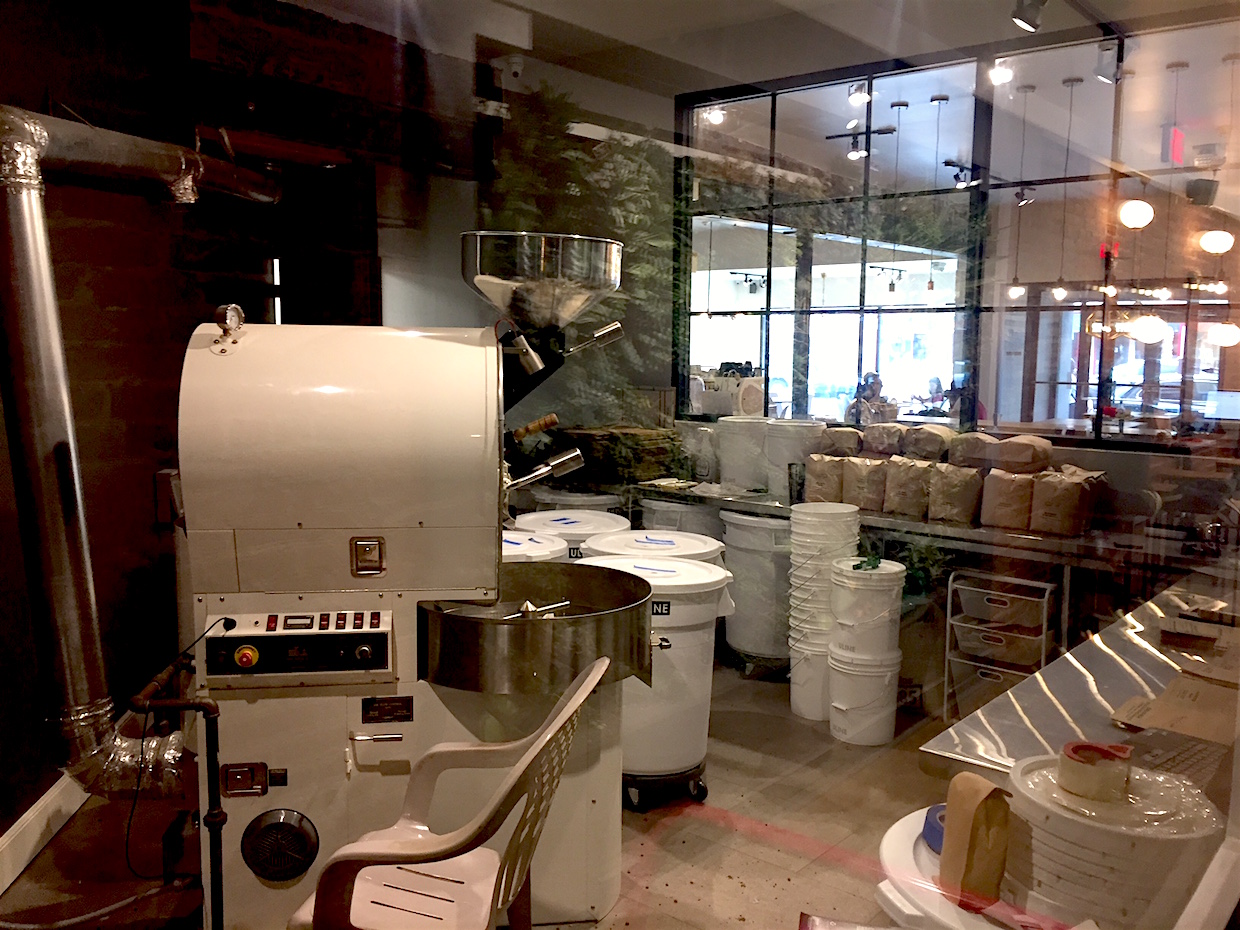 Green coffees sourced in partnership with Royal Coffee New York are now transformed by Boxwood master roaster Hayden Kaye within a glass-walled area behind the shop's counter, in full view of patrons.
On the counter, meanwhile, a custom white three-group La Marzocco Strada AV ABR machine with wooden side panels is paired with a Mahlkonig Peak grinder for espresso drinks. Two Anfim Cody grinders support single-origin and decaf espresso offerings at the new shop while a pair of EK43 grinders break down beans for manual pourovers and Fetco XTS batch brews. Bellamy said the Boxwood team is also especially excited for its upcoming menu expansion into mocktails.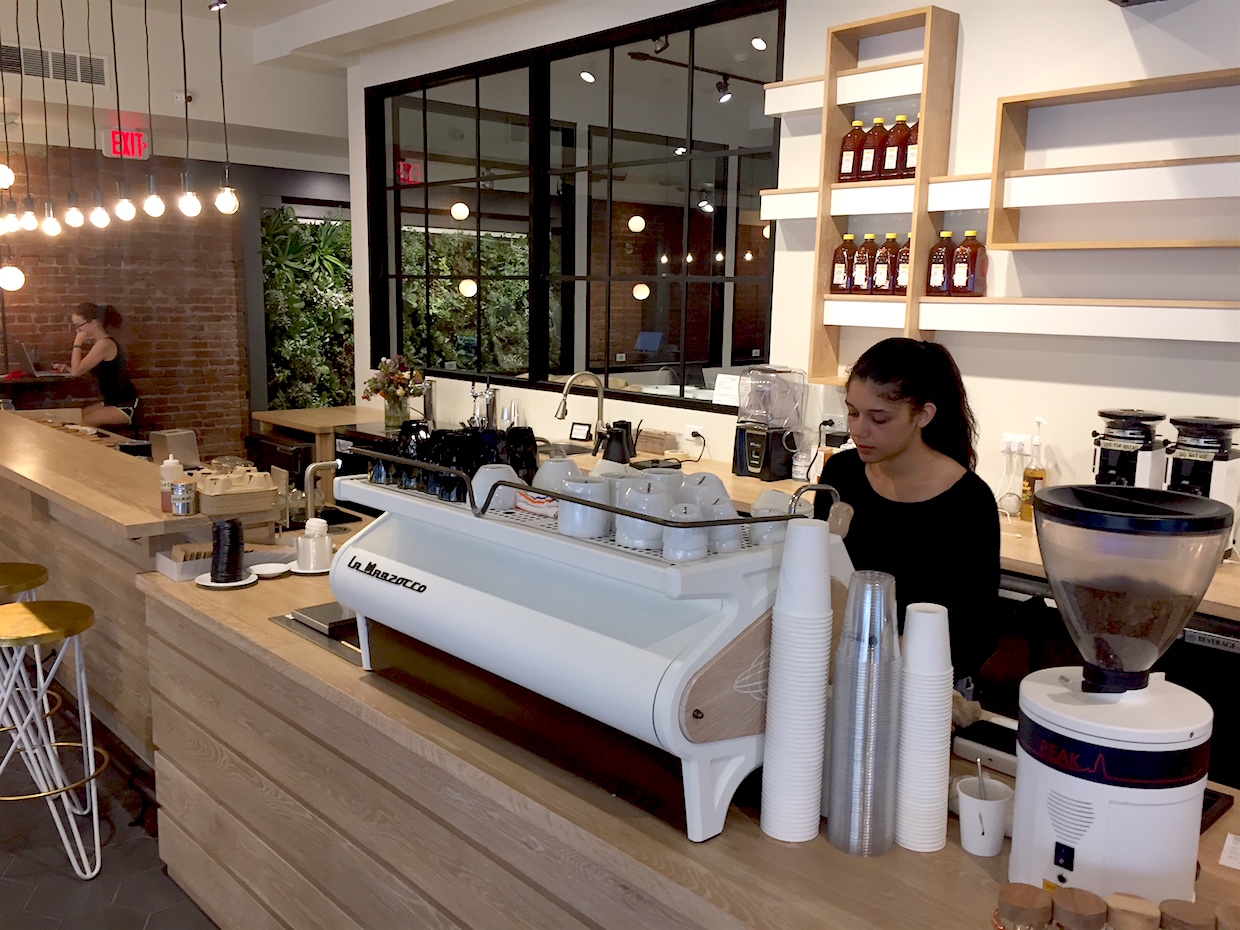 So far the mocktail program includes a grapefruit soda made from fresh grapefruit juice, brown sugar, soda water and fresh mint rubbed around the rim, to be served on its own or as an accompaniment to straight espresso. A cold-brewed oolong tea mojito with fresh lime and mint is another release, as is a nitro cold brew coffee with a thick, frothy head accentuated by homemade orange cream, topped with orange zest and candied orange.
"You don't need to be pretentious or snobby with coffee," Bellamy said in regards to Boxwood's extended drinks menu that, rather than expecting every consumer to enjoy black coffee or traditional drinks, makes more of an effort to meet them where they're at in terms of sweet, rich and fruity flavors made with creativity and fresh, high-quality ingredients.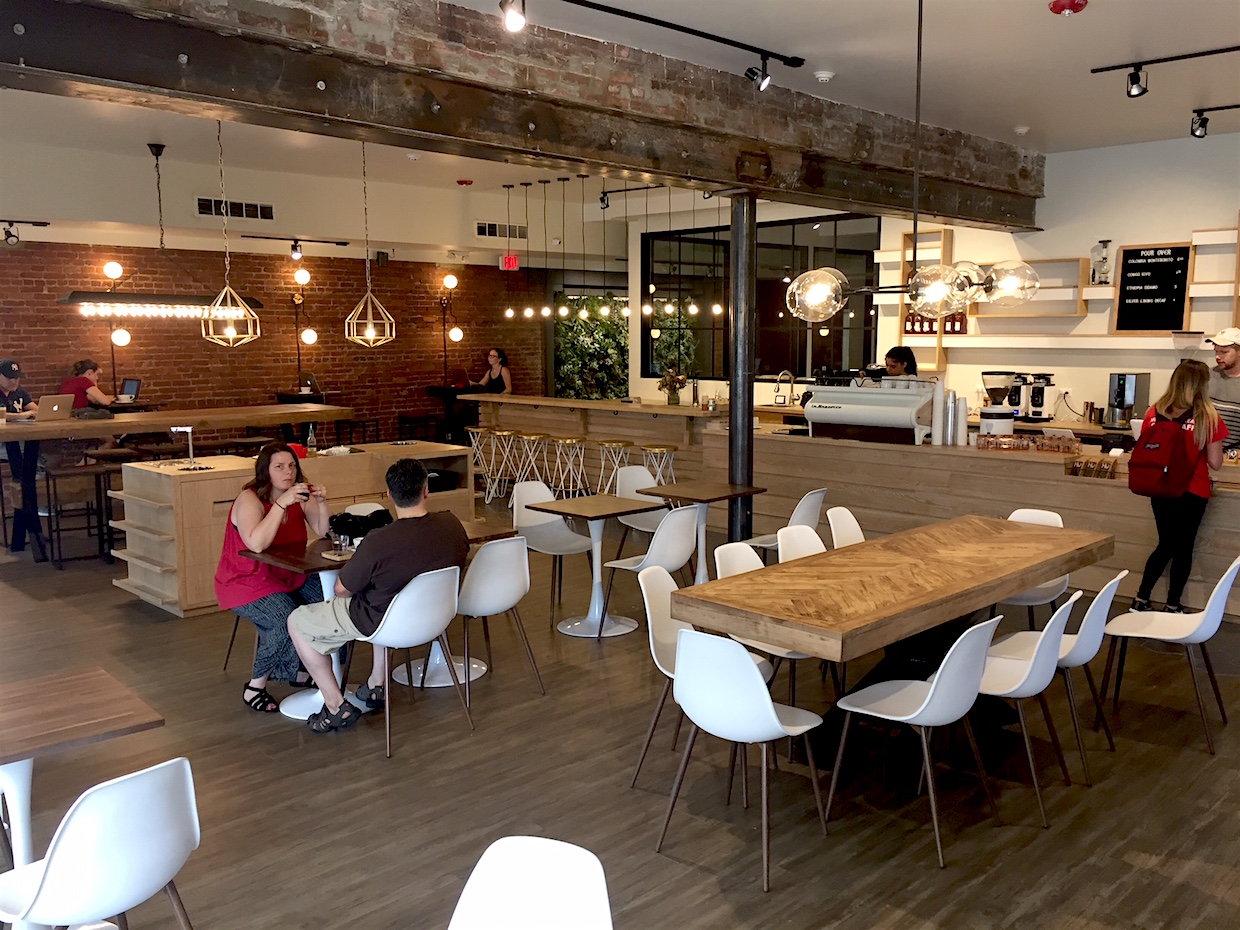 "We should look at coffee just like the beer community looks at beer, or the wine community looks at wine," said Bellamy. "It's a launching point; a great, complex flavor, a complex product that you can do so much with. It doesn't necessarily have to be offered just in its purest form, sometimes with milk, sometimes not. It can also be used as a base for other things. That's the exciting thing for me, it's doing something different and new."
Patrons at the Westfield cafe can enjoy the drinks in an environment that inspires productivity, warmth and curiosity, combining the building's original structural elements with new custom cabinetry and other fixtures. Industrial materials such exposed brick, a steel ceiling I-beam and various brass and other metal accents are balanced by light-colored wood surfaces and shelving and a living wall opposite the roasting room.
"There are upward of 700 succulent plants installed in that wall," said Bellamy. "We wanted to create more of a cozy environment for people to hang out all day. There's a lot more seating in the Westfield store so we expect a lot more groups and meetings, people using it as a second office."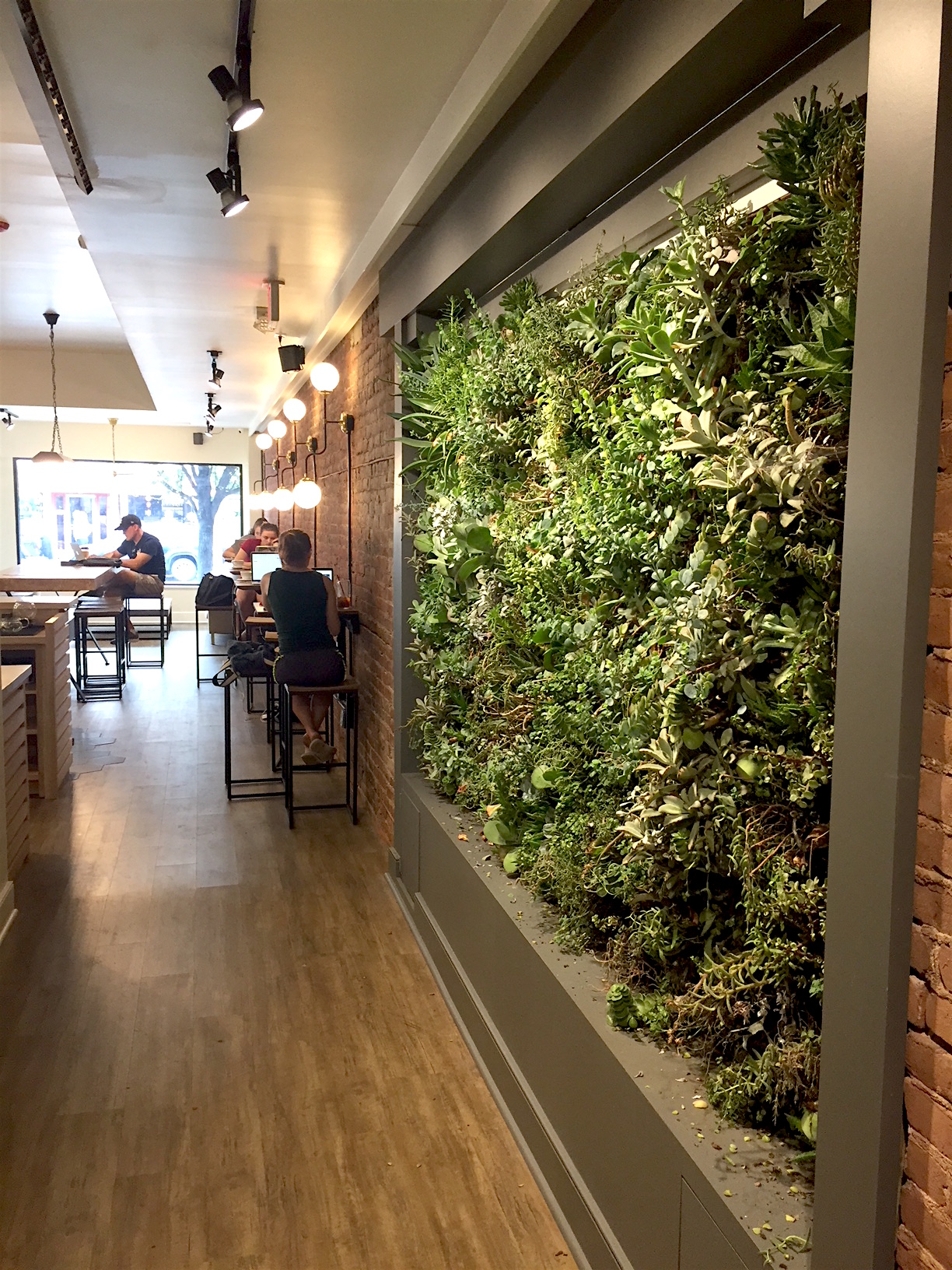 Keeping the new space active and full is one of three goals Bellamy said the company has set for itself going forward. Beyond its upcoming public coffee brewing classes and tastings, Boxwood also plans to host trivia nights and live music, as well as pop-ups by other local retailers to showcase their wares.
The second goal is to expand on its wholesale roasting business, and the third is to pursue an expansion into coffee catering for both corporate and private events, possibly to include a mobile coffee cart or truck.
The new Boxwood Coffee cafe is located at 143 E Broad St in Westfield, New Jersey.
Howard Bryman
Howard Bryman is the associate editor of Daily Coffee News by Roast Magazine. He is based in Portland, Oregon.