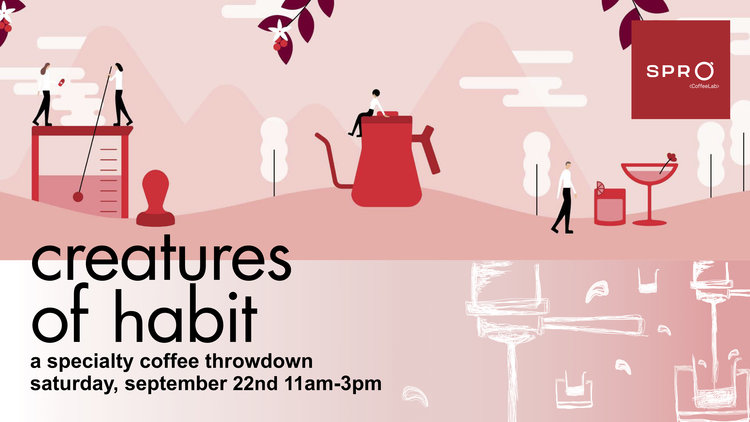 New grassroots, coffee-community-building competitions almost always surround latte art, as if by default. Yet latte art, as relatable as it may be as a visual and tactile signifier of fanciness, is of course just one way to communicate what's truly special about specialty coffee barista skills.
Recognizing this, a new event being led by San Francisco-based specialty coffee purveyor Spro Coffee Lab — a staple in the food-truck filled Spark Social SF in Mission Bay — is hoping to widen the specialty coffee reach with a more well-rounded competition focus.
"Having gone to many events, with most of them centered around latte art, we feel that latte art throw-downs do not highlight what we do on a daily basis or provide the creative freedom that we crave," Spro Coffee Lab Co-Founder Rich Lee said in an announcement for a new coffee event, "Creatures of Habit: A Specialty Coffee Throwdown," taking place Saturday, Sept. 22, at the Spark Social SF soccer field.
The event will have three separate competitions, the biggest of which focused squarely on dialing in espresso. Competing baristas will be given unmarked coffees, then they must make the best of them that they can within a given time frame before presenting shots to judges, including past US Barista Competition Head Judge Mallory Roth of Blue Bottle Coffee and longtime barista competitor and current Blue Bottle green coffee buyer Charlie Habegger.
The event will also involve a separate competition for signature espresso-based drinks — about which Spro is particularly passionate, if its drinks menu is any indication — as well as a latte art competition.
"We want to help encourage baristas to think outside the box, focus on taste, creativity and understanding of espresso," Lee said. "This could help our patrons/guests understand specialty coffee's pursuit of excellent flavors, quality and bridge the gap between guest and barista. Most of our customers never know what it takes to dial-in, having someone explain live during a competition would be so interesting!"
Also on hand for any coffee-related explaining that might be required is 2012 USBC champion and Counter Culture Coffee Buyer Katie Carguilo, who has agreed to emcee the event, according to Spro.
Costs for competitors to enter the competitions are $10 for one event, $13 for two or $15 for all three, while tickets for the coffee-loving public run $12. Here's the event link for more details.
Nick Brown
Nick Brown is the editor of Daily Coffee News by Roast Magazine. Feedback and story ideas are welcome at publisher (at) dailycoffeenews.com, or see the "About Us" page for contact information.