Marketing for coffee, as with most products, seeks to sell the goods based on more than its mere physical properties. It's usually also about feelings — those warm fuzzies associated with the passions of craftspeople, with helping others in the supply chain, or with doing right by the environment. The coffee sold by Austin, Texas-based startup Awakened Bean offers those same warm fuzzies, but takes it a step further with some pointies, as well.
The roasting company cools its beans with natural crystals in their midst to imbue the beans with earthly mystical powers. This follows a roasting process in which sacred mantras are recited.
"We really took our time in researching and choosing the perfect crystals for our cooling process," Awakened Bean Owner Holly Thomas told Daily Coffee News. "Every crystal carries with it unique properties and frequencies transmitted from Mother Earth that can help you obtain what is it you're looking for in life. We wanted to make sure that our coffee beans were in the presence of crystals in alignment with the feelings and goals of our company and what we want our customers to feel when drinking our coffee."
Specifically, Awakened Bean contends that its coffees benefit from cooling tray interaction with citrine, which the company said promotes happiness, light, strength and confidence; rose quartz for love and compassion; and amethyst, whose strong, meditative energy promotes serenity and balance. Of the latter, Thomas said, "[It] Helps to find your true self and break away from conformity."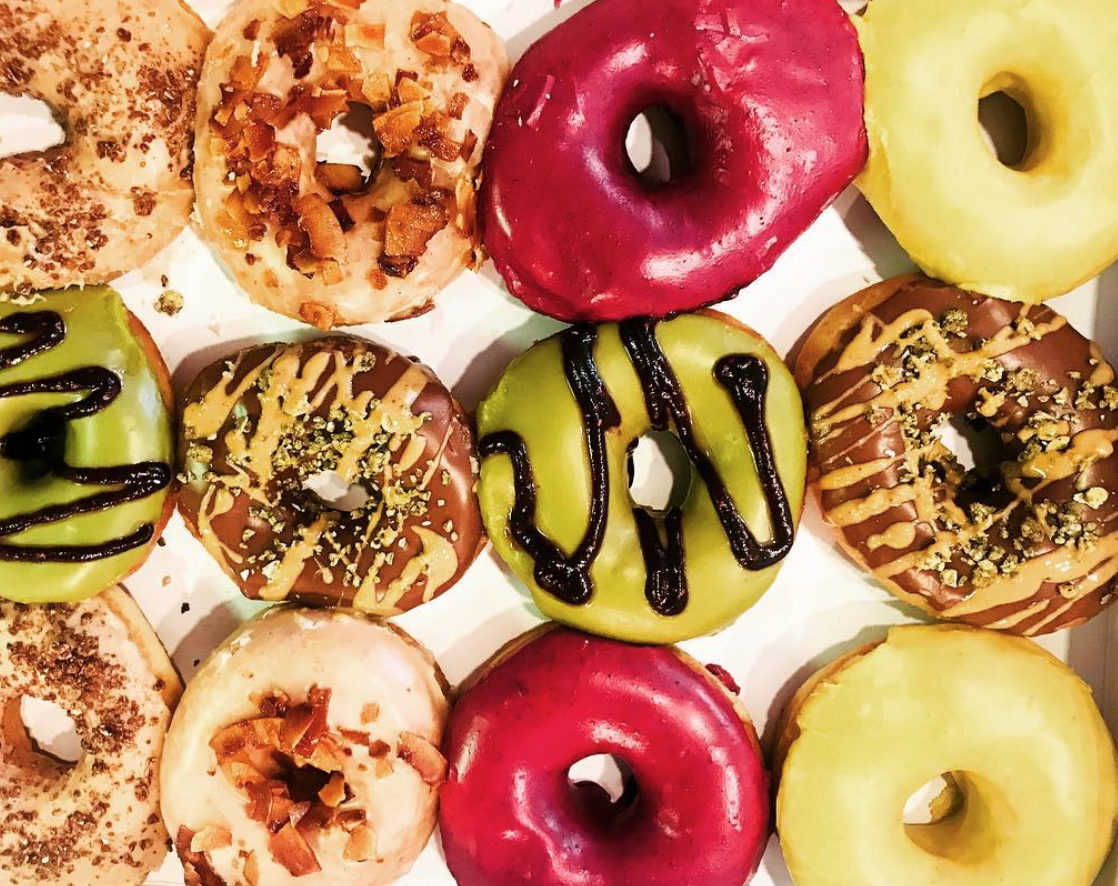 Awakened Bean certainly abides by that desire. Its 5-pound-capacity roaster is a unique machine custom built by a coffee enthusiast in New York, and its other product line of fresh-made organic yeasted vegan donuts befuddles the calorie-bomb category of sugary indulgence with "superfood" ingredients and toppings such as flax, chaga, macha and maca.
Currently Awakened Bean delivers beans and donuts directly to the doorsteps of Austin-area customers. A subscription service is also in the works for online customers. Longer term intentions include upgrading to a larger roaster and potentially a food truck or trailer, reserving the option to take the show on the road to various vegan, health and yoga festivals around Texas and beyond.
The whole idea was hatched about a year ago as Thomas and her partner in life and in business, Kendall Krishna, hit the old dusty trail together in a van from Virginia to Texas.
"As we were crossing the border into Oklahoma, buzzed on our early morning coffee and feeling super creative, we were throwing out ideas," said Thomas, who had over 12 years of service experience at Starbucks, plus a couple years of roasting on Behmor, under her belt.
Now using greens sourced mostly through Houston-based Walker Trading, Awakened Bean aims to accentuate the unique flavor characteristics of each coffee, taking consumers on what Thomas described as a little journey to origin.
"I'll never forget when I started working for Starbucks and was first introduced to coffee from Kenya," said Thomas. "So sweet, bright and fruity, unlike any coffee I had ever tried. I was instantly in love. Coffee didn't just taste like coffee anymore. Each roast from each region had such distinct flavor profiles. It struck me that with the perfect roasting process, you can really bring out the optimal flavor profile and destiny for the green bean."
Awakened bean also aims to affect the destinies of consumers, through the the chanting of mantras during the roasting process. Per the company's website, "Sacred mantra is the vibration of love, light and all that is good. By chanting this loving intention, we super-charge your coffee, and make it that much more special."
The company also takes mantra requests. Customers can email Awakened Bean their preferred mantra or intention, and the roaster will match an appropriate mantra to the roast. Good vibes only, though. They won't do hexes or curses or the like, should anyone being considering some form of spiritual revenge on a boss or an ex by gifting kryptonite-like coffee beset with bad juju, not that anyone has asked for that so far.
"We don't feel someone with those intentions would really be drawn to our product," said Thomas. "Our goal is to promote love, light and peace for all beings."
Howard Bryman
Howard Bryman is the associate editor of Daily Coffee News by Roast Magazine. He is based in Portland, Oregon.