Innovations in coffee equipment usually aim to refine the methods people use for preparing and brewing coffee. Toronto-based coffee equipment-maker Kruve takes a different tack, skipping to the end and refining the outcomes of these methods.
The company found its niche with its first product, the Sifter, which consists of a system of sieves that refines the output of any given grinder. Now two years since the Sifter launch, Kruve has followed up its second product, the Kruve EQ, a line of striking glassware designed to amplify a drinker's perception of specific attributes of coffee after it's been brewed.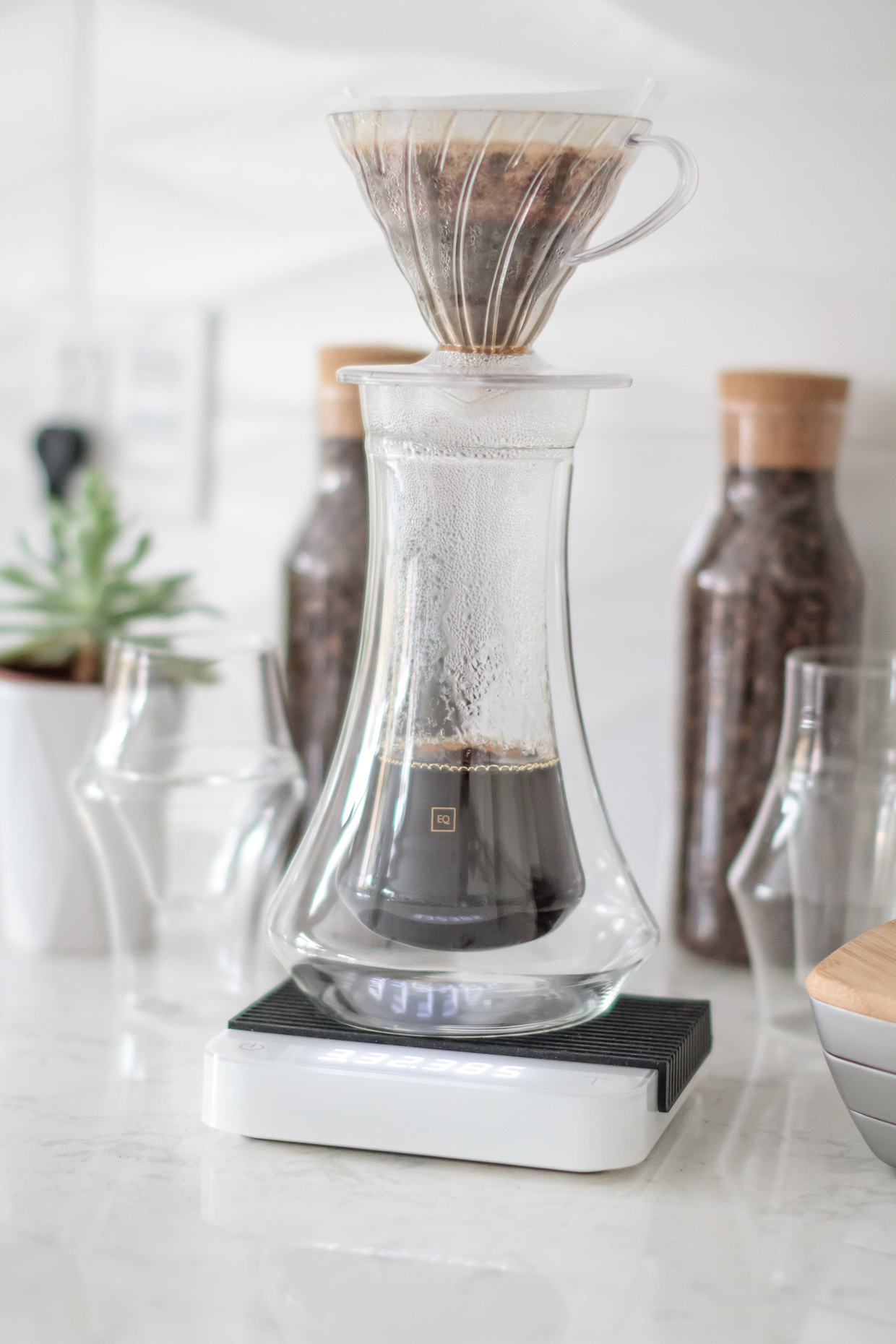 For coffee drinkers who choose beans, roasts and brewing methods in pursuit of particular flavors, aromas, acidity levels and textures in the cup, Kruve EQ glasses are designed to take that pursuit one step further. The product line includes two styles of drinking glasses and a carafe.
The drinking glasses are shaped differently to accentuate or diminish different characteristics of brewed coffee in the same spirit that an audio equalizer lets listeners adjust certain tones and frequencies in the music they enjoy. The carafe is an aesthetically matching dual-walled glass container compatible with various manual brewers including AeroPress, Hario, Kalita, Phoenix and others.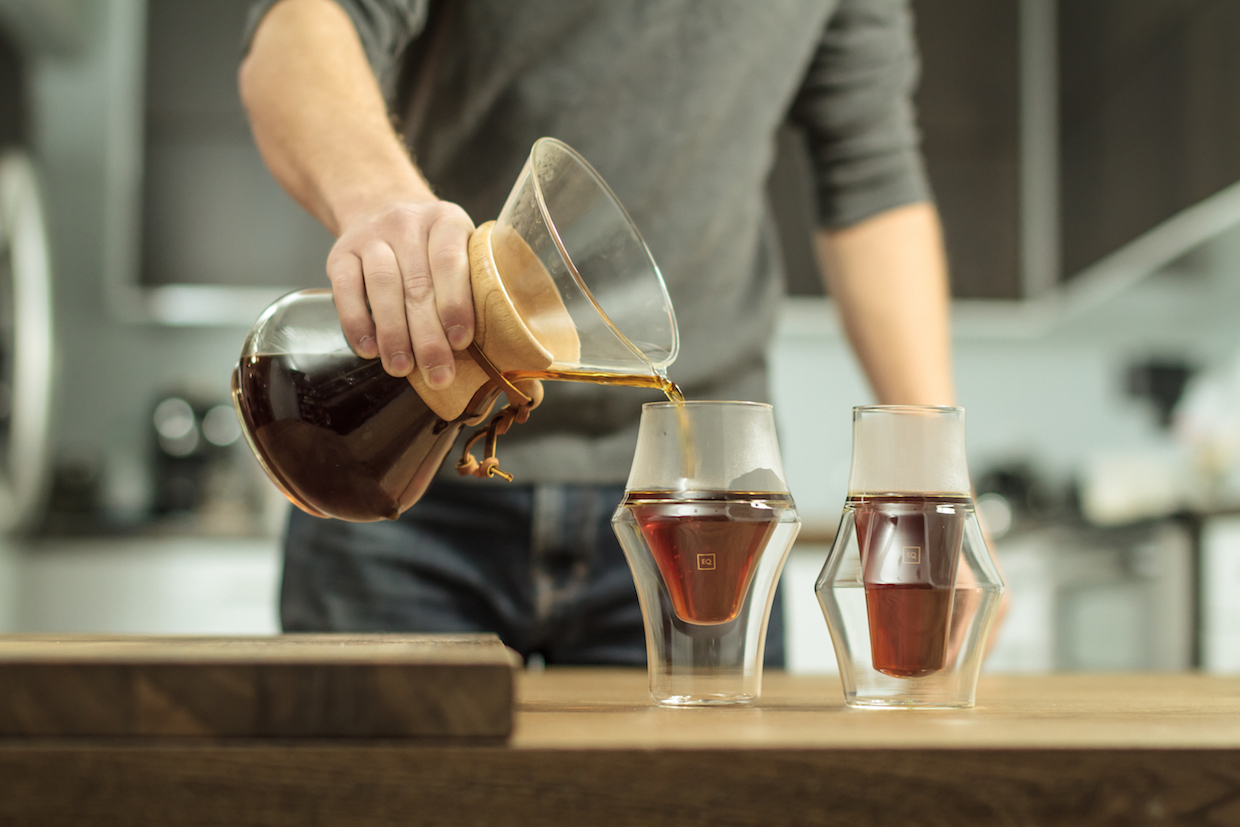 The rounder, more bulbous drinking glass of the two is called The Excite. In a press release, Kruve said the large liquid surface area is intended to better capture a coffee's aroma while toning down acidity and accentuating sweetness. The company suggested that full-bodied brews, beans of chocolatey and nutty character, and/or darker roasts would benefit from the Excite-shaped glass.
The other style of EQ glass, which the company recommended for lighter roasts and more citrusy and fruity coffees, is called The Inspire. It features a more confined inner shape and less exposed surface area. The idea is to concentrate and direct a brew's aroma while heightening its natural acidity.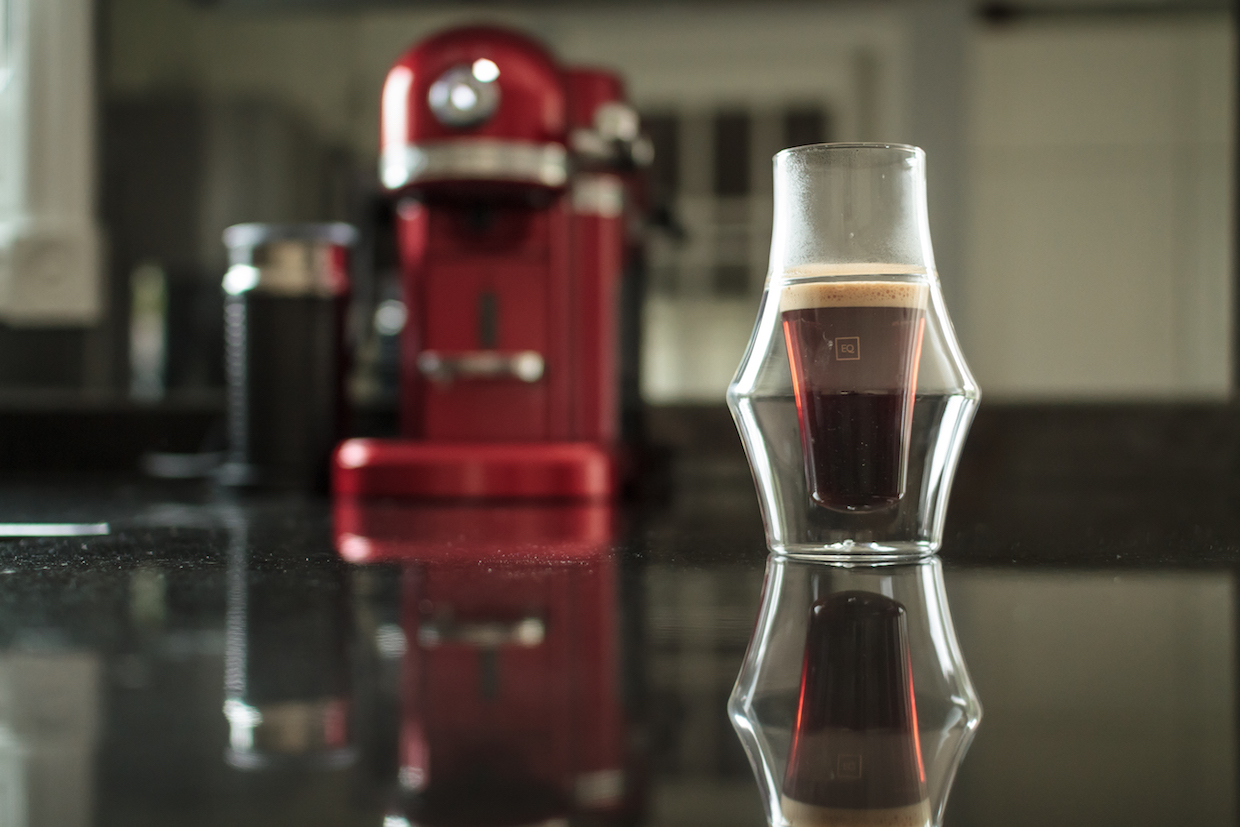 In designing the EQ line, Kruve looked at beverage cultures across the categorical landscape, noting how specific glasses have long been associated with specific variations within single categories of drinks — wines, cocktails, spirits and beers — while coffee has humbly carried on within ceramic cups or mugs, despite the evolution of the brew.
Kruve CXO and Co-founder of Michael Vecchiarelli told Daily Coffee News that it took about eight months to strike a balance of science, ergonomics and appearances for the EQ line design.
"There were a number of challenges," said Vecchiarelli. "One example [was] making the glasses comfortable to hold and delicate in a way that fits the coffee culture/environment, but the right size for the bulbous shape to have a significant effect. This is why some massive wine glasses are easier to hold with stems than trying to grab a huge 'fishbowl' with two hands. We sincerely made every effort to harmonize all the senses."
The recommended volume of each EQ glass is five ounces, according to the company, in order to maintain the design's intended headspace and aromatic effects. The carafe holds 20 ounces. Retail packages will offer glasses in pairs, either matched or one of each, with or without the carafe, although Vecchiarelli said the carafe is "a meaningful accessory" that adds a lot to the experience particularly given the relatively small capacity of each glass.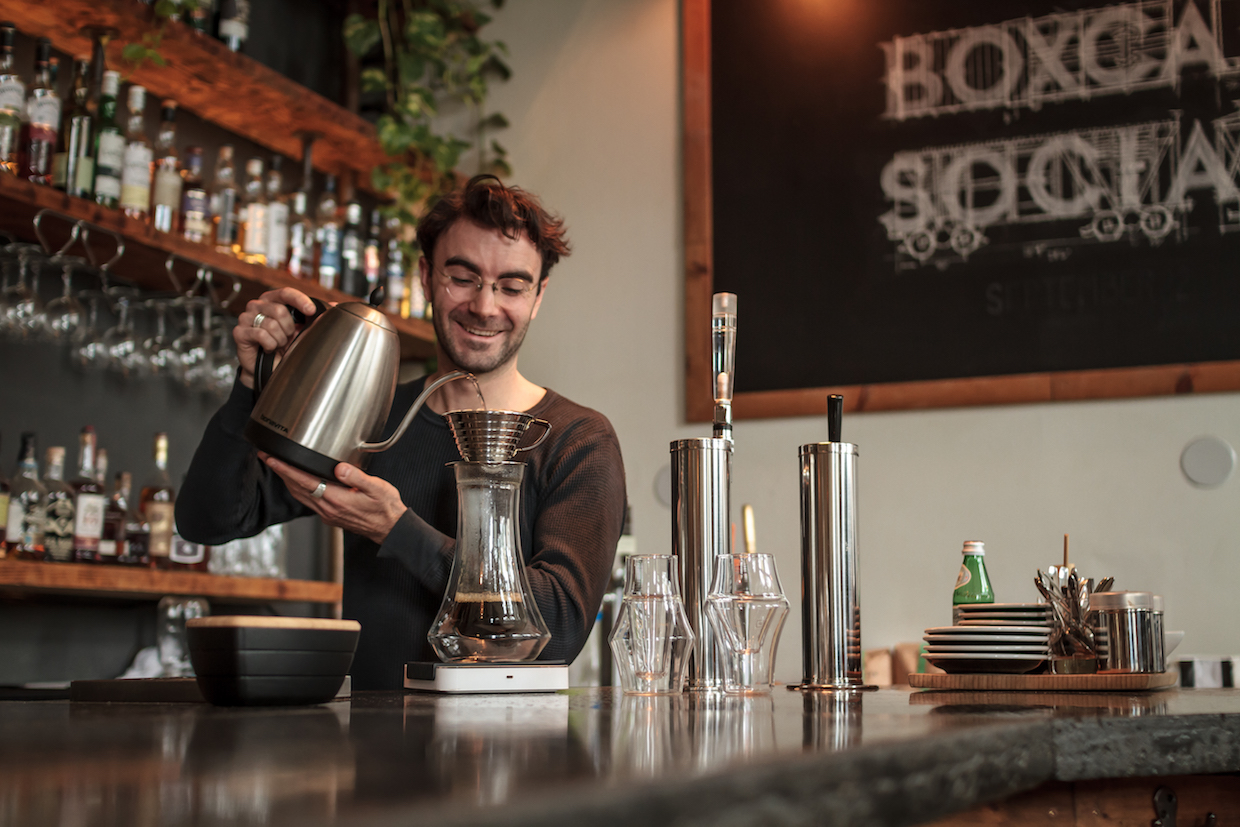 Current projections for retail pricing start at around $50 for either a pair of glasses or a carafe a la carte, and roughly $100 for either a set of four glasses or two glasses plus a carafe. Packages and prices increase from there, the biggest package being a set of 24 glasses and 12 carafes for roughly $1,200. Substantial discounts are available on pre-orders placed by way of a currently active IndieGoGo campaign.
The Kruve EQ line is expected to become available through retail channels by Spring of 2019, Vecchiarelli said.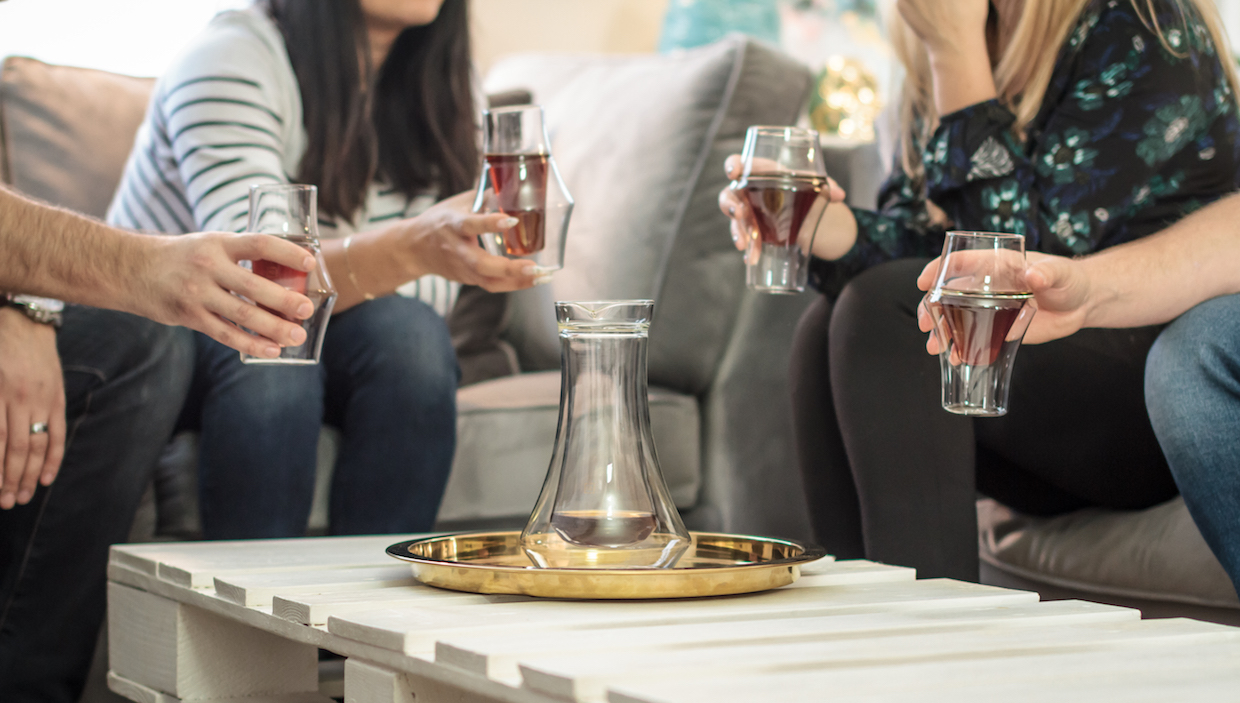 "The Kruve EQ glassware was designed specifically for the specialty coffee community," said Vecchiarelli. "However, we have tried several other beverages and many of the same benefits can be experienced. This is because there are several universal sensation and perception principles that apply across multiple beverages."
Sure, and anyone is capable of quaffing a dunkelweizen from a Scotch ale thistle. But what kind of a monster would do such a thing?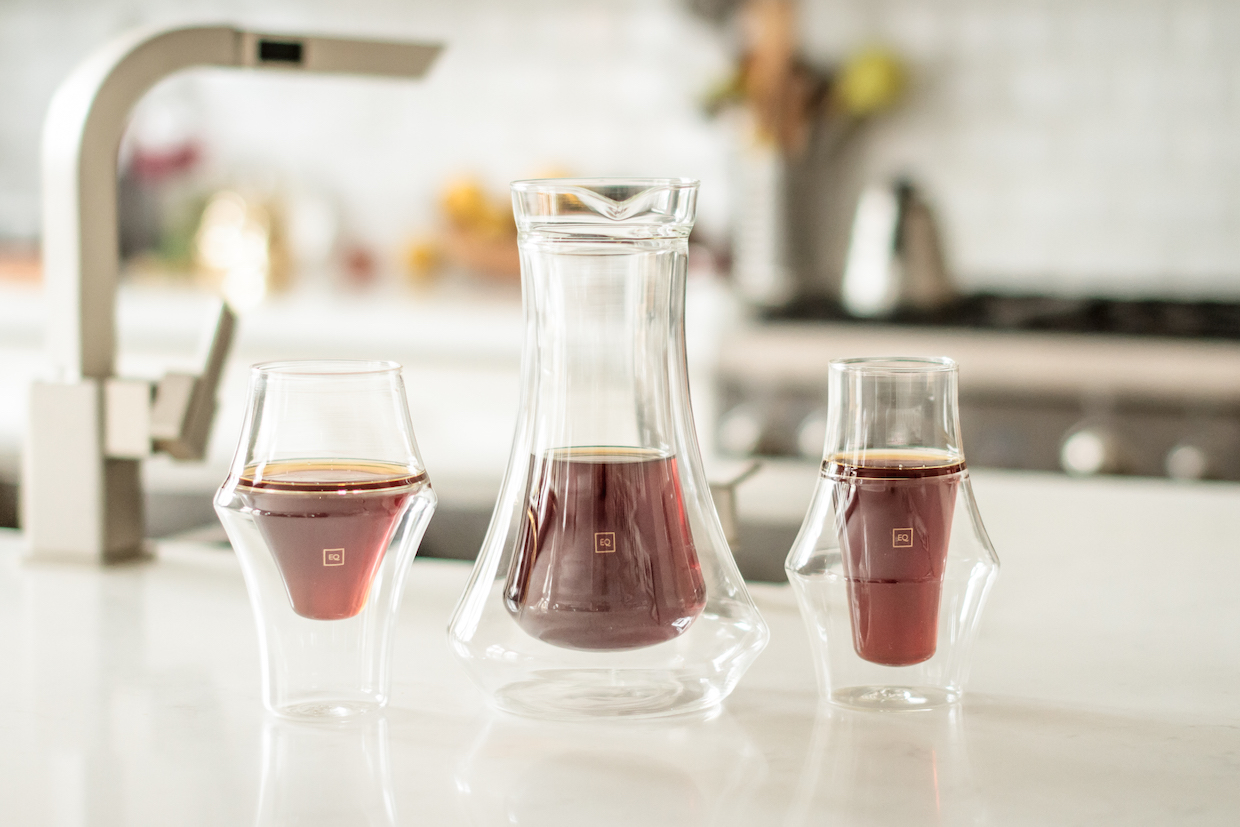 Howard Bryman
Howard Bryman is the associate editor of Daily Coffee News by Roast Magazine. He is based in Portland, Oregon.