Among the surfboard carvers, winemakers, art curators and boutiques in Santa Barbara, California's Funk Zone, a new practitioner of invigorating craft has hit the artsy district's bullseye. Dart Coffee opened its doors to the public earlier this month with a Diedrich IR-5 turning out fresh roasts on site, and owner Dr. James David Dart told Daily Coffee News the company will likely upgrade to a larger machine early next year.
"We outgrew it two years ago and now I'm really pressed to complete wholesale accounts every week," Dart, who is also a dentist, told DCN. Contenders for equipping that upcoming expansion include a Mill City Roasters 15-kilo machine or possible a Diedrich IR-12.
The beans emerging from the drum currently fall into the light to medium range. A friend and self-described disciple of Scott Rao, Dart said that he favors a declining rate-of-rise method in creating profiles that aim to highlight origin-indicative flavor notes and avoid roastiness.
"We're not hipsters," said Dart. "You can't please everyone, and our competition is tough in Santa Barbara. But feedback on our products has been encouraging. I supply coffee for cool, repurposed restaurants and bakeries in the Funk Zone, and the new high-end California Hotel, along with several locations in San Luis Obispo."
While Dart's personal tastes lean towards beans from Guatemala and Kenya, Dart Coffee co-owner and Dart's wife Erica Carter Dart prefers natural-processed Ethiopian coffees. She's also a professional painter with more than 25 years on the Santa Barbara art scene under her belt. Erica has owned and operated three successful galleries in the area and now works out of the Green House Studio located across the street from the roastery cafe.
"She loves color, expression and puts things in proper places," said Dart. "Her large-format pieces are sold in Montecito and she finished a new one for the cafe, seen down the hall. The Frida K. influences are obvious to most observers. She's the art and I'm the scientist constantly tweaking new coffees. It makes for a good relationship, we think — covers all bases."
Colors in the shop are allowed to jump out in relation to the cheery but reserved off-white powder coat of the coffee bar's La Marzocco FB80 espresso machine that matches the white Diedrich nearby. Mahlkonig Peak grinders support the espresso program and an EK43 grinds for drip brewed in batches on a new Curtis GemX 4 twin brewer that was "modded out" by Scott Rao himself, according to Dart.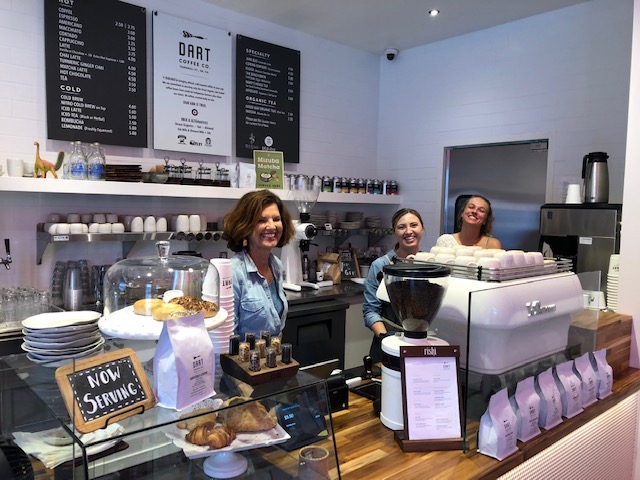 A Curtis hot water tower feeds a Rishi tea program, and a selection of light bites includes local pastries and bagels in the space that Dart said he originally wanted to deck out in an industrial, jazzy, concrete-and-repurposed-wood motif, but was persuaded to go another way by Erika and by Sherry Villanueva, the owner of local agency ACME Hospitality, who did most of the design work.
"I was told, 'been done,' so we went a very different direction," said Dart.
Pink lanterns liven up the 2,000-square-foot coffeehouse inside and out within a marketplace complete with food, ice cream and retail that Dart calls "a happy, communal zone with great coffees." As for Dart personally, he likes to show up early and sidle up to the Diedrich before the hustle and bustle sets in.
"I like to roast early, starting at 5-5:30 AM when it's peaceful and dark," said Dart. "Obviously, my roaster area is all me, and after basically roasting outside for three years, I have a great view of the action with amenities all to myself. The market is a happy place where everyone knows someone. The large windows are the best."
Now two weeks since the grand opening of its retail cafe, Dart Coffee Co. will focus on paving the way to greater wholesale growth, which is currently limited by the company's roaster capacity and Dart's available time.
"We have a handful of very nice, busy clients and I've resisted marketing for more," said Dart. "Ideally, we go to a larger roaster next year in a close-by industrial area, hire a few dedicated young people to man it and move up. We have kids and in-laws in multiple restaurants in SB, and all have told us, 'Be patient as you're going to do this again.' To that end, we do want to expand Dart Coffee Co. in additional retail outlets, either in 'kiosk' style in SB or over the hill in Santa Ynez/Los Olivos."
Dart Coffee Co. is open now at 121 E. Yanonali St. in Santa Barbara.
Howard Bryman
Howard Bryman is the associate editor of Daily Coffee News by Roast Magazine. He is based in Portland, Oregon.