For the months that followed the opening of Big Iron Coffee's original Rocky Mountain roastery and coffee bar, owners Bowen and Nina Mundy Rodkey said they were intent on exploring the wholesale frontier. Yet when opportunity came a-knocking this past summer, priorities shifted and now a second beetle-kill-pine-bedecked retail outpost is ready to serve the town of Steamboat Springs, Colorado.
Bowen Rodkey told Daily Coffee News that when the owner of the Steamboat Coffee House stopped by Big Iron's farmers market booth to chat about potentially selling the business operating in a space that's housed one coffee shop or another for over 30 years, Rodkey was quick on the draw.
"It was making a little money, but he realized it wouldn't make more money unless he got in there and did something more interesting with it, and he doesn't have that time," Rodkey said of the former owner, who's also a full-time tax attorney. "He made a pitch and I talked it over with Nina, and a few weeks later we got the keys. If you had told me a year ago that we'd be in that downtown location, I would have laughed at you. Our only intention at the beginning was to wholesale and do online retail. We've just followed opportunities as they've presented themselves to us."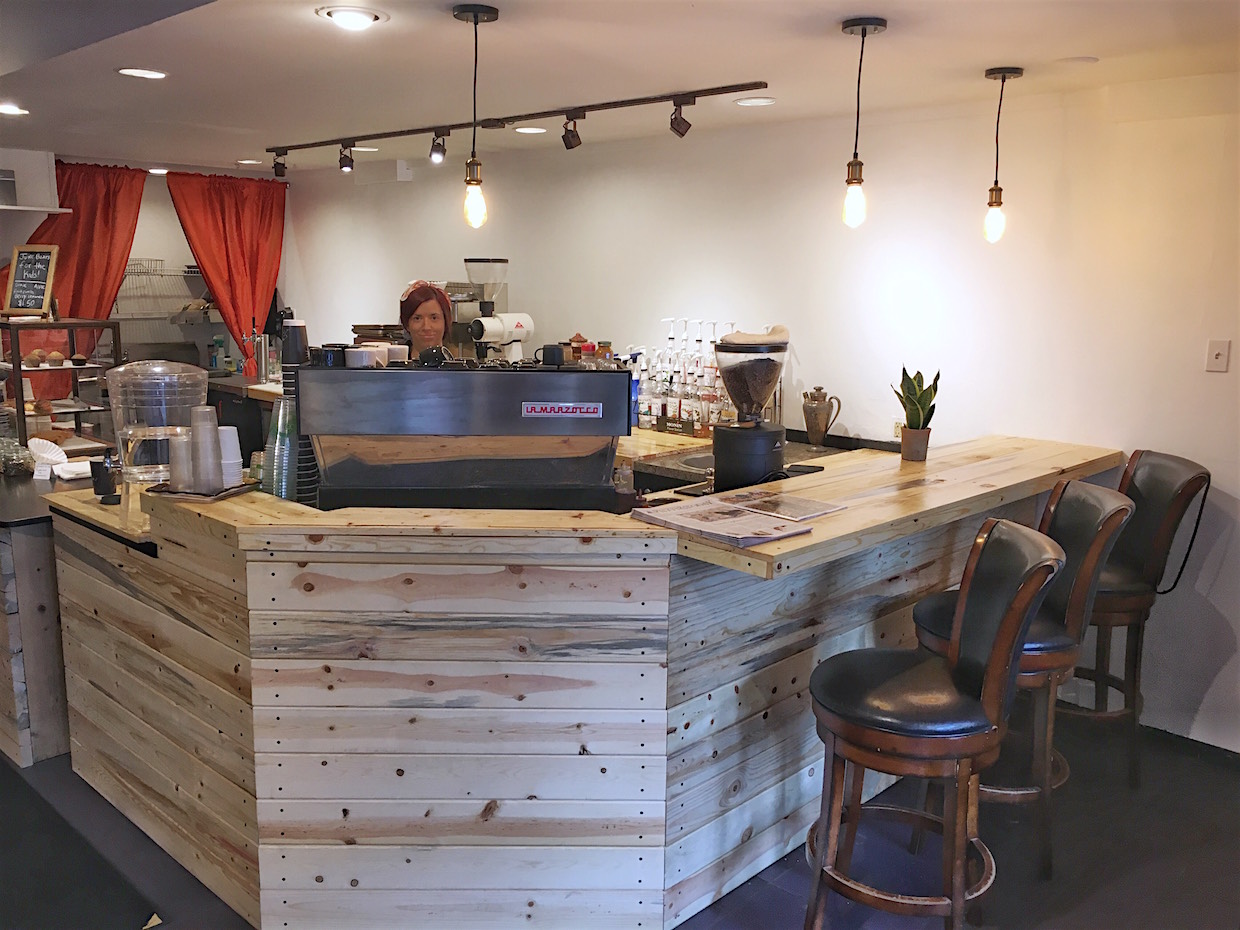 The approximately 1,200-square-foot Steamboat location is substantially more spacious than the roughly 250-square-foot original Big Iron roastery bar, and is, for strategic reasons, set up as a separate business entity called Big Iron Coffee Downtown. Rodkey said he pursued the separation strategy at the recommendation of Charles Jack of Santa Cruz, California-based Cat and Cloud Coffee, and that it wasn't hard to do.
"It has a few advantages, and I'm not super savvy on all of them," said Rodkey. "Mainly it allows you two assess the viability of both businesses. You can make sure that the coffee shop is an independently viable enterprise and the roastery is, too. It would be unnecessary if you didn't do wholesaling of roasted coffee though. Allegedly it makes taxes easier, too."
Another shrewd and more easily understood move on Rodkey's part was to keep the entire Steamboat Coffee House staff on board, because as Rodkey put it, they're all "super sweet people," which is not a skill that can be learned. Said Rodkey, "I can train people on coffee all day long, but I can't train them to be friendly."
After closing the old business for the last time Nov. 1, Rodkey kept all the workers on the clock to pitch in with brightening the formerly dark walls to a fresh, bright white and to install Big Iron's signature pine. The shop softly reopened as Big Iron on Nov. 10.
"It was so much fun," Rodkey of the 10-day remodel. "We did all the work ourselves. I wanted to keep them working while we were closed, and they were very happy to be general contractors for a few days, and now they get to brag that they did most of the remodeling work."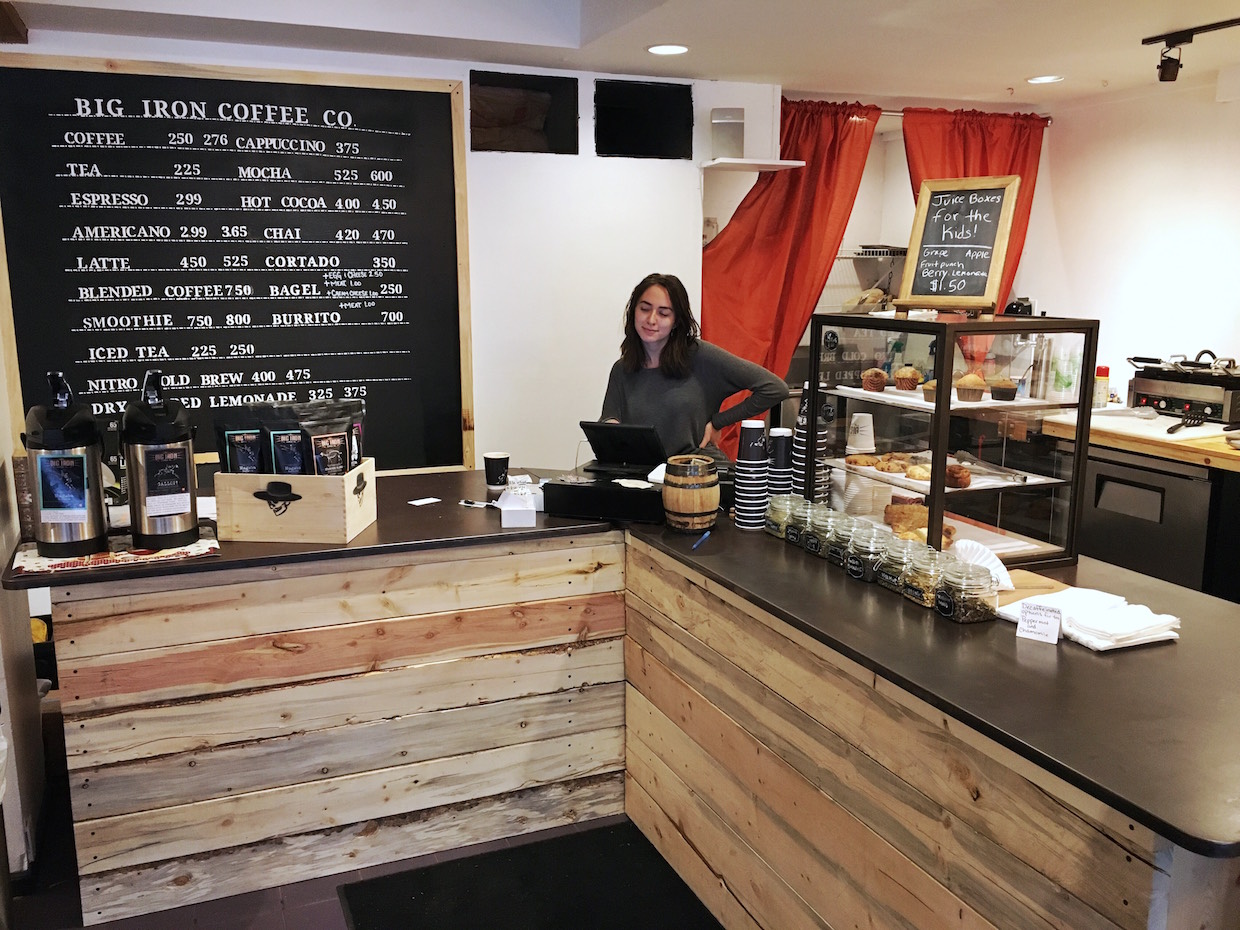 New equipment is gradually replacing the old now that the brands have switched over. Batch brew ground by Mahlkonig EK43 flows from a twin Fetco brewer, and a K30 supports the old shop's La Marzocco Linea 3-group that's soon to be swapped out for a Strada 2-group. The staff, too, is in the process of learning best practices on the new equipment and with specialty coffee in general.
"There was not much of an emphasis on consistency and really any of the virtues that 'third wave' coffee shops like to showcase, and we've changed that," said Rodkey. "A little educating and implementing scales into the brewing process is really all they needed. They're all working on dialing in latte art. I've given them the OK to watch YouTube videos of latte art tutorials if it's slow at the shop. We're not taking a Stumptown approach and making them go through weeks of training before being allowed to even look at the bar. The whole downtown project is a work in progress, and people will get to see us grow and learn ourselves."
Big Iron Coffee Downtown is located at 635 Lincoln Ave. in Steamboat Springs. 
Howard Bryman
Howard Bryman is the associate editor of Daily Coffee News by Roast Magazine. He is based in Portland, Oregon.