The Selden Market business incubator located inside Norfolk, Virginia's historic Selden Arcade has provided a fertile growing environment for two-year-old Vessel Craft Coffee. The company — which has been selling packaged beans and cold brew and online and at its sleek market cafe through a private-label relationship — recently launched a roastery of its own.
For the endeavor, Vessel Founder Sarah Cowherd and her business partner Karen Corrigan brought roaster J.T. Tworek into the growing business. Tworek started roasting as a hobby about two years ago and has enthusiastically stepped up to the helm of Vessel's new Ambex YM-15 roaster.
Cowherd told DCN that the first two fruits of this expansion to reach the public so far have been a red-honey-process and a washed peaberry, both sourced from the Long Miles Coffee Project in Nkonge Hill, Burundi, with help from importer Olam Specialty Coffee. A Fairtrade/Organic Bolivian bean and a Rainforest Alliance Certified bean from Jinotega, Nicaragua, have also been early offerings.
"Our roasting philosophy is to stay true to the origin of each coffee and roast in a manner that brings out the quality and unique flavor profile of the coffee," said Cowherd. "We believe this approach honors the farmers, environment, and culture of different coffee regions, and we want people to enjoy the coffee as much for its taste as for what it stands for in supporting coffee producing communities."
Other roasts are continuing to come from Vessel's original roasting partner, Eastern Shore Coastal Roasting Co., as the company gradually transitions to its in-house products for preparation on its espresso-free brew bar. In a 1,000-square-foot space in Selden Market, about 400 square feet are occupied by the bar, upon which cold brew and nitro cold brew taps take center stage.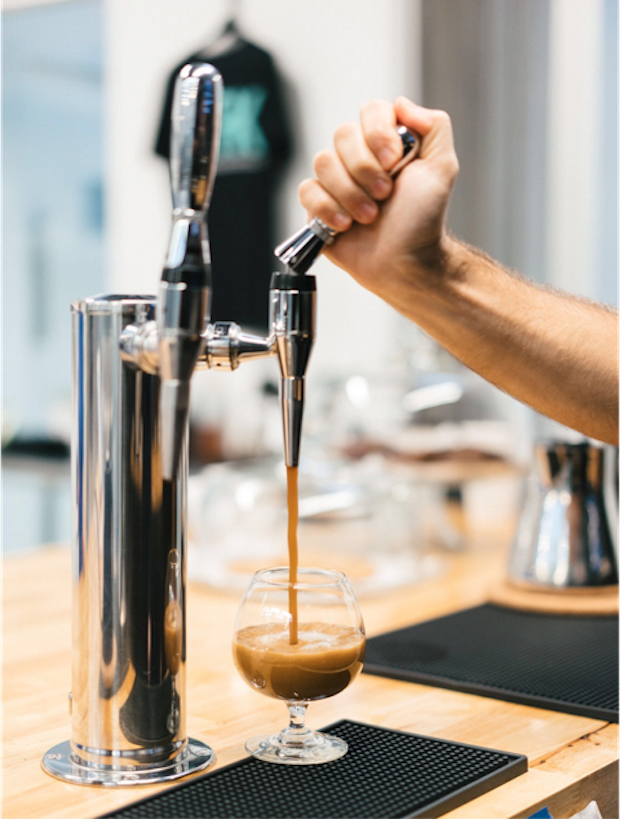 Hot options are prepared using Fellow kettles and manual brewers, with a Mahlkonig EK43 grinder. The matte black equipment plays well with black and white motif that carries through the contrasting black and white walls, concrete floors, black stools and natural wood counter surfaces.
"I lived in San Francisco for a while and was inspired by the coffee culture of the west coast," Cowherd said of her design motivations. "I've returned several times to tour coffee shops and roasters, and wanted to bring a little west coast coffee culture back east."
With its in-house roasting operation up and running since last month, Cowherd said the company will now focus more intently on its growth growth across online, wholesale and retail channels. A Vessel Craft Coffee flagship roastery cafe is also in the works. Cowherd said a downtown Norfolk location has been secured, and an opening date is eyed for sometime within the first quarter of 2019.
Vessel Craft Coffee is located inside the Selden Market at 208 E Main Street in Norfolk, Virginia.
Howard Bryman
Howard Bryman is the associate editor of Daily Coffee News by Roast Magazine. He is based in Portland, Oregon.