Starbucks has opened a massive new retail concept store in Bali, Indonesia. The company is describing its 20,000-square-foot Dewata Coffee Sanctuary as a sort of "origin-centered" version of its Reserve-brand roasteries, four of which have opened in the world.
Conceptually, the Dewata Coffee Sanctuary lies somewhere between the roasteries and Starbucks' own working coffee farm in Costa Rica called Hacienda Alsacia, yet all these facilities reflect the company's strategic investment in coffee-focused tourism.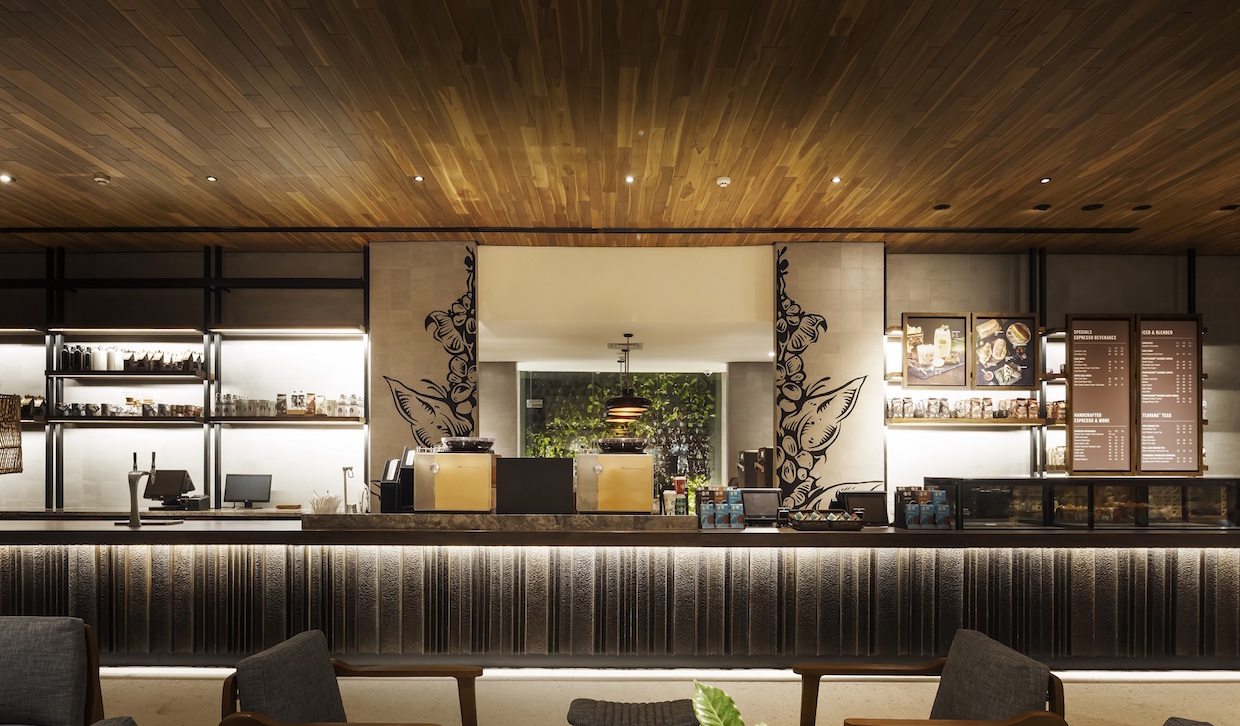 As opposed to orienting the Bali facility around a no-expense-spared working production roastery, the Indonesian facility leads guests through a small coffee farm, described as the size of a "typical" Indonesian smallholder coffee farm. After passing through ornate Balinese landscaping, guests then come to a depulping station before they are offered hands-on experiences at a small washing station with a drying patio.
The second floor of the facility features a plant nursery and a glass-enclosed greenhouse adjoined by a tasting room at which something akin to a cupping can take place, with just coffee and water, with no filters or advanced brewing methods.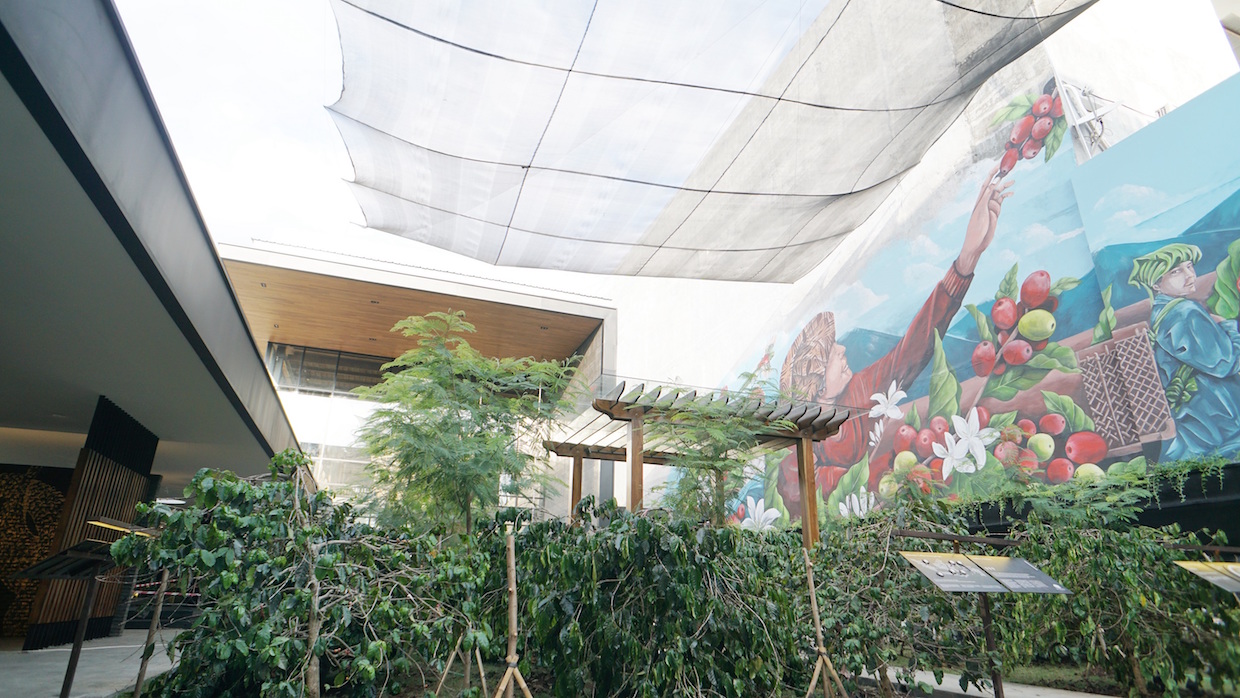 The seed-to-cup cycle is comes to its natural conclusion on the first floor, where some 100 roasted coffee offerings with a range of brew methods are available at a 42-foot bar. The facility includes original artwork and landscape throughout to highlight Balinese design, plus video walls where patrons can learn more about traditional Indonesian coffee farming and processing.
Starbucks has a decades-long history sourcing coffees from Indonesia, and particularly the renowned growing region of Sumatra, whose coffees the company has been selling annually since 1971. In 2015, Starbucks opened one of its national farmer support centers in Berastagi, North Sumatra, to drive research for disease-resistant coffee plants. Through that center, the company plans to donate roughly 100,000 seedlings to farmer organizations annually.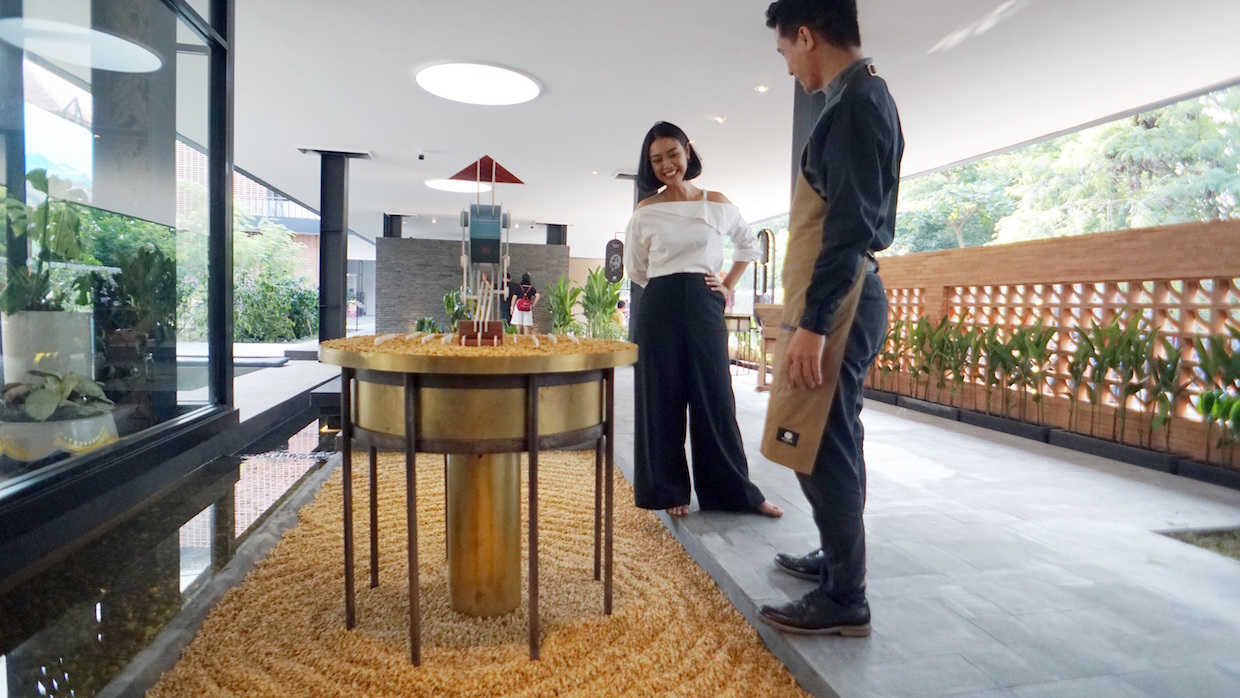 "We began sourcing Indonesian coffees more than four decades ago and have always been struck by the sense of community and care for the coffee journey at every step," Starbucks CEO Kevin Johnson said in an announcement of the opening of the Dewata Coffee Sanctuary today. "The Starbucks Dewata Coffee Sanctuary amplifies our passion for the coffee journey, our ongoing commitment to Indonesia's rich coffee culture, and our tireless pursuit of fostering moments of connection between our partners and customers."
The Starbucks Dewata Coffee Sanctuary address is: Jl. Sunset Road No.77, Seminyak, Kuta, Kabupaten Badung, Bali 80361, Indonesia
Nick Brown
Nick Brown is the editor of Daily Coffee News by Roast Magazine.