Three-year-old Izmir, Turkey-based coffee roasting equipment manufacturer Besca Coffee Roasters has established a showroom for sales, training and support in Michigan. The showroom is operated by Besca's sole U.S. distributor, Brett Potter, who is also the head technician of the Michigan-based father/son installation, integration and automation company AGK Inc.
Located in the small village of Dansville between Ann Arbor and Lansing, the roughly 1,500-square-foot showroom doubles as a showroom for all of AGK's services, and it is the home base for Backwoods Coffee, a tiny roasting operation that is only accepting orders from friends and family while building an online presence.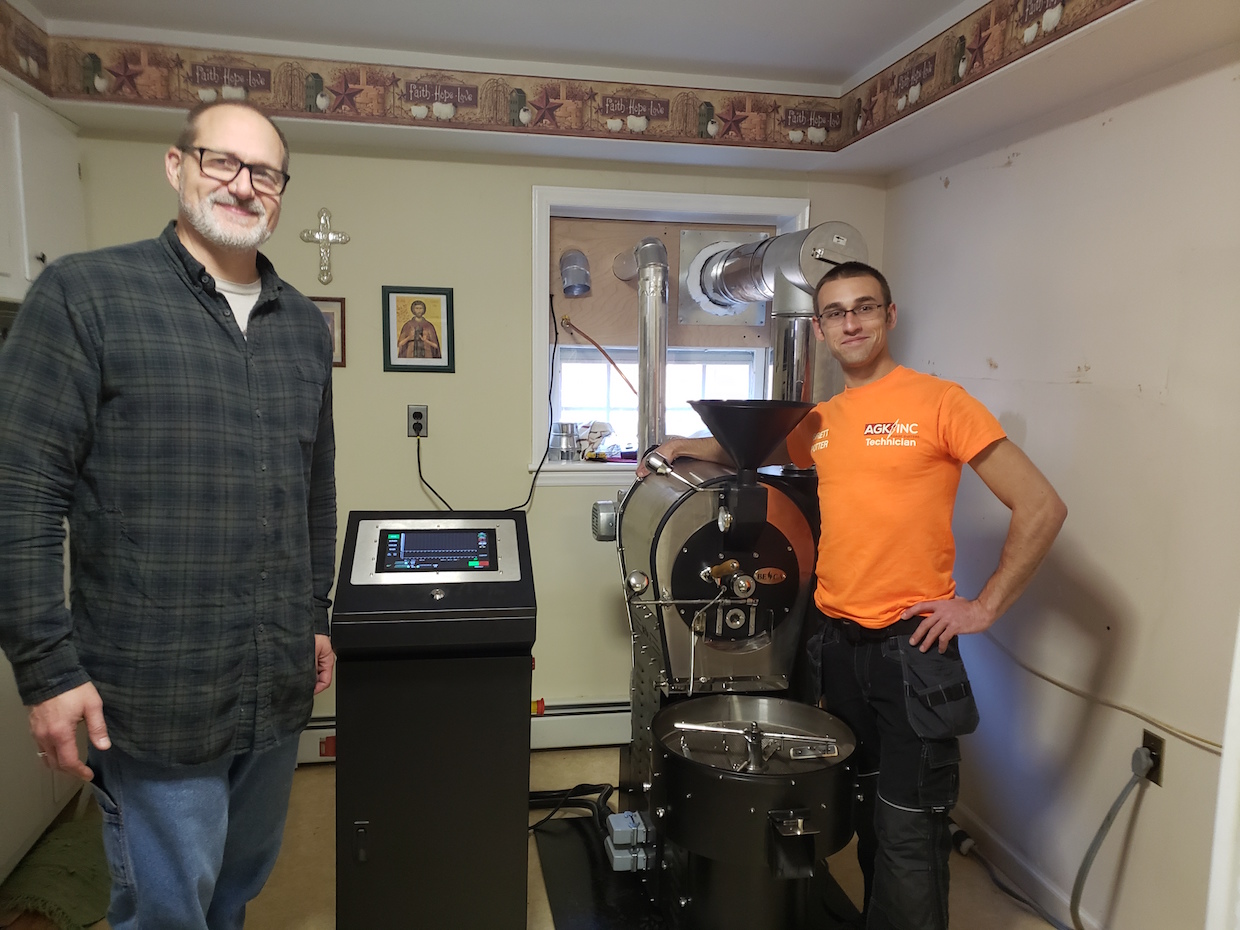 Potter told Daily Coffee News that the move into small-scale roasted coffee sales just made sense given how many batches they were roasting through client demos and training, while also receiving a lot of requests from would-be customers in the rural Michigan community eager to brew such high-quality, fresh-roasted beans.
"By setting up a small roastery in our showroom, it's giving us the factory environment," said Potter, who ultimately sees the roasting start-up as a teaching opportunity for AGK and Besca USA customers. "I can answer their questions, and I can demonstrate with my equipment."
The equipment currently up and running in-house is a 2-kilo capacity Besca BSC-02. Besca's range of smaller-capacity shop roasters include 1-, 2-, 5-, 10- and 15-kilo-capacity machines. The larger industrial line offers capacities of 30, 60, 120, 180 or 240 kilograms. The 1- and 2-kilo machines come in fully manual and semi-automatic variants, while options for the BSC-05 and larger include manual, semi-automation and full automation packages.
All Bescas at the manual level are digitally and PID-controlled for variables such as heat, drum speed and air flow, and are connectable to any third party software. The semi-automated models include touchscreen control boards that store different user profiles. Each user profile can include a number of roast profiles users create manually for the machine to repeat automatically later. It also provides alarms for manual actions such as dropping the charge at a target temperature, and automated pre-heating and end-of-day cycles.
Fully automated Bescas do all of that, while also loading and dropping the green coffee charge and dumping the finished roasts automatically. Yet while they toe the line technologically, Potter said that Besca's most important value proposition is in the build quality, longevity and serviceability of its machines.
While frames, drums and other structural elements are hand-fabricated by a small crew in a factory in Turkey, all replaceable components are easily accessible industry standard parts  for industrial use, including in Besca's roasters at the smallest end of the line.
"We don't offer any tabletop models," said Potter. "All of ours are standalone, full-size roasters; all have direct-drive motors, all-metal fans. Our coffee roasters, even the small ones, are designed to be run on an industrial scale, 12 to 24 hours a day, seven days a week, for many, many years."
AGK's relationship with Besca began to formalize when Potter traveled to Turkey to meet Marketing and Finance Executive Erkan Aydin and Engineer Polat Erdemil.
"I believe it was the fourth day that we were in Turkey, we went out to dinner with the two heads of Besca, and about halfway through dinner, Polat looked at me and he said, 'Do you know how I know that we're going to do well in business together?' said Potter. "I said, 'How's that, Polat?' and he said, 'The entire time that you guys have been here, you have asked all kinds of questions about quality, materials, workmanship, you've picked apart the roasters, all the details, asked all the questions you could about those, but never once did you ask anything about price.'"
While slightly more expensive than one or two other brands at equivalent capacities, Potter said Besca machines are priced lower than the many of the industry's most popular machines from other manufacturers. Prices start at $7,000 for a manual BSC-01 and go up from there.
After three years of manufacturing, there are now about 75 Besca-made machines of various sizes currently in use in roasteries in Turkey and around Europe, as well as a few in the U.S.
"We've just started bringing in roasters. We're on our second shipment of roasters at the moment," said Potter. "We're hoping this year is going to be the year to really put the numbers out there."
Potter said that Besca is currently formulating plans to move its factory closer to the port for great efficiency in shipping as well as for a larger manufacturing space as sales continue to grow. Meanwhile, as some final touches such as tile work and baseboards are still being completed in Michigan, the US showroom and Backwoods Coffee nano-roastery has quietly opened to the public to begin offering training and education on Besca equipment. A grand opening celebration event for the showroom is slated for sometime this Spring.
Howard Bryman
Howard Bryman is the associate editor of Daily Coffee News by Roast Magazine. He is based in Portland, Oregon.