The latest rising star on Pittsburgh's specialty coffee scene is actually a hypocycloid, though it shines just as brightly.
Named for the geometric shape featured in the official logo of The American Iron and Steel Institute — a shape Pittsburgh Steelers fans will surely recognize — Astroid opened last month in a roughly 800-square-foot space inside the Terminal Building in Pittsburgh's South Side neighborhood.
The century-old former warehouse now owned by Pittsburgh-based co-working company Beauty Shoppe was once the largest cargo holding stop between New York and Chicago. Specializing in reconditioning old buildings into modern "co-working hospitality" spaces, Beauty Shoppe has sought to maintain the building's historical character while embellishing it with modern flare.
"In the coworking space, we drew a lot of inspiration from the Bauhaus movement and some of those elements trickled into Astroid," Beauty Shoppe Director of Design Morgan Stewart told Daily Coffee News. "We really liked the strong graphic quality of the pattern while keeping it a little more light and playful with the color palette. Only after we had made that selection, we recognized the shape that it forms when four tiles are laid together. There was an 'a-ha' moment when our team made that connection to that Pittsburgh famous shape."
Though the small cafe that seats about 12 is expected to serve drinks most mostly to-go, designers paid no less attention to the cafe's unique wares, many of which are made by local ceramicist Jenna Vanden Brink.
"We had the opportunity to collaborate with Jenna on the form and color for each of the items," said Stewart. "The physical engagement with the object is very important to us as we wanted every guest to sense the intentionality in the details. The form stays very simple but the touch and handle feel special. We pulled the colors we use elsewhere in the space to create these Astroid-specific ceramic ware."
Inside those ceramics are drinks made by the equally creative hands of barista and Astroid Manager Emerson Graham. Roasted beans from Brooklyn-based Parlor Coffee are ground either on Mahlkonig K30 Air or EK43, and tamped by Push tampers into VST baskets for extraction on a La Marzocco Linea PB machine equipped with IMS Competition screens and fed water "robustly" filtered by a Pentair Everpure system.
"The components of the bar were selected to be simple, daily workhorse machines that would deliver consistent and high-quality coffee," said Graham, who developed a unique style of 4-ounce extraction referred to on the Astroid menu as The Espressive.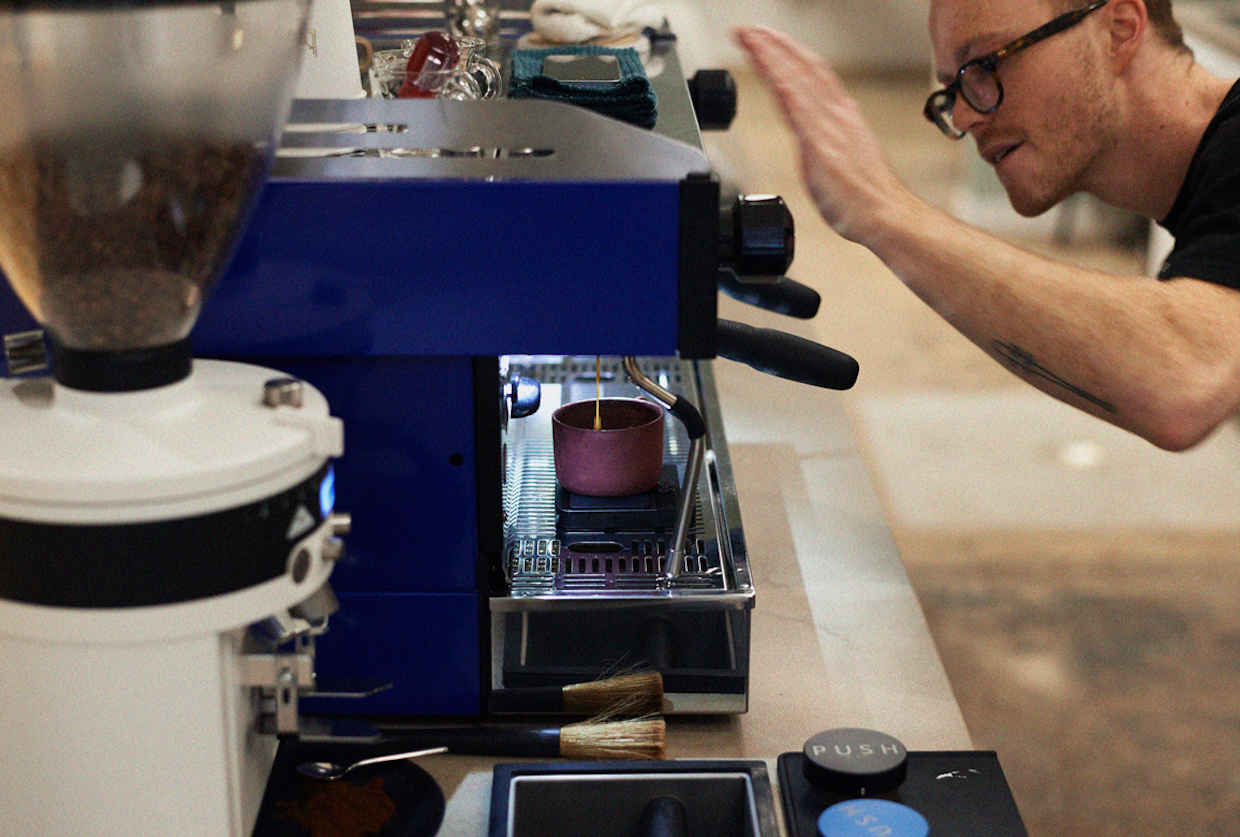 Preparation of an Espressive is "relatively simple, though meticulous and focused," according to Graham. Coffee ground a bit coarser than espresso on the EK43 S is extracted under a pressure of 6 bar on the Linea PB in a water-to-coffee ratio ranging from roughly 3.5 up to as high as 4.2 to 1. Graham said a dose of 16.5 grams, for example, yields a beverage weighing 57-65 grams, roughly double the shop's standard espresso. Astroid also prepares its regular espresso at 6 bar. What's different is the grind and ratio, made possible by the exceptionally uniform output of the EK43.
"This idea isn't brand new," said Graham, whose first introduction to the concept was in conversation with friend and Botany Coffee co-founder Aaron Clark based in Saint Paul, Minnesota. "Espressive was inspired by my desire to serve a unique product — something more approachable than espresso — while delivering more of an experience and impact than drip coffee."
Graham said the flavor of an Espressive tends to be sweet, clear and particularly revealing of origin-related differences from one coffee to the next. It has proven to be a less daunting choice than straight espresso for specialty coffee newcomers, and is deliverable to patrons in less than half the time it takes to make a manual pourover.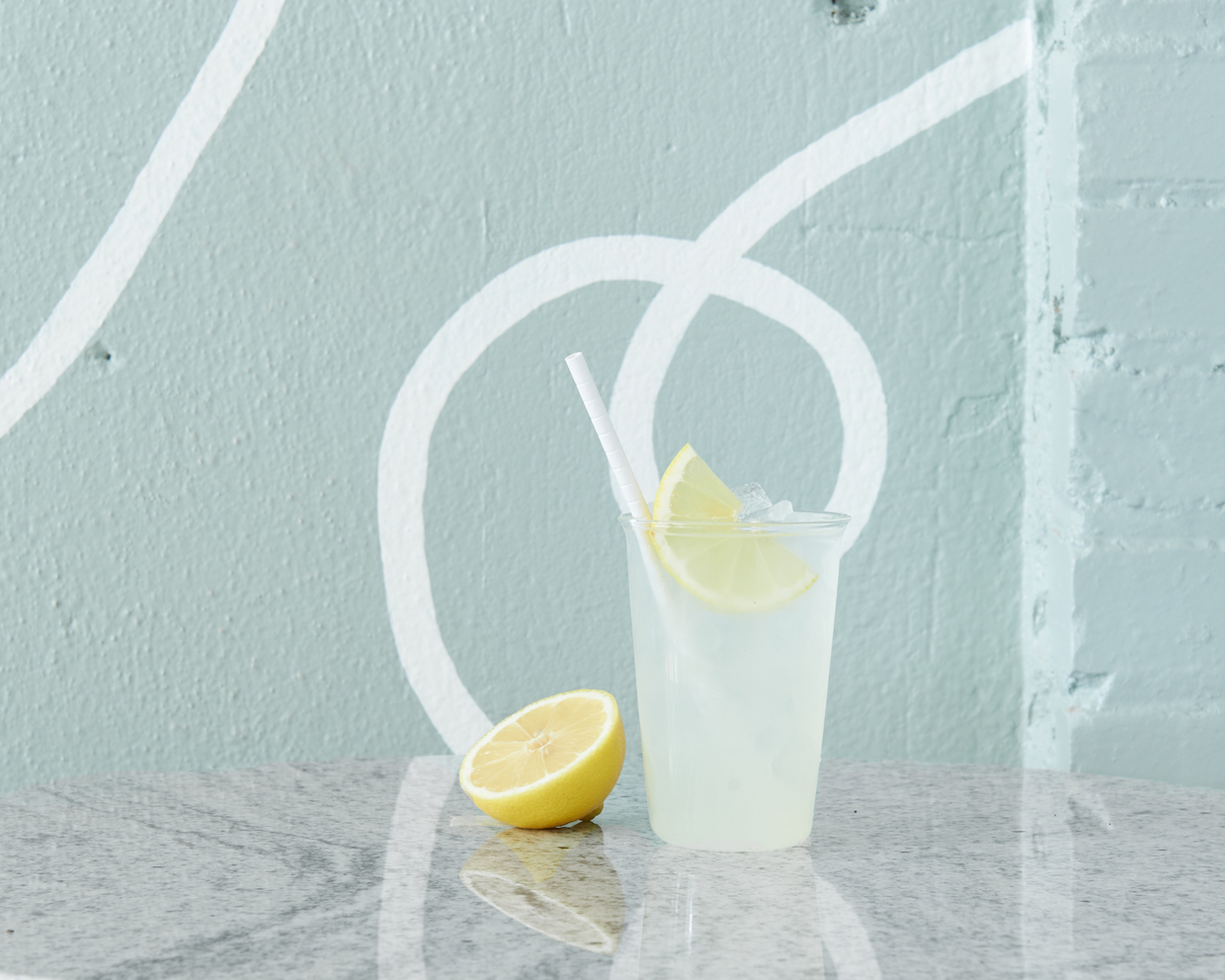 "Pittsburgh is lacking unique preparations like this, so I studied different techniques and began working on a product to serve here," said Graham. "Reading Michael Cameron's Strive For Tone and other blogs grew my mechanical knowledge and has enabled me to achieve higher-quality results from some of our equipment."
Graham also jiggers out portions of fresh, small-batch, house-made syrup for consistent flavor balance in Astroid's vanilla latte, a basic flavored offering by which the craft-oriented barista said a cafe's quality can ultimately be judged. Weights and measures are monitored closely for a high-quality tea program, and even the lemonade is executed with care.
"I realized I didn't know a single place where I could get a super delicious lemonade, so we set out to workshop it until we absolutely nailed it," said Graham, who once again looked to old-timey mixological practices for inspiration. "We combine lemon peels with sugar to make an Oleo Saccharum and then dilute that with fresh lemon juice to make a Lemon Sherbet. The sherbet is then measured, shaken with ice and filtered water, and comes out walking a sweet/tart/refreshing tightrope. It may not be a headline-grabbing drink, but the technique and attention-to-detail are pretty unique and typifies the amount of energy and consideration we put into everything."
These impeccable standards for quality are part of why Astroid has no intention to bring roasting in-house. Said Graham, "Dillon, AJ, and Marcos [at Parlor Coffee] are experts at what they do and allow us to fulfill one of our primary goals: to take excellent base products, whether it be coffee, milk, pastries, or whatever, and serve them to the standards of our partners."
In the coming year, progress at Astroid will take the form of expanded hours, an expanded tea menu, a small food menu and a program of fundamental brewing and espresso classes open to the public.
Astroid is located at 333 East Carson Street in Pittsburgh.
Howard Bryman
Howard Bryman is the associate editor of Daily Coffee News by Roast Magazine. He is based in Portland, Oregon.