Belgian professor Dr. Luc De Vuyst has determined that longer fermentation times for wet-process arabica can result in a tastier cuppa. According to Science Daily, the research, which was a collaboration between Vrije Universiteit Brussel and the Nestlé Research Center published February 1 in the journal Applied and Environmental Microbiology, indicated that the protective properties of the lactic acid bacteria that proliferates in wet processing might be the ticket:
"However, we did see an impact of the microbial communities, in particular the lactic acid bacteria," said Dr. De Vuyst. They yielded fruity notes, and may have "had a protective effect toward coffee quality during fermentation because of their acidification of the fermenting mass, providing a stable microbial environment and hence preventing growth of undesirable micro-organisms that often lead to off-flavors," he said.

"Furthermore, there is a build-up of the fermentation-related metabolites onto the coffee beans, which affects the quality of the green coffee beans and hence the sensory quality of the coffees brewed therefrom," said Dr. De Vuyst.
Butter, while also a product of fermentation, does nothing special for people who consume it in their coffee, according to Mens Health. Barely a week after a cozy feature on the founder of Bulletproof Coffee, the magazine this week ran a roundup on various super-coffee fads by its advisory board member, Dr. Chris Mohr. It touched upon the MCT oil idea:
So what's the takeaway? This is a trend you can skip, at least until stronger science emerges. Eat your breakfast fats instead: avocado toast with smoked salmon, eggs, cottage cheese.
A make-believe chain served real coffee in London this week from a pop-up promoting Lego Movie 2. In the movie, characters enjoy cups from a fictitious shop called The Coffee Chain, and in London's South Bank a life-sized replica Coffee Chain stand was erected presumably one little plastic brick at a time. Reuters caught up with real-life star Chris Pratt after he worked the counter:
But how did Pratt, who voices the main character, Emmet Brickowski, rate his professional coffee-making skills?

"Not very good. I can't figure out how to make the faces out of the foam. That foam art, that's a whole other thing," he said.
Ralph Lauren also leaned into coffee for promotional purposes this week, albeit with a more genuine appreciation. The clothing designer's boutique on Madison Avenue in NYC was done up for New York Fashion Week into a Ralph's Coffee shop. Vogue Paris has more:
The cozy location blended the aesthetics of the American house with the passion of its founder for coffee, the smell of which evoked fond memories of the moments spent alongside his friends and family. At the dawn of the frenzy of Fashion Week, it was in this enthusiastic and unpretentious setting that the label set up a meeting with a handful of stars, including Rosie Huntington-Whiteley, Camilla Belle and Karlie Kloss. Contrasting with the casual atmosphere of the place, an abundance of supermodels including Bella Hadid, Grace Elizabeth, Taylor Hill and Anja Rubik lit up the catwalk in a series of glamorous evening looks in the style of a grand soiree.
The coffee price crisis was the focus of a piece in the Los Angeles Times this week. The newspaper gathered perspectives from a variety of knowledgeable specialty coffee industry folks, including Hanna Neuschwander, Gerardo Patacconi, and Caravela Coffee co-founder Alejandro Cadena:
"What happens when the agricultural labor market dries up is people move," Neuschwander says. "The way the current coffee market is set up, it's driving farmers out of coffee."

Members of the current generation of coffee producers are nearing the end of their careers, and the low C is discouraging younger generations from taking up farming themselves. Although the consequences of the low C aren't felt by coffee consumers today, the consolidation, reduced production and reduced diversity of coffee variety and origin will be.
Amsterdam-based green coffee supplier Trabocca is doing its part to combat plummeting production in Kenya's renowned Nyeri region by engaging in a new "transparent supply chain" with smallholders and coop members from Ndaroini washing station. A Trabocca spokesperson told DCN that whereas average specialty coffee cherry prices in Nyeri range from 60 to 80 shillings per kilo from which deductions are then taken for storage costs and finances, Trabocca is paying 115 shillings per cherry kilo to Ndaroini, of which 100 shillings goes straight to farmers and no deductions are taken. The remaining 15 shillings is reserved for factory costs and improvements. The company also issued a press release:
Together with the Ndaroini washing station, and several prominent specialty coffee roasters, Trabocca is committing itself to establish an innovative Kenyan supply-chain that provides knowledge, great prices, equipment, and access to healthier finance by purchasing the full production from all smallholders at Sh100 (Shilling) per kilogram – without obscure deductions.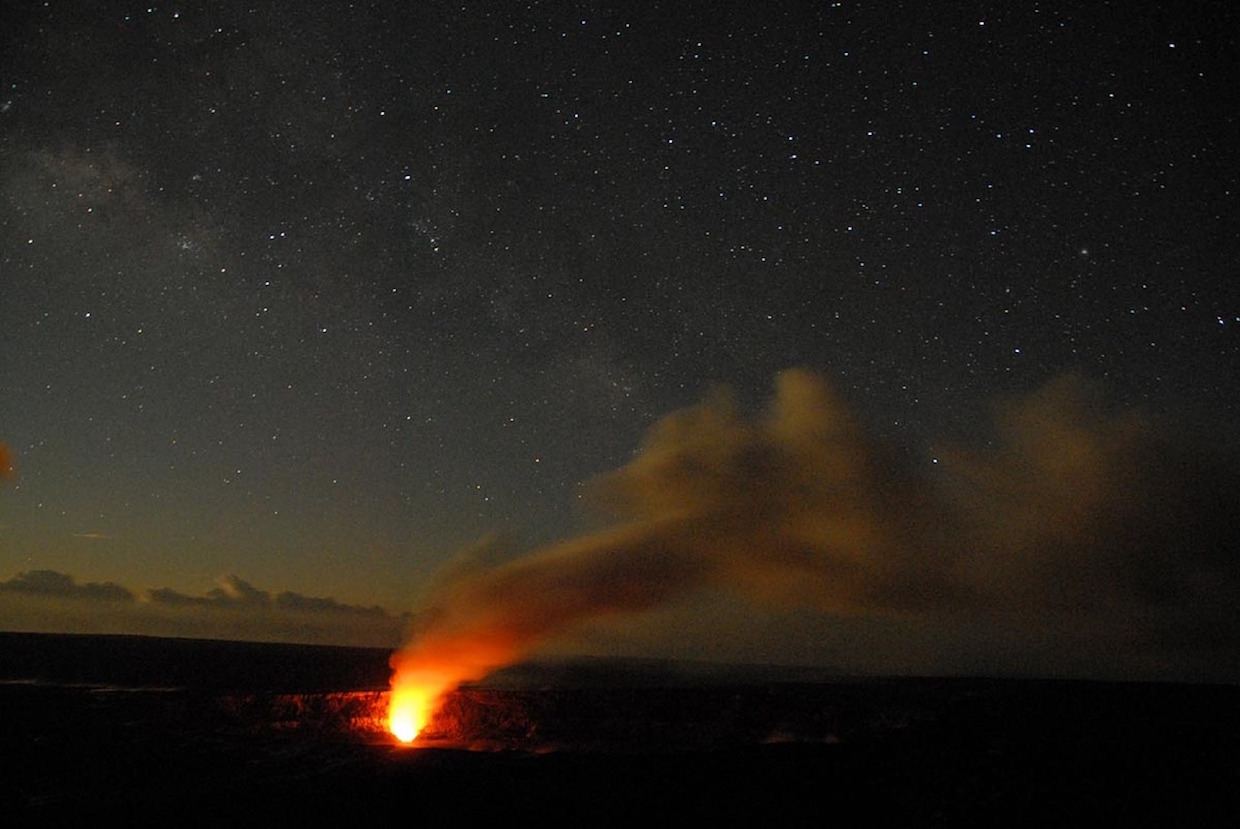 Farmers in Hawaii are seeing crops declining by as much as 40 percent due to volcanic activity, according to a recent Marketplace report:
2018 was a year of natural disasters on the Big Island of Hawaii, where residents endured floods, hurricanes, and a volcanic eruption. Agriculture is a major part of that island's economy, and crop yields are way down for one of the Big Island's most important commodities, coffee. Coffee growers on the Kona Coast are reporting varying declines in crop yields, some around 40 percent.
After troubling recent reports of the apparently impending extinction of wild coffee, it was interesting that the wild and domesticated coffees of Miami, Florida, according to the Miami Herald, are doing just fine. And while arabica could be grown there, most of the coffee plant family members grown currently are not the kind of coffee anyone would want to brew:
On the question of whether we can grow coffee: technically, you most likely already are. The family also contains Gardenia, Cubanola dominguensis, Ixora, Hamelia (firebush), Pentas, Portlandia, Rondeletia, Cephalanthus (buttonbush) and many, many others. Though generally tough, Rubiaceae are susceptible to lobate lac scale.
Luckin Coffee might also soon be growing on US soil, as far as its stock is concerned. Sources told Bloomberg that the blasting-off Chinese startup giving Starbucks a run for its money overseas is preparing for a U.S. initial public offering with the potential to raise upwards of $300 million:
The company is working with Credit Suisse Group AG on the deal, which could take place as soon as the second quarter, according to the people. Luckin could add more banks at a later stage, the people said, asking not to be identified because the information is private.

Luckin is spending heavily to roll out 2,500 additional stores this year, after the company opened about 2,000 outlets in 2018, its first year of operation. It's putting pressure on Starbucks, which has made China into its fastest-growing market and the second-biggest among the over 50 countries it operates in.
Howard Bryman
Howard Bryman is the associate editor of Daily Coffee News by Roast Magazine. He is based in Portland, Oregon.