Third Wave Water has launched a new inline water system, called Tethys, for specialty coffee cafes.
The company made a name for itself three years ago as the maker of mineral powder packets for consumers to mix with distilled or reverse-osmosis-purified water specifically for the purpose of use inside coffee brewing equipment. The precise combination of minerals is designed to optimize the extraction of desirable flavors while minimizing the scale buildup and corrosion that can destroy coffee equipment from the inside out when left unchecked.
Tethys takes the concept a step further and scales it up to commercial cafe proportions. The system receives water from a plumbed line, reduces it to zero mineral content through a combination of reverse osmosis and UV filtration, then adds back the the company's Espresso water profile.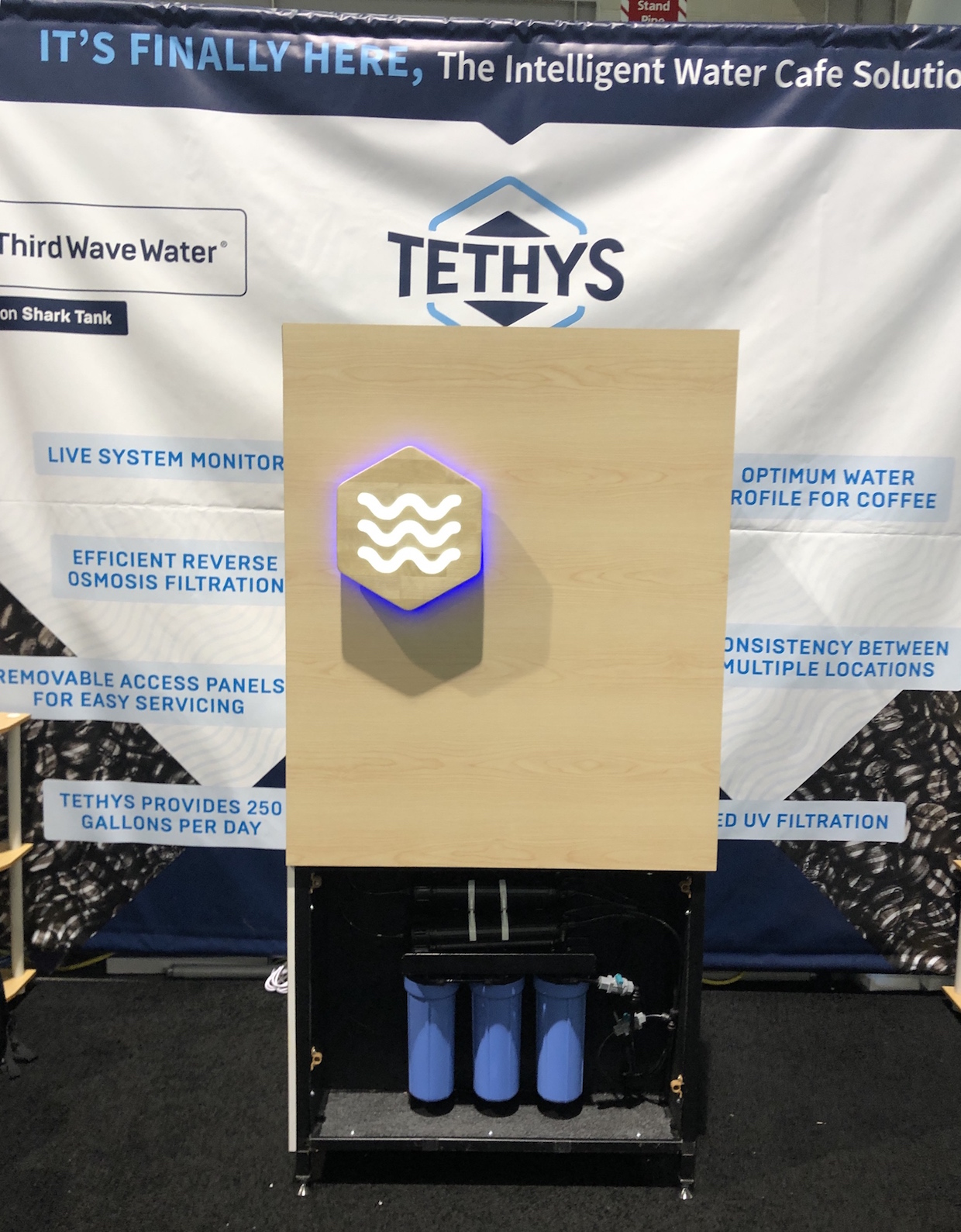 "Currently we are only using the Espresso water profile for Tethys, since it will protect all installation scenarios in a specialty cafe setting," TWW Co-Founder Charles Nick told Daily Coffee News. "The Espresso Profile works well with brew bars and batch brewers."
The patent-pending system's use of LED UV treatment and its powder dosing mechanism are water treatment methods the company says have never been used for a café water system before. Named after the Greek mythological Titaness of fresh water, Tethys is designed to offer self-contained, plug-and-play simplicity to cafes seeking consistent, machine-friendly water chemistry without necessarily getting lost in the complexities of chemistry.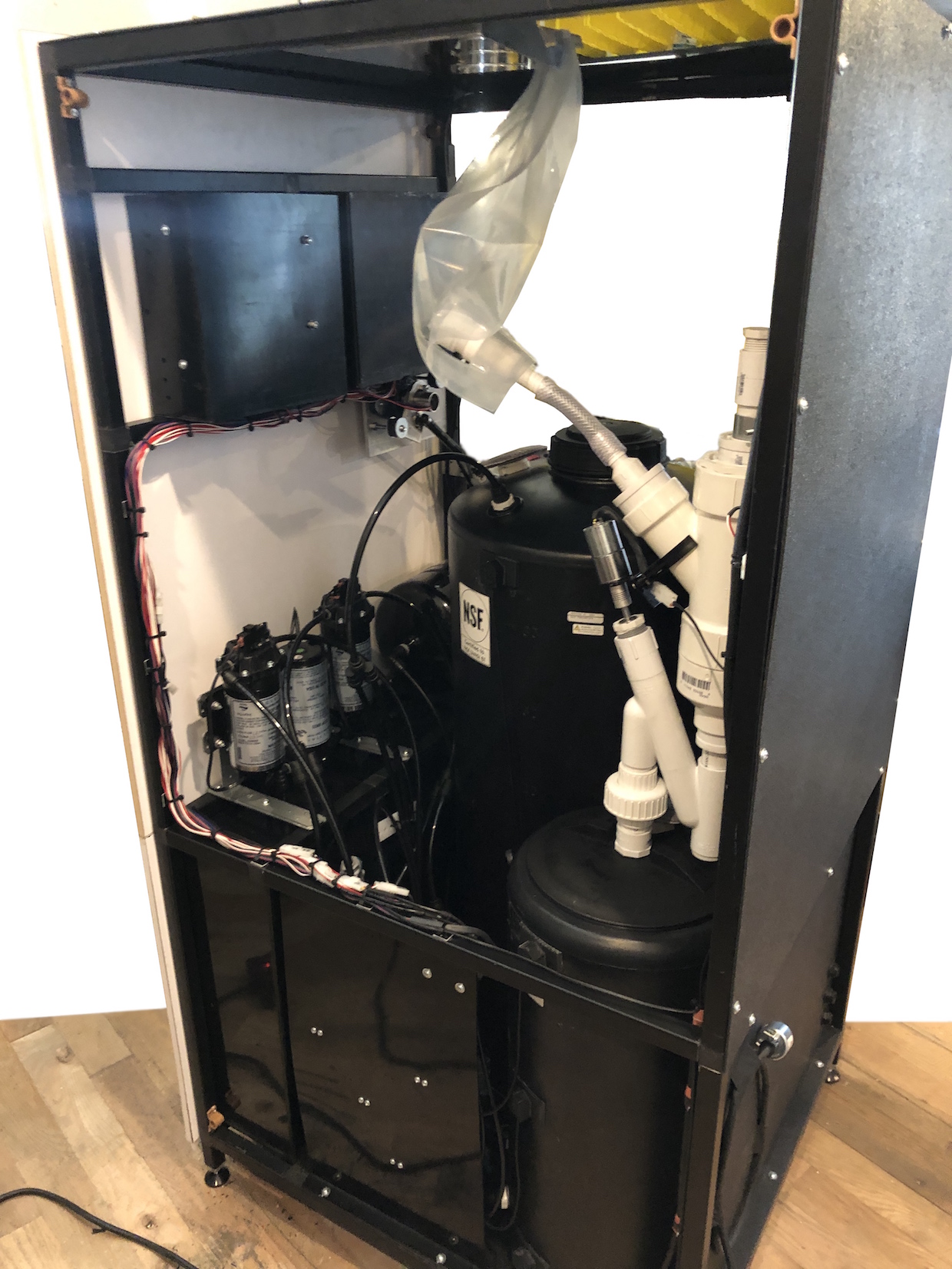 A 40-gallon storage tank holds finished water prior to sending it off towards cafe equipment, and the system can turn out up to 250 gallons per day with 60 psi of plumbed pressure. While it is intended for attachment to a plumbed line, Nick said its cabinet structure also makes it reasonable to transport a unit for use in various locations. And while the insides of the machine are oriented for easy service and regular mineral replenishment, the goings on in there are not exactly simple.
"There are many types of filters in Tethys," said Nick. "Three carbon filters, two reverse osmosis filters and two 3M air filters for the atmospheric tanks."
The water purification system's carbon filter and reverse osmosis filters are accessible from the front of the machine through a single removable panel, according to Nick. The air filters are accessible through a side panel. Nick said a single Tethys "mineral bag" should last approximately 2-3 months, depending on how much water the cafe consumes. After that it will need to be replaced, which TTW will offer as part of a service agreement.
"If the system is leased, all maintenance and servicing is included for the duration of the lease," said Nick. "If the system is purchased, the first year of maintenance and servicing is included."
After that first year is up, the currently mineral and filter agreement is priced at $50 per month, which, according to Nick, breaks down to a cost of $0.006 per gallon at the maximum consumption rate of 250 gallons per day.
The cost to purchase a Tethys system outright is currently set at $9,499. The company has announced that only 100 units will be manufactured this year. Pre-orders for those began at the SCA Expo in Boston last month, which was the first public appearance of the Tethys.
A three-year Tethys leasing agreement runs $330 per month, which breaks down to $0.04 per gallon according to Nick. A four-year lease is available for $260 per month, and Nick said longer options are also negotiable.
Howard Bryman
Howard Bryman is the associate editor of Daily Coffee News by Roast Magazine. He is based in Portland, Oregon.