At the nonprofit social enterprise The Roosevelt Coffeehouse in downtown Columbus, Ohio, and its brand new second location now open across the river in Franklinton, a dual focus on charity and quality make for a lively mix.
"We have a very interesting vibe, because we are committed to specialty coffee and at the same time we are also a nonprofit social enterprise that funds organizations fighting the injustices of unclean water, hunger and human trafficking," founder Kenny Sipes told Daily Coffee News. "This has led us to give over $110,000 in our first four years from wells in Africa, to greenhouses in Peru, two local homeless meals. Our staff feel is built on our core values which are love, justice, coffee, humility, optimism."
The 2,000-square-foot Roosevelt Coffeehouse in downtown Columbus was originally the retail front of Sipes' nonprofit organization called Redeeming Injustice. However, last year Sipes and company also launched an accompanying for-profit roasting company, Roosevelt Coffee Roasters. To align the for-profit company with the social mission, some organizational restructuring was in order.
"When we started working on the roaster we did two things," said Sipes. "We started the for-profit Roosevelt Coffee LLC that is better known as Roosevelt Coffee Roasters. We created a second nonprofit named Redeeming Injustice Foundation. We then gave ownership of the nonprofit The Roosevelt Coffeehouse and the for-profit Roaster to Redeeming Injustice Foundation. All of their purposes are to fight the injustices we have reviewed, but this is the way it is all set up."
After three years of brewing coffees from Portland, Oregon-based Stumptown Coffee Roasters and Ohio-based One Line Coffee at the Roosevelt Coffeehouse, Roosevelt Coffee Roasters fired up a Loring S15 coffee roaster inside a production warehouse in the Franklinton neighborhood last August.
Said Sipes, "We intended to still carry other roasters, but the response was so positive to our own coffee that we settled on our own only."
The roastery now supplies the original location, plus the new 1,800-square-foot location in Franklinton, which helps anchor the The Gravity Project, an artist-centered, 100,000-square-foot retail and office space with 220 apartments above.
Both shops feature unique table and counter surfaces made from repurposed bowling alley floorboards. "The first shop was sourced out of a bowling alley that was auctioning off their lanes here in town and we built them from scratch," said Sipes. "At the second location, Gravity, we source them from a company in Indiana and did it again because we find them to be so beautiful and durable and unique."
Whole bean products are now packaged with a label art motif that uses animals to represent a given coffee's country of origin. .
"We have found that to be a unique branding approach, and the design team sketches have been awesome," said Sipes, who sources green coffees through numerous importers, including Ally Coffee, Olam, Trabocca and Raw Material.
After the Loring has its way with said greens, the finished coffees at the original shop are extracted on a Modbar espresso system and now a Modbar AV at the new shop.
With plenty of capacity to grow thanks to the new roasting machine, Sipes said he hopes to strengthen the growing retail operations by giving new hires solid wages and long-term prospects, while Roosevelt Coffee will continue to support efforts to provide clean water solutions, end hunger and stop human trafficking, among other causes. Growing Roosevelt into a nationwide brand would help.
"That is the high and mighty goal," said Sipes. "The more we are able to expand the brand, the more we can engage in the impact we set out to do from the beginning."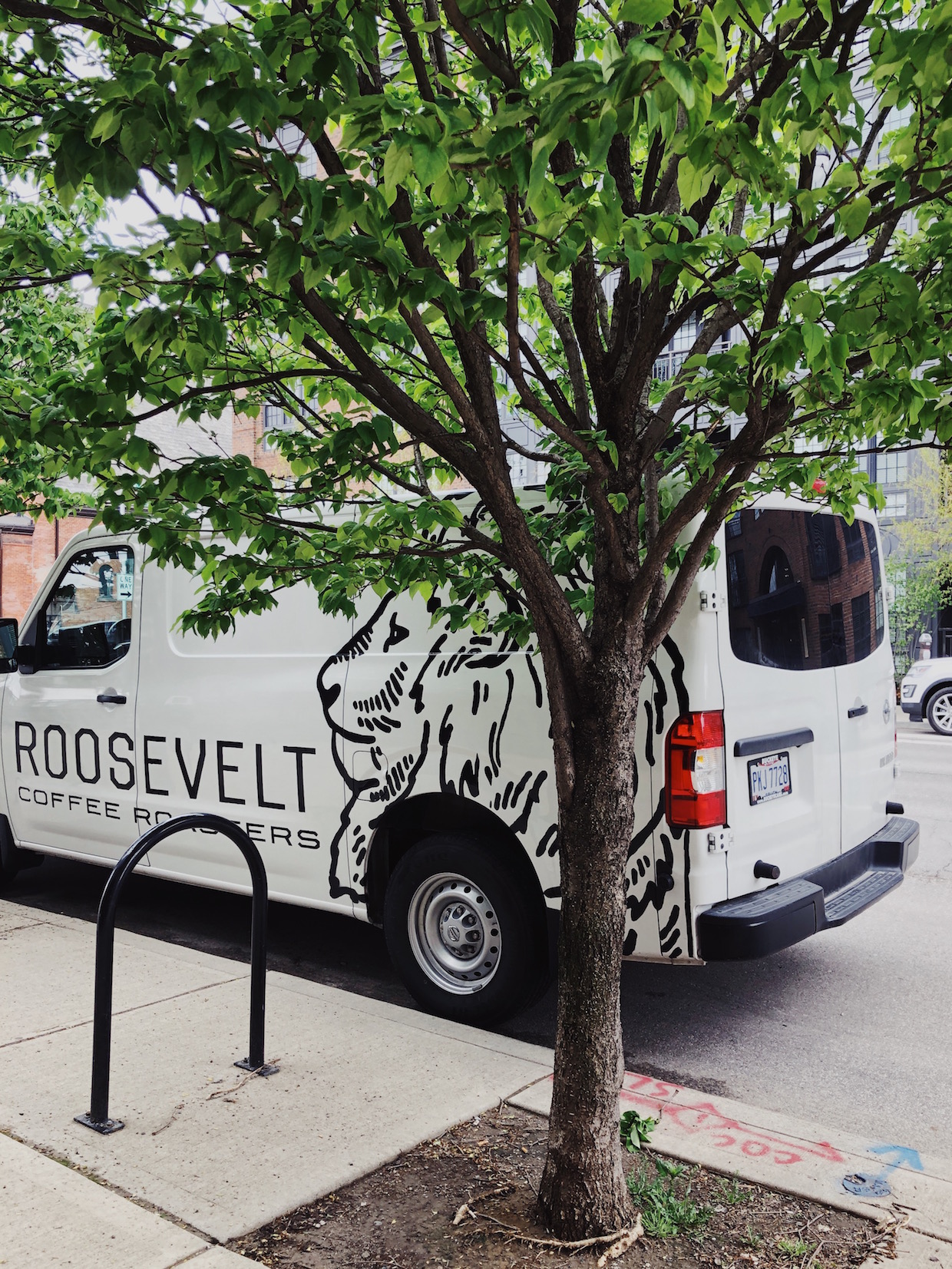 Roosevelt Coffee at Gravity is now open at 462 W Broad St. in the Franklinton neighborhood of Columbus. 
Howard Bryman
Howard Bryman is the associate editor of Daily Coffee News by Roast Magazine. He is based in Portland, Oregon.