The Brothers Drake Meadery in Columbus, Ohio, is haunted, but in the best possible way. It will soon become the not-so-spooky new retail home of Little Ghost Coffee Roasters,
After an unceremonious exorcism from its previous spot in September of 2018, Little Ghost has been floating without a permanent retail home. In its previous life, the business shared the name The Bitter Barista with a local bakery and restaurant.
"It was a cute idea, but we've gone back to just running our Little Ghost brand after our sub-lease with the bakery/restaurant was tossed out the window with a '10 days to close' notice," Little Ghost Founder Wyatt Burk told Daily Coffee News. "We're unbelievably grateful and excited to be brought into such a cool space with such a successful business and marvelous staff at Brothers Drake."
Burk's roasting operation focuses on coffees bearing certifications such as Fair Trade, Organic, or Rainforest Alliance, or private verifications such as women-producer-owned. These pass through the company's natural gas-powered 3-kilo US Roaster Corp drum roaster currently installed in a roasting production warehouse in Columbus's Milo-Grogan area.
Burk uses a Huky 500 sample roaster to help develop profiles that are translatable to the still very hands-on and small-batch style of the 3-kilo USRC machine. He described the pair of machines as "a real treat" to work with for their sensitive controls.
"With smaller batch sizes and sensitive manual gas, air, drum speed controls we've been able to develop some astounding profiles, presenting nuanced and acute flavors that we'd miss out on [in] larger roasters," said Burk. "We don't decide the roast; the beans tell us what flavors they're going to present at what variables."
The roasting company shares its new warehouse space with a direct Indian coffee import business with ties to a farm in the Araku Valley, India. There's not yet a brand or company name for the Araku coffee import business, though Burk said one is coming soon. In the meantime, Little Ghost also sources beans through Cafe Imports, La Bodega and in small amounts directly from other farms around the world when the opportunity arises.
Said Burk, "We're still working on relationships with Central/South American farms to get some more direct trade going in the future."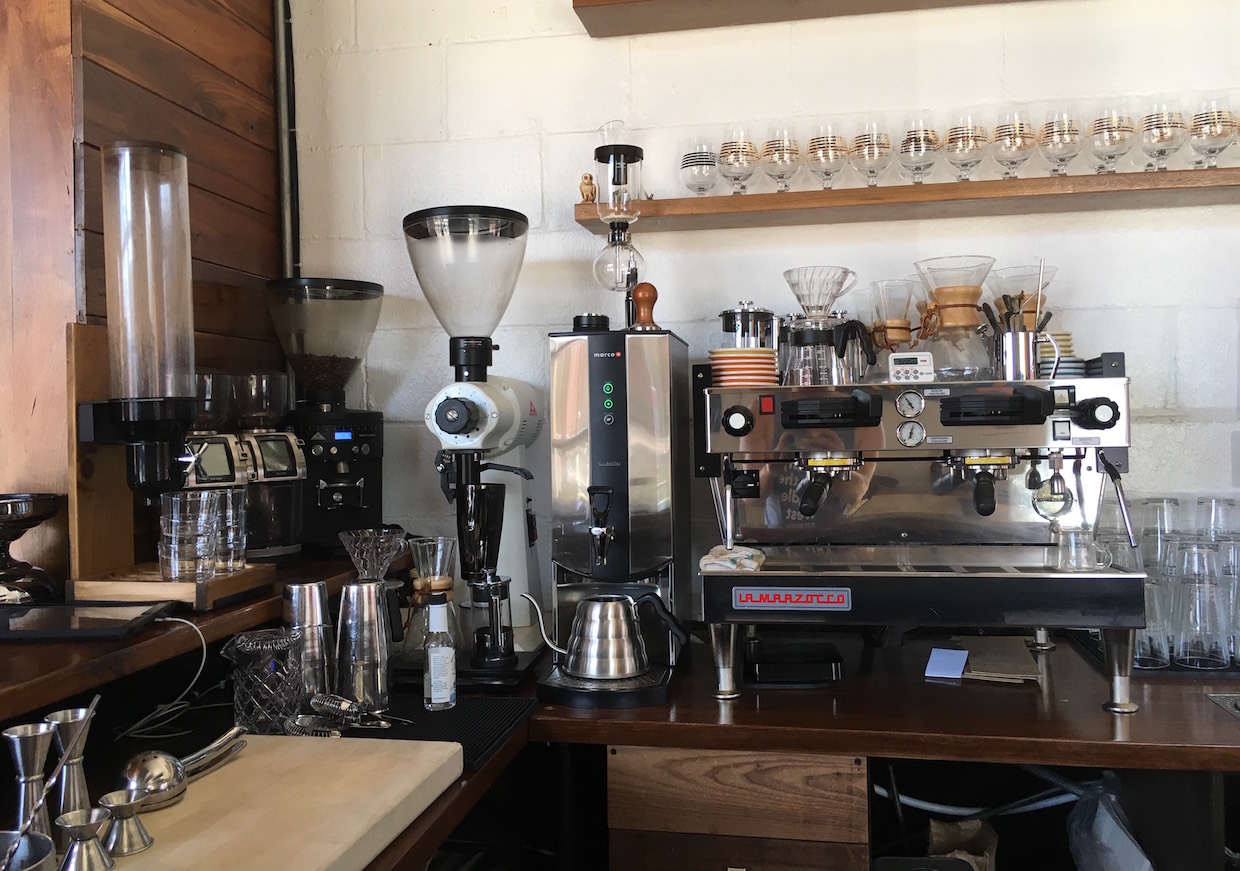 On the retail side, Burk said Brothers Drake Meadery team rebuilt a portion of their bar to accommodate all of Little Ghost's gear, including its beloved 2-group La Marzocco Linea MP espresso machine and Mahlkönig Peak grinder, dual Baratza Forte grinders and a Mahlkönig EK43 grinder for various manual and batch drip brewing methods.
Starting at 7 a.m. daily, the coffee bar will showcase its own roasts as well as those of one monthly rotating guest roaster, plus a selection of teas and locally made pastries and snacks. The Ghost may also soon join forces with nearby spirits.
"We've been working with Bros. Drake on a coffee mead as well as a small coffee-cocktail menu, said Burk. "There's even been some interest from some food trucks to pull up for brunch Saturday and Sunday. The possibilities of this collaboration are endless."
While settling into two new facilities, Burk is most excited about reconnecting with customers over the retail counter when it opens in the coming weeks.
"People come up to the door daily, asking if we're open yet," said Burk, who believes the slow-going Columbus municipal machine may still take a few weeks to stamp the coffee bar permits for the meadery, which is not far from where the Bitter Barista once operated. "We're lucky to reopen in the same neighborhood, our regulars are anxiously waiting."
Brothers Drake Meadery is located at 26 E 5th Ave. in Columbus, Ohio.
Howard Bryman
Howard Bryman is the associate editor of Daily Coffee News by Roast Magazine. He is based in Portland, Oregon.