Toiletries, shmoiletries. Startup luggage-maker Pakt has created a kit that's even more essential to the dedicated traveling coffee consumer: the Pakt Coffee Kit.
With the financial path to production well laid by a crowdfunding campaign that has achieved more than $145,000 with about a month still left on the clock, the Pakt Coffee Kit promises to offer a bean container, coffee mug, pourover filter-holder and electric kettle complete with precision-pouring spout. Each piece nests within the next like a Russian doll protected by a lightweight, hard-shelled case.
"We partnered with our friends at Impel Studio, who are talented industrial designers," Pakt Founder and Creative Director Malcolm Fontier told Daily Coffee News. "They're also serious coffee geeks with several other coffee product designs under their belts."
The idea for the kit was born simply from Fontier's experience as a Brooklyn-based traveling coffee lover who struggled to balance a consistent cup with a compact pack.
Though this is his first foray into commercial coffee, it's by no means his first travel product, and the result is a kit that bucks a bit of coffee convention without compromising on functionality.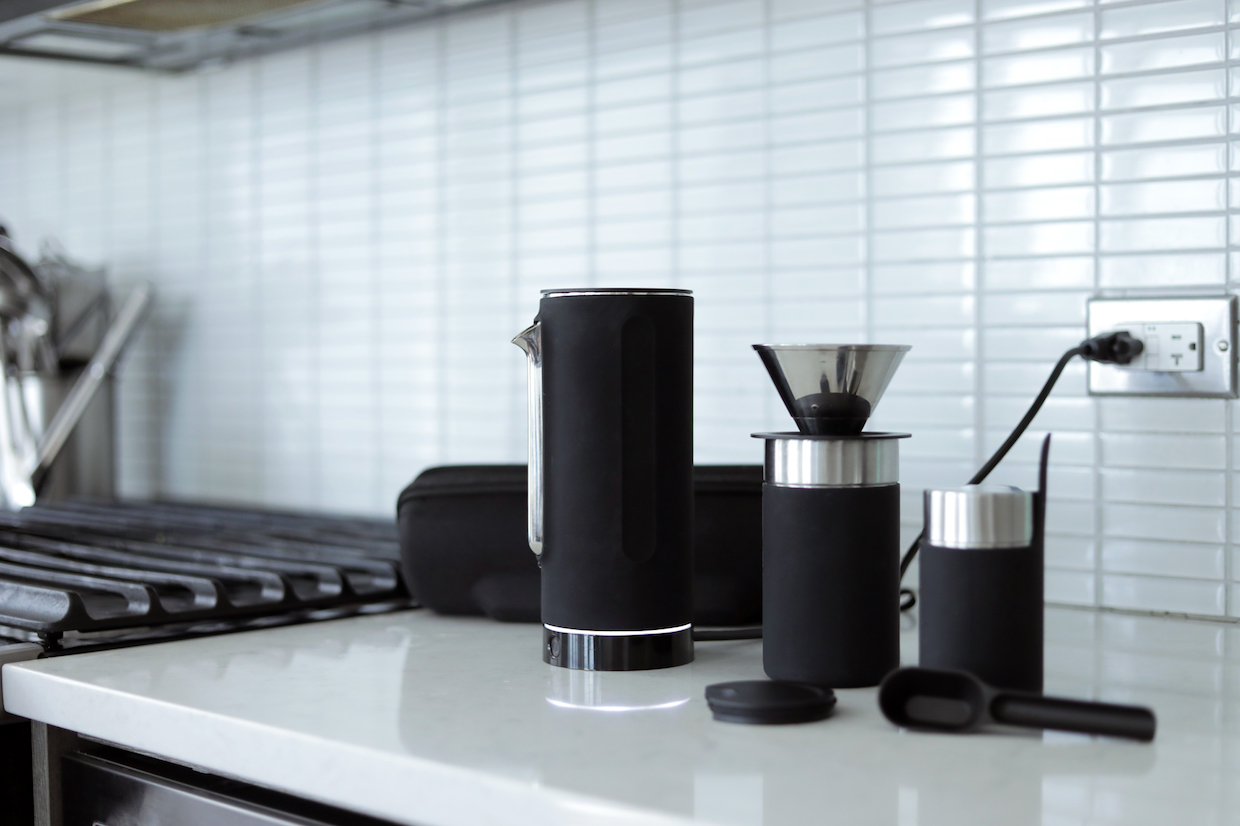 A pocket for filters lines the inner surface of the hardshell case that opens to reveal the largest object within, a cylindrical handle-free kettle with a lid, electric base, and a dripless spout that protrudes only slightly from one side. Fontier described the spout as working "the same, but better" than an inconveniently long gooseneck.
"It pours a very similar smooth, slow, easily-controlled stream like a gooseneck spout, but the compact form makes it much more travel friendly," said Fontier. "We actually find that our kettle's handheld design gives you even more control when pouring than a traditional gooseneck kettle."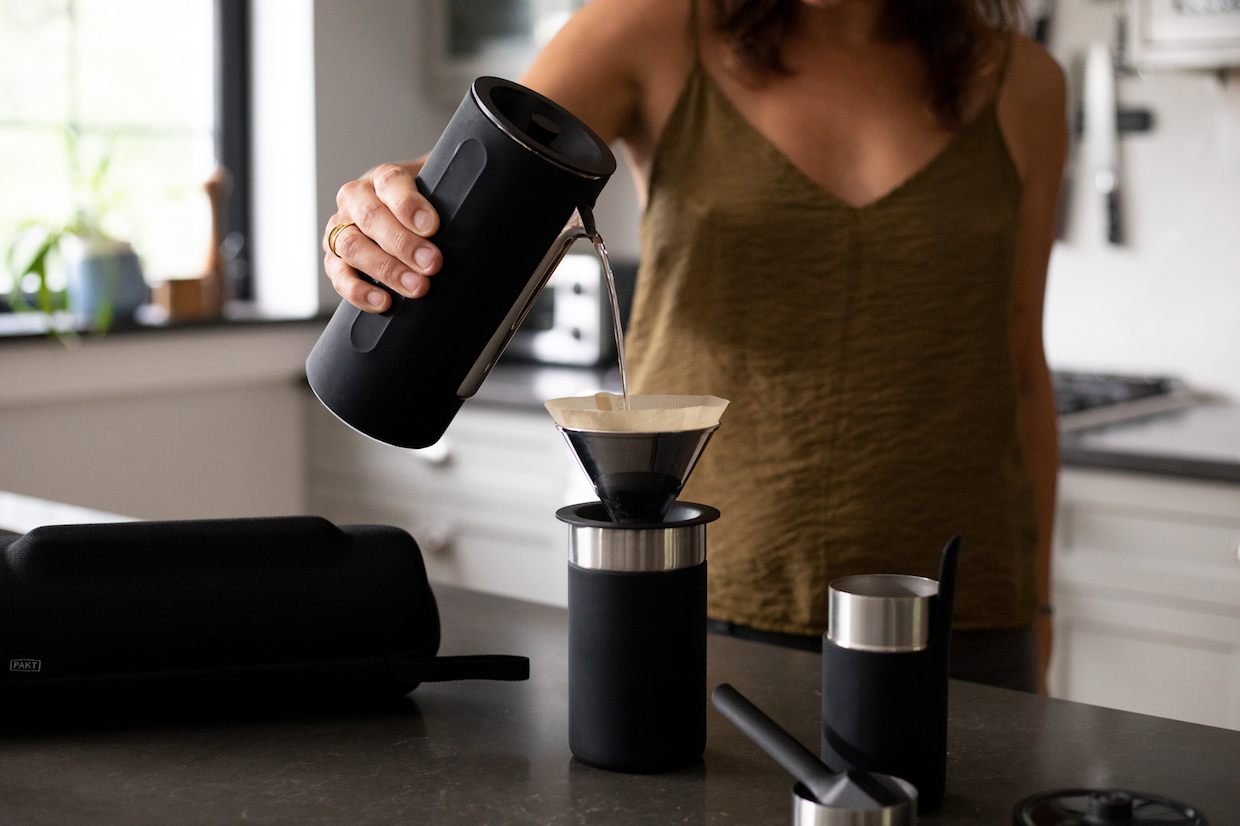 An outer silicone layer with indentations makes the kettle easy to grip, and rather than bring water to a boil, the LED-lit, dual-voltage electric base of the kettle beeps, goes dark and stops heating at precisely 205F, according to the company. The kettle is also described as having a 10- to 20-year lifespan thanks to its construction out of serviceable parts.
Within the kettle slides a dual-wall-insulated mug with its own travel lid and silicone sleeve. Within there nests the bean container, which holds up to 110 grams of beans and is wrapped in silicone to prevent rattling against the inside of the mug.
A collapsible pourover filter holder sits at the top of the mug inside the kit. When packed it collapses to half its extended size, and when extended for use it locks securely onto the top of the mug, although it can be placed on top of any regular ceramic mug, as well. The kit comes with a reusable metal filter and also accepts Hario V60 01 paper filters.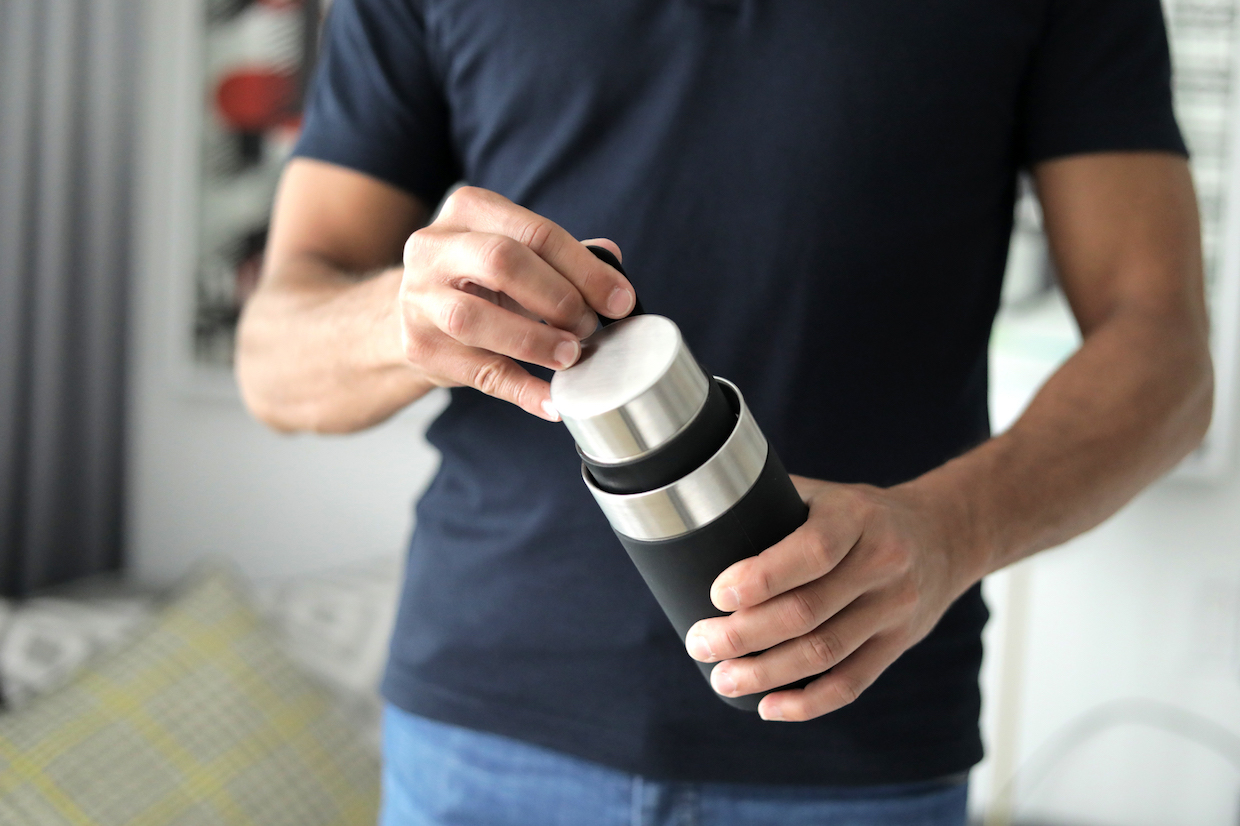 The whole durable kit takes up about as much space in one's bag as an average pair of adult sneakers according to the company, and the only thing missing is the grinder. Said Fontier, "For this first version, we decided to leave out the grinder because it added a pretty considerable production cost and weight to the kit for a feature that a lot of travelers didn't want."
He added that Pakt is open to the idea of a larger case in the future that leaves room for a travel-style manual grinder, should there be demand. The Pakt Coffee Kit is slated for delivery to crowdfunding backers by the end of this year, after which time retail sales will begin at a price of $189.
Howard Bryman
Howard Bryman is the associate editor of Daily Coffee News by Roast Magazine. He is based in Portland, Oregon.