In specialty coffee the concentration on "character" often applies to what's in the cup — the attributes of coffees from different origins, processed and roasted in different ways.
In Fairborn, Ohio, the roasting company Reza's Roast extends that focus character to include the humans involved, including founder Audria Maki's family, the farmers from whom she has sourced, and now also the baristas and customers flanking the bar at the company's first retail cafe, Reza's Downtown, in Dayton.
The doors to the expansive 3,500-square-foot Reza's Downtown coffee house opened June 25, inviting the community into a bright and accommodating space that looks as ready for a violin concerto or a jazz quartet as it does for a singalong.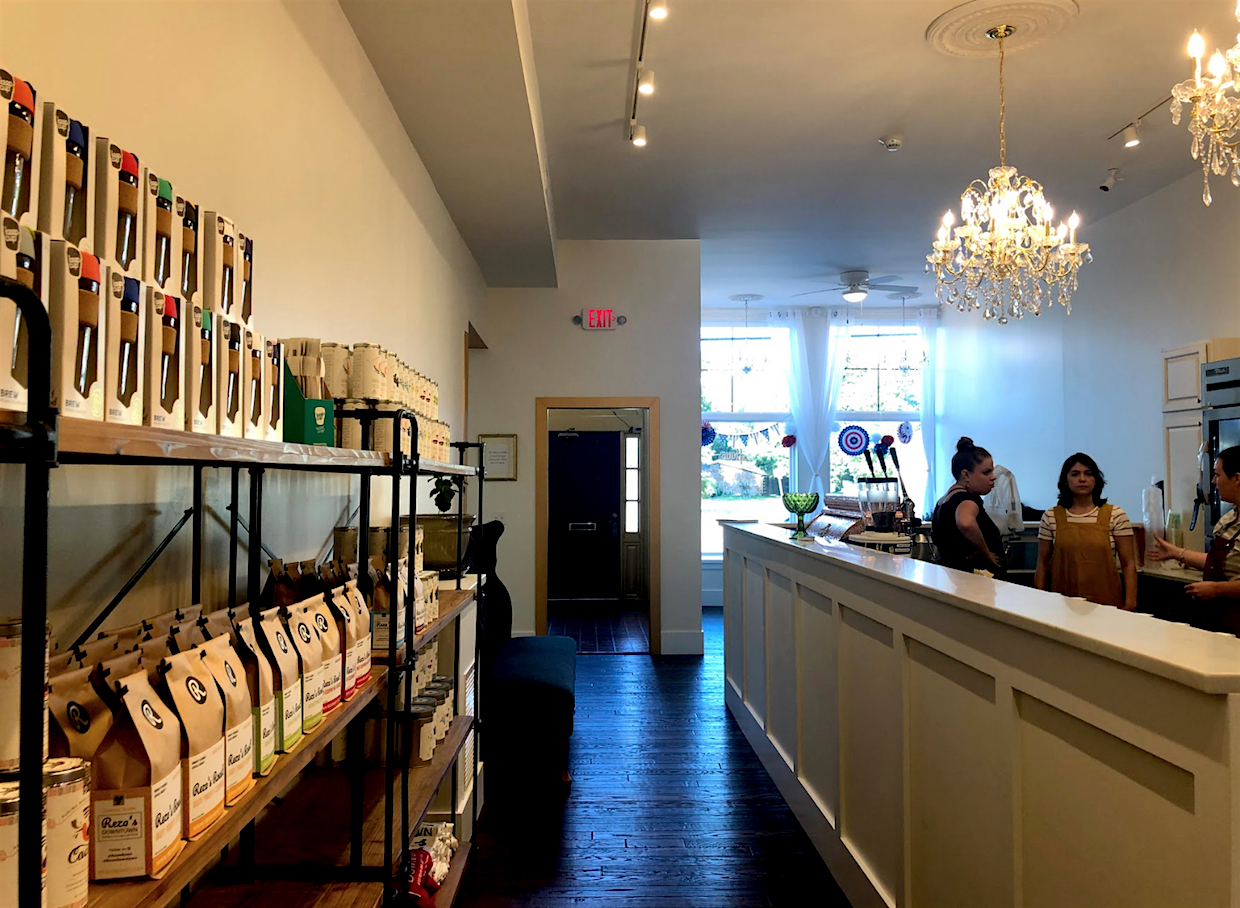 An ornate vintage NCR cash register adorns the counter, serving as a nod to the Dayton company that once was the biggest business in town. According to Maki, who gave her business the same name as the middle name of her middle son, many retailers in Dayton put NCR registers on display for good luck.
A series of sparkling chandeliers hang over that counter, behind which espresso is pulled on a hammered copper Victoria Arduino Athena Leva three-group manual lever espresso machine. That copper blings additionally from light bouncing off the clean white brick and tile behind the counter, other white walls, ceilings, countertops and chairs.
"I wanted a coffee shop that I wanted to hang out in and decorated that way," Maki told DCN. "I wanted the type of espresso I have when I go to Italy. But I also liked the look. Ninety-five percent of people, i.e. customers, don't know anything about coffee, but this beautiful machine impresses everyone."
At the same time, a generous number of chairs at Reza's are deliberately low to the ground. Kid- and family-friendly features abound, including kids' height table, a kids' height toilet in the family bathroom, and a quiet separate room ideal for breastfeeding or pumping moms. The cozy getaway of limited distraction includes a comfortable chair with an ottoman and its own small sink.
"Parents get tired of feeling like the only place they can go without a babysitter is Target or Chick-fil-A," said Maki. "I have three very active little boys, and we don't often feel welcome in the cool places I want to go check out, especially coffee shops. Our cafe is full of kids because we made it welcoming to them, and they really are not any messier than adults. Although they are louder. But, I like the lively, joyful energy they bring."
Maki is equally proud of how accessible the coffeehouse is for wheelchairs, particularly in a part of town where old buildings have not been modernized. Said Maki, "The diversity of our community coming here is something I really sought out."
Coffees for the company's wholesale clients and now their own cafe are roasted by Maki in 30-pound-or-smaller batches on a Loring Smart Roast. A self-proclaimed "long time coffee geek," Maki and her husband, plus another manager, are all self-taught save for a week-long course with renowned roaster Rob Hoos about four years ago.
And like their coffees, Maki said it's the high quality of the character of each new hire that trumps whatever experience level they may bring to the job.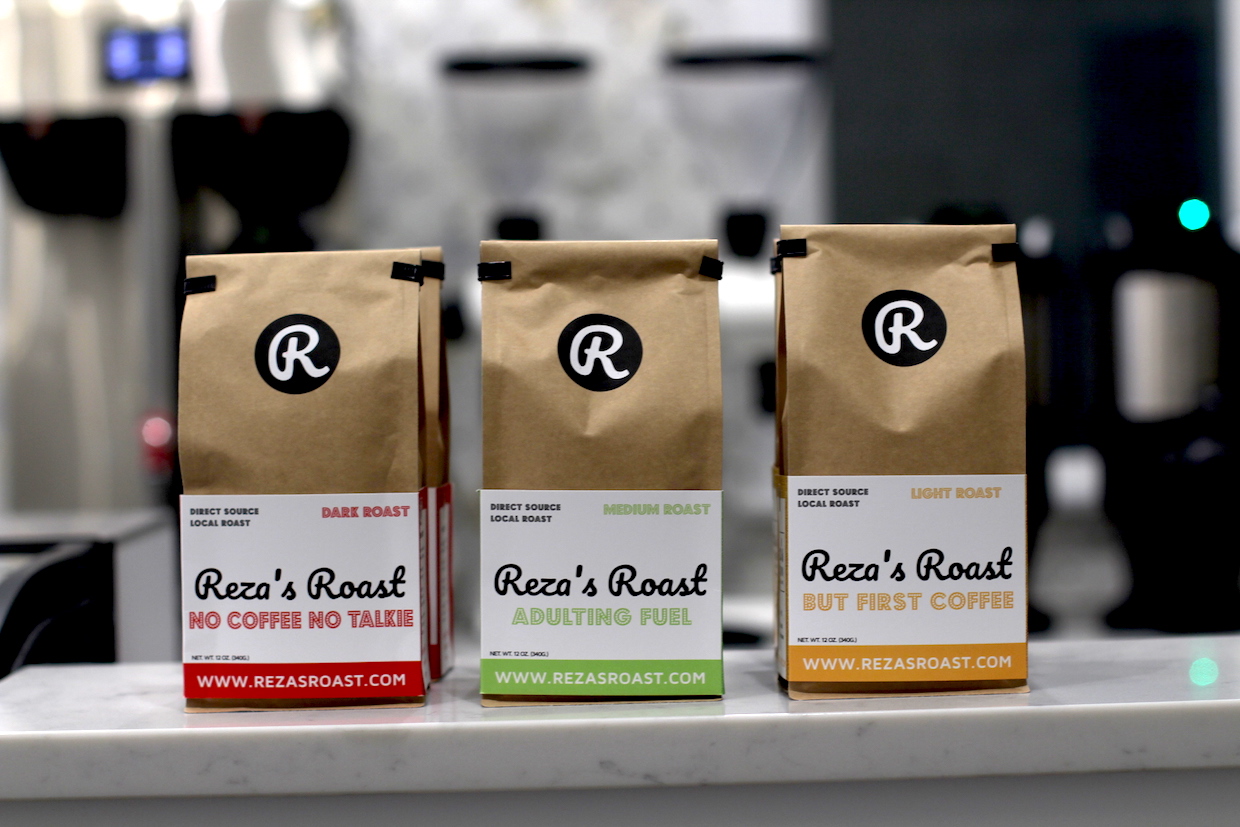 "All but one of my baristas have no coffee background," said Maki. "I hired great personalities, and spent a good month of slow training."
That training paid thorough attention to differences among origins, the complexities of the supply chain, basic theories of roasting, even live FaceTime chats with farmers that produced some of the green coffees purchased by Reza's. It culminated in a test Maki developed herself that applies to both knowledge and skill. Baristas can work through it at their own pace and are eligible for a raise once they pass.
"People are my most valuable resources and I want them to have fun at work," said Maki, who empowers her baristas to invent drinks for the menu and has started cross-training baristas on roasting. "We treat our employees like family, because this is a family business."
Reza's Downtown is open now at 438 Wayne Ave. in Dayton.
Howard Bryman
Howard Bryman is the associate editor of Daily Coffee News by Roast Magazine. He is based in Portland, Oregon.