The San Antonio, Texas, coffee roasting company What's Brewing? has been posing its query to the South and Central Texas wholesale markets for nearly four decades.
The answer, of course, is coffee, although recent years have seen the family-run business take coffee in all kinds of fun and experimental directions. The most notable change to the public may have been when the doors to What's Brewing's first retail shop opened in 2016.
Today, there more than two dozen pinball machines bursting with neon life in the arcade attached to the What's Brewing? Coffeehouse in North Central San Antonio, with 37 more machines waiting in the company's warehouse.
What's Brewing? Co-Owner and Head Roaster Sami Chbeir told Daily Coffee News that machines are rotated in and out for maintenance and repairs, and sometimes just on a whim. The oldest table in the What's Brewing? stable is Atlantis, circa 1975, and the newest is the Deadpool machine, released last year.
"Because of the built-in diagnosis capabilities of newer machines, the old EM — electro-mechanical — machines tend to be tougher to repair," said Chbeir. "But sometimes there are ghosts in the machines that just turn into quirks you learn to play with."
The coffee shop didn't originally open with the arcade. It was at the shop's first latte art throwdown in 2017 that a family friend loaned five machines from his EM pinball collection for free play, for the occasion.
"The machines never left," said Chbeir. "As word spread, another collector, Mike McKenna, added machines from his collection, and boom, San Antonio finally had an arcade with pinball again."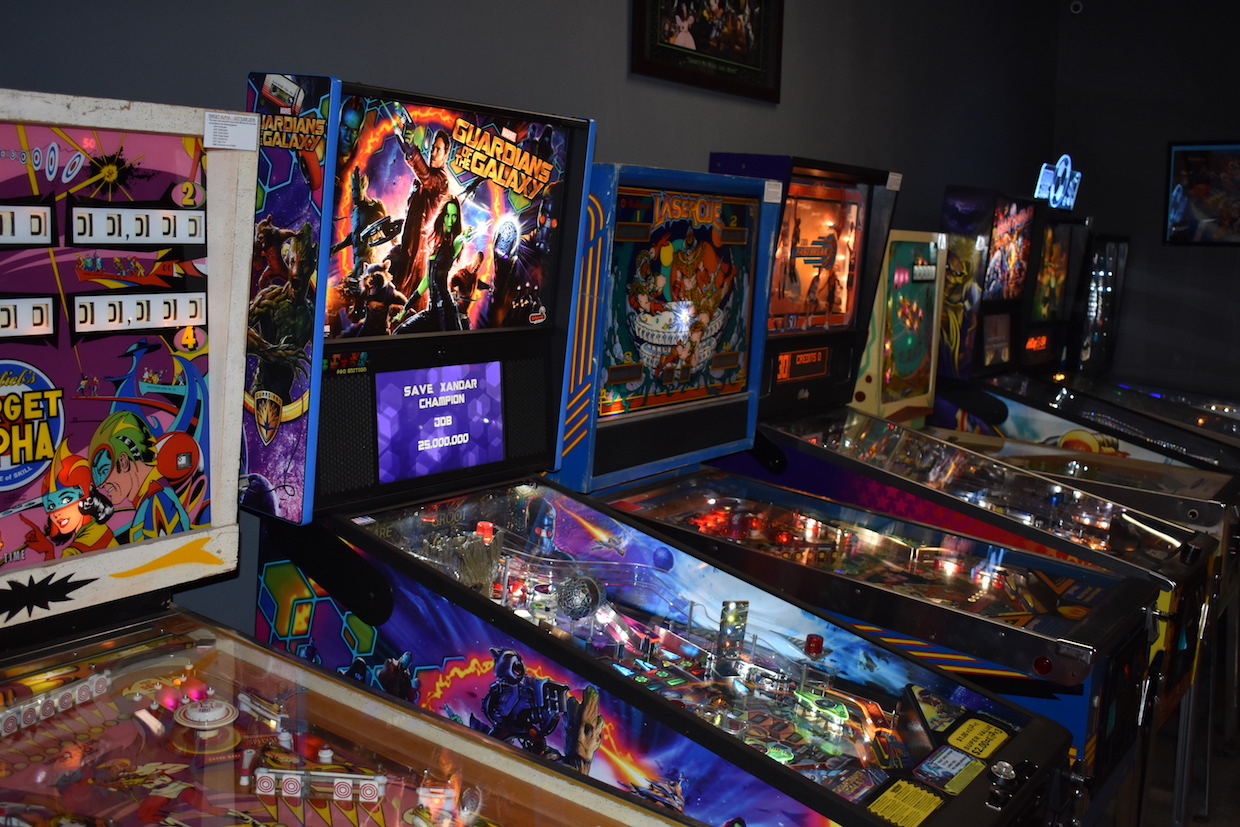 While pinball's fandom, albeit niche, remains very much alive, its place in retro pop culture seems to work well within the coffee-roasting institution that also transcends generations.
Founded in 1979 by Lebanese immigrant Roger Chbeir, What's Brewing? was handed down to Roger's sons, Sami and Tony Chbeir in 2005.
"Growing up in the 80s and 90s — the golden age of mall culture in America — our dad's shop was right next to an arcade called Goldmine," said Sami Chbeir. "We would go to work to help dad, then go next door to play Q*bert, Dragon's Lair, Golden Axe and lots of pinball."
The 1983 Probat GN12 purchased brand new by the family business patriarch is now retired and on display in the shop, although Sami Chbeir said they intend to restore it in the coming years. Roasting currently occurs on two Sasa Samiac machines, one 40-kilo and another 60-kilo-capacity. Samples and extremely limited microlot coffees are roasted on a 1-kilo Mill City roaster, and the roastery has embraced other new technologies as well.
"About three months ago we figured out how to get more control with our Weishaupt burner units on the Samiacs," said Chbeir, "and the results have been amazing when paired with Artisan software."
Late last year, What's Brewing? installed a new Rancilio Specialty espresso machine on its bar, followed earlier this year by a Mahlkonig E65S grinder. Cold brew is pushed through a kegerator by nitro, and manual brewing options include Hario V60 pourovers, Aeropress, Clever dripper, siphon and Turkish brews, mostly to showcase equipment the shop also sells.
"Growing up I would tell my teachers that my dad was a coffee roaster, and have to explain what that was," said Chbeir. "This was a time when a cappuccino was only to be had at a French or Italian restaurant, or out of a tin of International Café."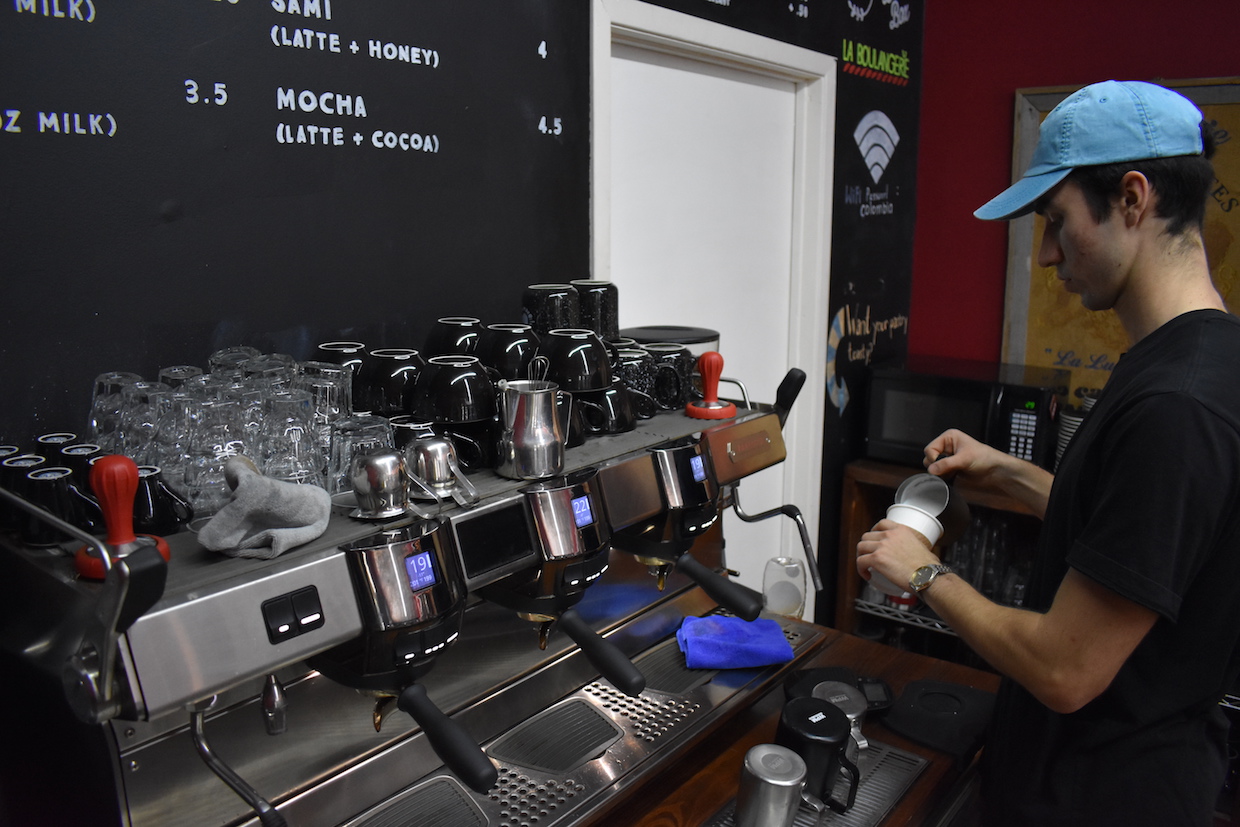 Chbeir said that WB has also always had a focus on quality, and on highlighting the unique character of beans from various origins. The company has always advocated for manual brewing over automatic drip machines and has offered over a dozen single-origin coffees since the 1980s, including beans from Yemen, Kenya, Panama and Zimbabwe. Chbeir said that as the company looks to the future, forming firm, direct and long-term relationships with growers in producing countries is a top sourcing priority.
Chbeir sees a long and fruitful future for WB in San Antonio, which he considers still an under-served market, even with its recent flurry of micro roaster and cafe openings.
"Obviously competition has been good for us," Chbeir said. "Great roasters like Brown Coffee and Merit Coffee have established themselves in San Antonio, and it's definitely pushed us to be better at what we do. The access to super high quality coffees is better now than it ever has been."
Howard Bryman
Howard Bryman is the associate editor of Daily Coffee News by Roast Magazine. He is based in Portland, Oregon.