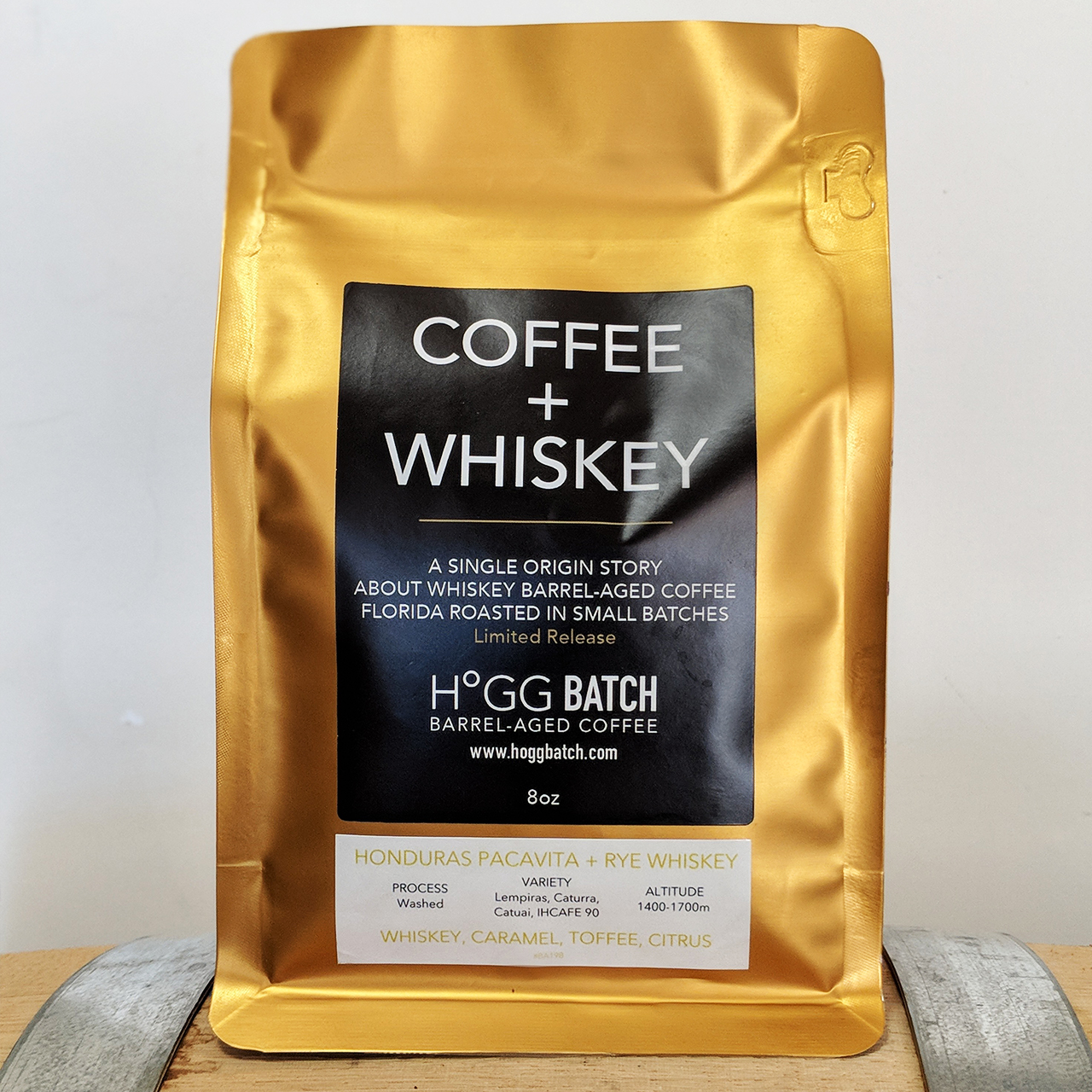 With a distinct focus on barrel aging high-quality coffees, twin brothers Duane and David Hogg are adding considerably more flavor to the Tampa coffee scene. 
The brothers began roasting several years ago on a stovetop with a cast iron skillet and a popcorn popper, sourcing their greens from home roasting supplier Sweet Maria's. In 2017, the self-taught roasters sampled barrel-aged coffees while traveling out of state, where they were surprised and impressed by the nuanced flavors. 
Not long after that came their commercial roasting enterprise Hogg Batch Coffee. Said David Hogg, "We started experimenting with fusing and barrel-aging coffee and then made the decision to actually purchase a drum roaster."
The Hoggs acquired a 1-kilo Mill City Roasters machine and began aging their own spirits, using those barrels to then age their green coffee.
"At first we were doing the whole thing soup to nuts, starting with brand new white American oak barrels," Hogg said. "But as we looked to scale, that model wasn't practical."
Partnering with local distilleries still didn't provide the brothers with enough barrels to meet demand, so they started working with brokers throughout the country, beginning with bourbon and whiskey barrels and then expanding into rum, gin and other wines and spirits. One of their most recent coffee batches spent time in rosé barrels. Many of the Hoggs' barrels now come through a local partnership with St. Petersburg's American Freedom Distillery.
As barrels begot more barrels and coffee sales increased, the Hoggs expanded with a 10-kilo Ambex roaster, while sourcing larger quantities of greens from Genuine Origin, whose 65-pound box shipments work well with the production requirements of barrel aging.
"We use different size barrels all the way up to 59 gallons," Duane Hogg told DCN. "It really depends on the coffee and the spirit."
According to the Hogg method, green beans are placed in a closed barrel for 30 to 60 days. The barrel isn't airtight, leaving a comfortable gap of air for the green coffee to breath and fuse with the aromas of the barrel. Every couple of days, the Hoggs stir the aging greens.
A wetter barrel, one that was used to age a spirit recently, tends to have a shorter infusion to time on the green coffee, as opposed to a more dry barrel. "Each barrel is totally different, and each batch is totally different from the last," Duane said. "We notice a wetter barrel will allow the coffee to soak up the flavors of the barrel much quicker."
With no real standards for barrel-aging green coffee available, the Hoggs rely heavily on their own senses and past experience to gauge when coffees are ready for a brief drying stage before they hit the roaster hopper.
"Aroma is one of biggest indicators if the coffee is properly infused," Duane said. "We use our Mill City [roaster] to sample roast and a taste-test to see where the aging beans are at… We do have a process for how everything works but it's also really experimental."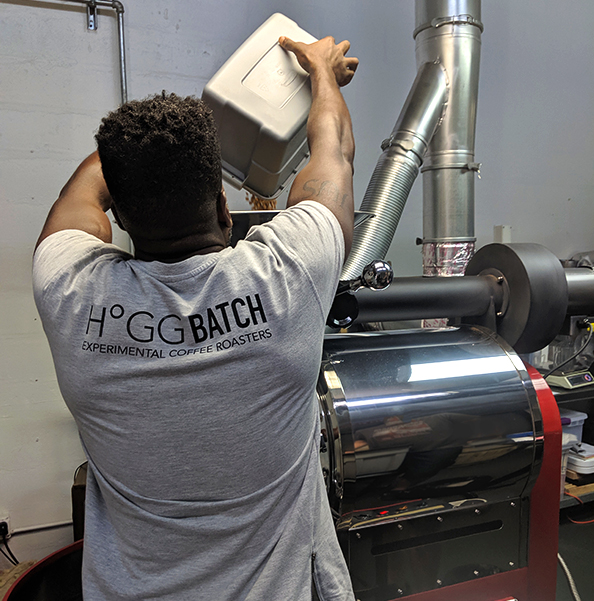 For the roasting phase, the Hoggs are similarly relying on their senses and intuition, while employing Artisan and Roaster Dynamics software to track and log roasting data. A refractometer is employed to measure the bean's contents upon roasting.
Like many roasters who have experimented with barrel-aged coffees, the Hoggs contend that the process allows the intrinsic characteristics of the beans to remain intact, while additional notes — most commonly, those of caramel, wood, and the designated spirit — add to the complex flavor profile.
"It is something unique and different. We drink it every day," said David. "The barrel-aging process brings out so many natural flavors without additives or chemicals. We're not necessarily trying to compete with regular coffee. We just want to disrupt and stand out within the industry."
Craig Batory
Craig Batory is a writer, marketer and coffee professional working and living in Detroit.