Slingshot Technology, maker of the innovative volumetric Slingshot grinder, has forged new manufacturing and distribution partnerships for spreading its products into European markets.
Through improvements to the machine, the company has also obtained the NSF certification it needs for distribution in the United States.
Slingshot is also in the process of launching its follow-up product, the Kilo automatic tamper.
Production of the Slingshot grinder started in late May, according to the company, which maintains offices in Australia and Hong Kong. Slingshot Director Luca Giorgella told Daily Coffee News that more than 2000 units have been sold worldwide so far, thanks in part to a joint venture partnership with Italian coffee equipment manufacturer Carimali to form Slingshot Europe, which is now the company that will manufacture and distribute the Slingshot range on European markets.
"Regarding changes to the Slingshot, we have implemented a special twin-rotor distribution system that has helped improve the distribution of coffee grounds into the portafilter," said Giorgella. "We have also made modifications to the dosing unit, which now allows the user to disassemble the unit for cleaning purposes. With this latest improvement, we were able to obtain the NSF certification needed for the U.S. market."
Giorgella said distribution of grinders in the U.S. is scheduled to begin the first quarter of 2020. The company also announced that Slingshot grinders have been purchased by McDonald's for use in preparing McCafe offerings at the fast food giant's experimental upscale restaurant concept in Hong Kong.
The fancy Hong Kong model store, called McDonald's Next, quietly opened at the tail end of 2016, gauging what happens when the glossy plastic reds, yellows, browns and clowns are replaced by a palate of steel, concrete, natural woods and touchscreen menus. In a kitchen visible to patrons, a much wider and trendier selection of foods is prepared. Fresh items are displayed on shelves behind glass in the manner of an upscale deli or bakery; table service is offered after 6pm; and a coffee menu centers on a premium house blend that emphasizes light acidity and a lemon/orange citrus peel bouquet.
Drinks at the Hong Kong McDonald's Next are prepared on Victoria Arduino Black Eagle espresso machines.
"They are using the Slingshot as their main coffee grinder," said Giorgella. "They have been ordering several units for the Hong Kong stores, and we believe that their China stores will soon follow. Unfortunately, I have no further insight into what McDonald's has planned for their future expansion plans. Hopefully we as a company are a part of their plans."
At the HOST Milan trade show last month, the company revealed the Kilo automatic tamping machine that is capable of delivering user-designated pressures and multiple tamps into espresso portafilters on demand. Centered on patented technology the company calls its "Variable Tamping Profile" system, the Kilo allows baristas to set three different profiles that are kept accurate by a high-precision load cell supporting the portafilter.
"It is currently the only automatic tamper on the market that uses a real scale to control the tamping pressure," said Giorgella. "This results in more accurate tamping and the ability for soft pressure tamping."
Downward tamping force ranges from a light 3 kilograms to a heavy 30, and users can program the machine to tamp a single coffee bed up to three times, each at a different pressure. Giorgella said baristas may choose different numbers and pressures of compressions for different origins prepared in different doses and grind settings.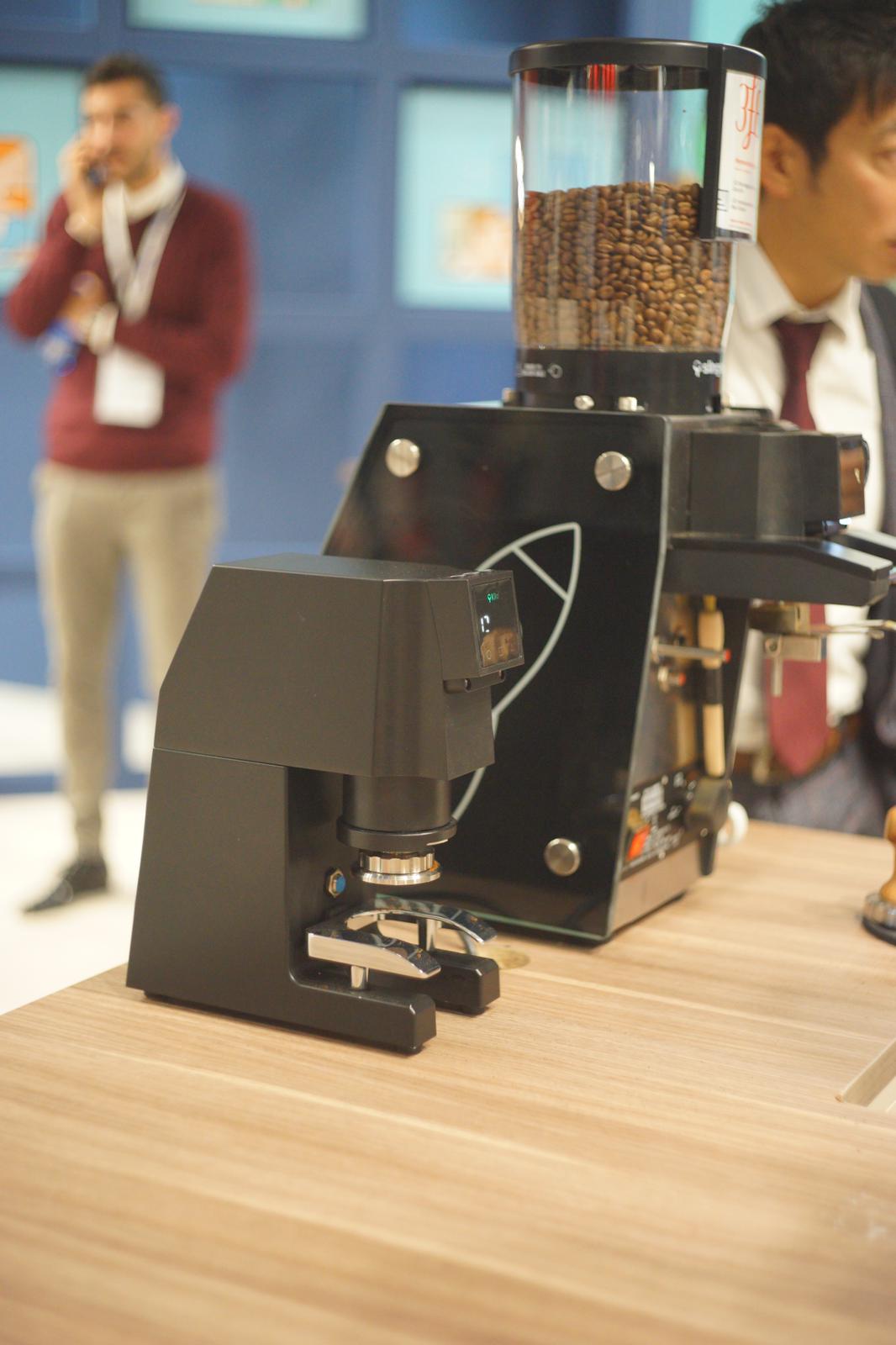 "For example, you may have one tamping profile for the house blend set to 6:15:20," said Giorgella. "In this case, [the] Kilo will tamp three times starting with 6 kilograms, then 15 kilograms and lastly 20 kilograms. Or, you may have another profile set at 5:10 for your single-origin offering."
The Kilo also allows for the use of different diameters and shapes of tamping heads. Slingshot anticipates Kilo sales to begin in the first quarter of 2020 at a retail price that that is expected to land at roughly $900 USD.
Howard Bryman
Howard Bryman is the associate editor of Daily Coffee News by Roast Magazine. He is based in Portland, Oregon.