Complexity abounds in virtually every aspect of sourcing, roasting and preparing exceptional coffee, although in the most fundamental, elementary sense, coffee is meant simply to be enjoyed.
With a new, 1,000-square-foot brick-and-mortar coffee shop in Harrisburg, Pennsylvania, the homegrown coffee roasting company Elementary Coffee is further spreading the simple joys of great coffee. The new coffee shop is Elementary's second, behind the small bar at the Broad Street Market Brick Building that opened just over five years ago.
"If our market space was modeled after a 1960s chemistry lab, the new shop is a 1960s living room," Elementary Coffee Owner Andrea Grove told Daily Coffee News.
The interior design of the new shop incorporates organic and raw materials to keep the vibe relaxed and utilitarian, while it's also teeming with mid-century modern charm.
"We are an extremely practical company, so everything within the space has efficiency and usability as its prime purpose," Grove told DCN. "We also were extremely intentional about using real materials at our shop so folks can feel the honesty of the space, genuinely and deeply."
That sincerity comes through the shop's slate floors, granite countertops, thick slabs of walnut wood and abundance of glass in the spirit of transparency, all in a color pallet of black, white and red, or "Anarcho-pacifism colors," as Grove puts it.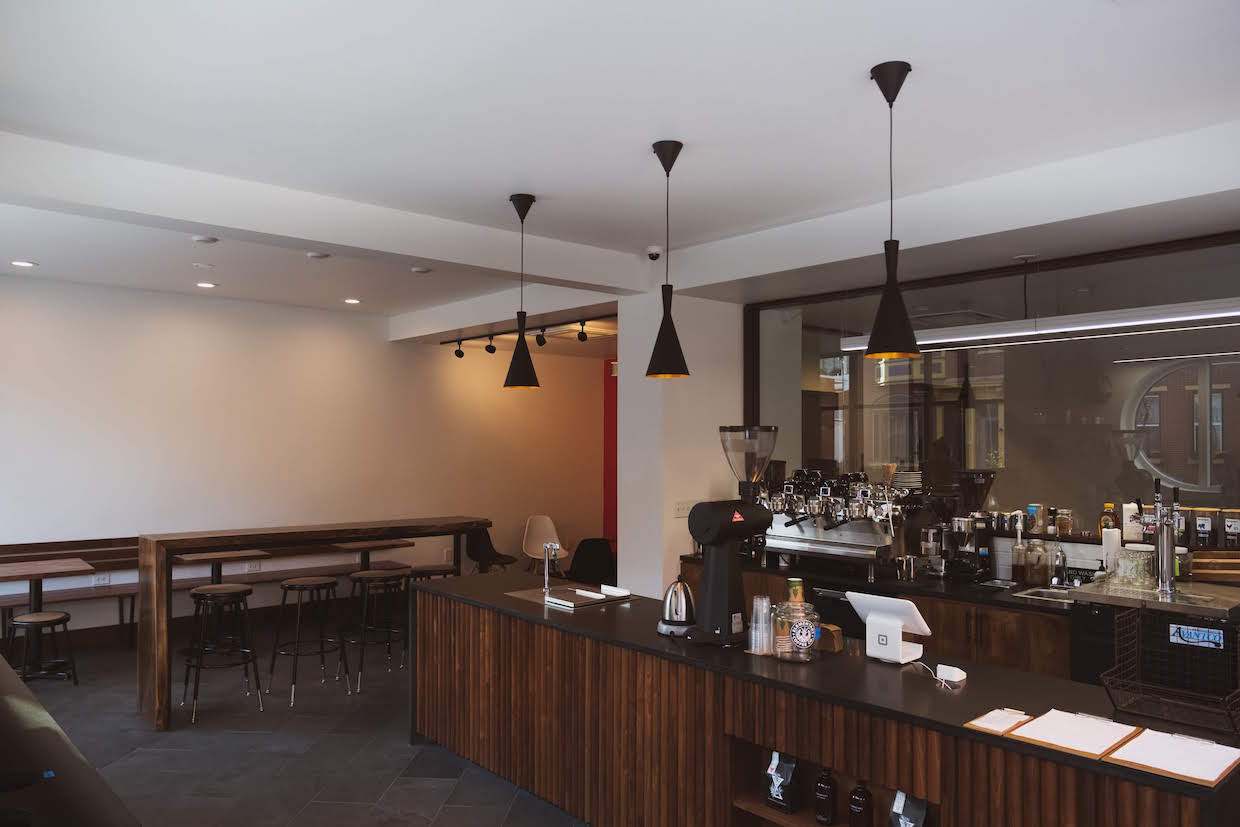 Attention to detail also runs through to the clean and stylish bathroom, where spectrum hexagon floor tiles align to form triangles, which Grove said is Elementary's "shape of choice."
Equal attention is paid to the the coffee roasted on a Cropster-equipped Diedrich IR12 roaster. The company is in the process of relocating production out of a compact space adjacent to its Broad Street Market bar and into an equally compact space adjacent to the new bar.
"We are excited that the new roastery is temperature controlled," said Grove, who, prior to starting Elementary, worked as a manager and roaster for St. Thomas Roasters, located in nearby Linglestown. "The market can reach over 100 degrees in the summertime, and… there is space for additional green bean storage in our [new] basement."
Both shops now run their espresso programs through Synesso MVP Hydra machines, extracting the best from coffees sourced through importers such as Cafe Imports, Keffa Coffee, Onyx Coffee and Paisa Coffee. While the market location maintains a Chemex program for pourover brews, the new shop increases capacity and efficiency with a Fetco batch brew system.
Grove hopes to eventually design and install a slide/pulley system for raising bags of green coffee from the new basement storage space up to the roastery, where patrons will eventually be invited in for cuppings and workshops.
"I just think we really took our time and listened strongly to our own mission and purpose within the city," said Grove. "We were not the first craft coffee shop to arise in Harrisburg, and we certainly won't be the last, but we are quite strong in our convictions and ethics, to the chagrin of some and [the] delight of others."
Elementary Coffee Co. is open now at 256 North St. in Harrisburg.
Howard Bryman
Howard Bryman is the associate editor of Daily Coffee News by Roast Magazine. He is based in Portland, Oregon.